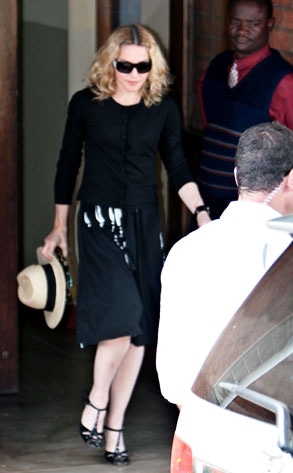 BARM/Fame Pictures
Madonna's adoption is going to have to wait—at least a little bit longer.
The pop star attended an hour-long closed-door hearing in Malawi's Lilongwe High Court this morning as Judge Esme Chombo heard her application to adopt a second child from the African country.
But no official ruling was made, and Madonna's case has been adjourned until Friday, when a second hearing will take place in the nation's capital.
The 50-year-old's subdued courthouse appearance—she donned a black top and black-and-white skirt and carried a straw hat with her into the courtroom—came just days after word broke that she was looking to adopt an orphaned girl from the country, who would become her fourth child overall.
Amid renewed criticism from local groups, Madonna touched down over the weekend in her bid for 3-year-old Chifundo James, whose name translates in English to Mercy. The girl's 18-year-old mother died shortly after giving birth and it's unclear if the child has any surviving relatives.
Mercy has been living in the same orphanage, the Home of Hope Orphanage Center, where Madonna's other adopted child, David Banda, was from.
Should all go according to plan, Mercy would join 3-year-old David in a brood that also includes 12-year-old Lourdes, Madonna's daughter with former beau Carlos Leon, and 8-year-old Rocco, the Material Mama's only biological child with ex-husband Guy Ritchie.
Madonna, David and Lourdes arrived in Malawi yesterday. While David was able to meet with his biological father, Yohane Banda—who told reporters that the boy did not recognize him and even asked him at one point who he was—Madonna and Lourdes were seen walking through the village of Chinkhota, where the singer's charity, Raising Malawi, is planning to build the Raising Malawi Academy for Girls, a school reportedly modeled after Oprah Winfrey's educational endeavor in South Africa.
The star refused to answer any questions from reporters about her pending adoption, but said it was "amazing" to be back in the country. Her reps, too, have yet to comment on the proceedings.
(Originally published March 30, 2009, at 7:05 a.m. PT)