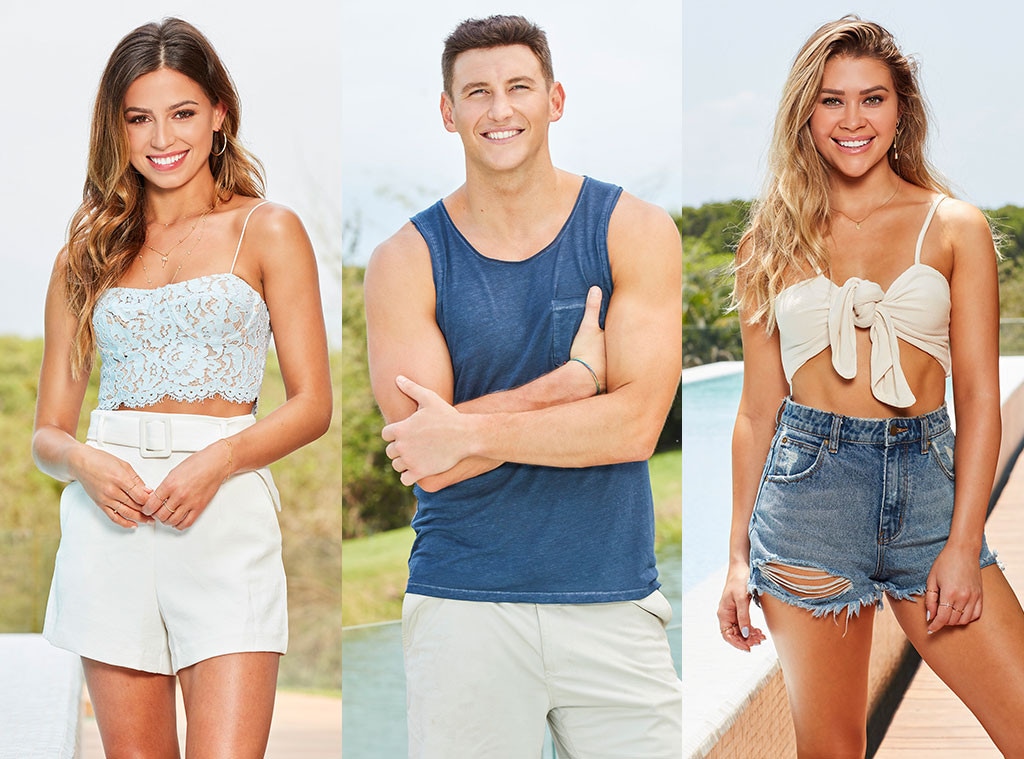 ABC/Craig Sjodin
Bachelor in Paradise isn't going well for Blake Horstmann.
The reality star came under fire this week over his Stagecoach drama with Caelynn Miller-Keyes and Kristina Schulman.
Back in April, Horstmann hooked up with both ladies at the country music festival. Miller-Keyes also accused the Colorado native of calling her a "mistake" and asking her to keep their hookup a secret.
Schulman explained why she felt disrespected during their one-on-one date on Tuesday night's episode. However, they didn't see eye-to-eye on the situation. Miller-Keyes also later pulled Horstmann aside and explained why she was hurt. 
While he apologized to Miller-Keyes on the show, he also later took to social media to address the episode and explain why he's been in a "dark place" over the past few months.
"I take full responsibility for my actions at Stagecoach and will forever regret the decision I made that weekend," he wrote in a lengthy note. "The women involved did not deserve that. I realize now that I hurt these women and I deeply regret that. I've done a lot of self-reflection since and have learned a lot from my mistakes."
In addition, he claimed he wanted to "get the truth out" and argued he wasn't able to defend himself on the show.
"I NEVER 'sweet talked' her at Stagecoach.  Caelynn and I were NEVER in a relationship. I NEVER ghosted Caelynn, I NEVER called her a mistake and I NEVER EVER EVER silenced Caelynn," he wrote.
Furthermore, he claimed he was "under the impression it was 'just sex' to her" and shared screenshots of their text exchange, which he has since deleted.
"I understand that I will probably get a lot of backlash for posting these personal texts messages in my stories," he wrote, "but unfortunately this is the only way to have a voice, since I very much feel backed into a corner."
While the alumna from Colton Underwood's season has yet to comment on his post, several other members of Bachelor Nation have weighed in—including Schulman. 
"Speak your truth, no one can take that away from you," she wrote in the comments section. 
Jason Tartick, who was a finalist on Becca Kufrin's season along with Horstmann, also shared his support.
"Through the good, bad and ugly you've always been a loyal friend to me, and I will always be a loyal friend to you," he wrote. "These are the trying times in which you'll learn invaluable life lessons that will allow you to be in a better position in your life pursuit of love and happiness. A disappointing time, but know I'm here for you and I do believe there are two sides to every story."
Kaitlyn Bristowe, Adam Gottschalk and Jasmine Goode commented, as well.
"Thank you for being vulnerable and honest," Bristowe wrote. 
Other comments came from Kevin Wendt, Astrid Loch, Vinny Ventiera, David Ravitz, Chase McNary and Ben Zorn.
"I know I told you last week posting these might not be the best idea," Wendt wrote, "but, as a friend, I just want YOU to be happy and I know your anxiety was about to erupt. So, I get it, and I'll support you regardless because I know you're a good friend and a good hearted human. Chin up amigo."
Dean Unglert, who is dating Caelynn, stepped up to defend his new love.
"A 'public figure' sharing private text messages in an attempt to salvage whatever is left of their fragile ego…" he tweeted. "calling it childish would be disrespectful to children everywhere."
To see what's next for Horstmann, fans can watch Bachelor in Paradise Monday and Tuesday nights on ABC.