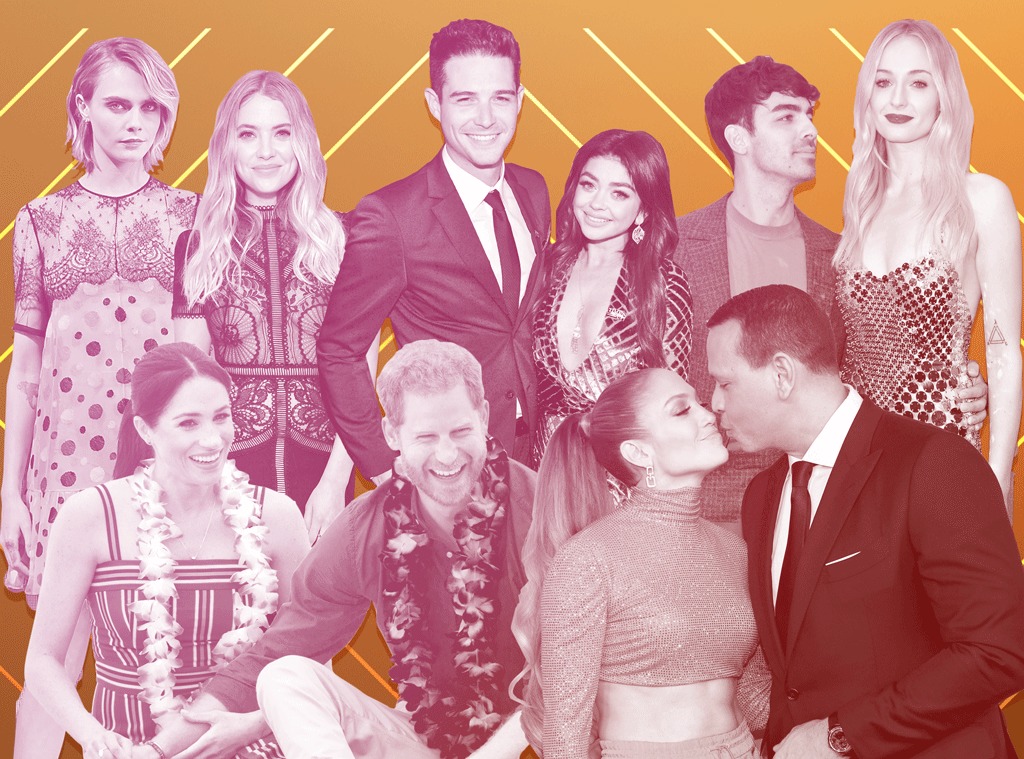 Getty Images/E! Illustration
WINNER: With a landslide victory, Cara Delevingne and Ashley Benson won the couple of the summer title with over 75% of the vote! 
________ 
Summer is just starting to wind down and while we hate to see it go, it does mean it is time for our annual PCAs Best of Summer Tournament!
We're rounding up the best couples, musical artists, movies, TV shows, and viral moments of the season. The winner from each category will duke it out for the Best of Summer title, and only your vote decides who wears the crown!
To kick off the 2019 Best of Summer Tournament, we've rounded up the five cutest couples whose #RelationshipGoals included weddings, babies, engagements and envy-inducing birthday gifts!
Back to defend their throne after winning Best Couple last year, Meghan Markle and Prince Harry are of course on our list after welcoming their first child, Archie Harrison Mountbatten-Windsor, to the world!
The family of three has been sharing some heartwarming milestones all summer long, from Prince Harry's first Father's Day as a dad to little Archie's christening. Family isn't the only thing the duo is up to this summer, though! From stepping out on the red carpet at The Lion King's London premiere to working on the iconic September issue of British Vogue (Markle as its first ever guest-editor and Harry interviewing Dr. Jane Goodall), these two have had a busy few months as a power couple.
Got a secret and can't keep it? We were thrilled Pretty Little Liars actress Ashley Benson and model Cara Delevingne spilled theirs! Our second couple on the list officially went public with their relationship in June with a kiss captured on Instagram after a year of speculation the two were an item.
In an exclusive interview with E!, Delevingne attributed the timing of the post to coincide with the 50th anniversary of the Stonewall Riots and the first anniversary of their relationship. Fans also speculated that Benson's latest tattoo, which reads "CD", is a nod to her girlfriend's initials.
There was also love to be found for a member of Bachelor Nation...although this time, they found their love off the show! Bachelorette contestant Wells Adams and Modern Family actress Sarah Hyland got engaged in July on the beach, all captured in an adorable home-made video Adams later posted!
The two have been dating since 2017 and have been through highs and lows together. Hyland had her second kidney transplant days after meeting Adams, who stuck by her side through it all. In her own words, "He's seen me at my worst. I think that's why I feel the most beautiful in his eyes, because he still finds me beautiful after seeing all that." No wonder she accepted his final rose!
Getty Images for ELLE Magazine
We're also a "Sucker" this summer for the not one but two weddings between Joe Jonas and Sophie Turner. The Game of Thrones star and musician semi-secretly eloped in Vegas and then had a second ceremony in France in June. They were off to the Maldives for their honeymoon, spending summer soaking up the rays on the beach as one should! 
Rounding out the couples category is none other than Jennifer Lopez and Alex Rodriguez. The two celebrated both of their birthdays this summer and out-did one another when it came to the gifts! J.Lo, who just turned 50, stopped a concert to have the whole audience sing "Happy Birthday" to her love and Rodriguez got the "Jenny From the Block" singer a $140,000 Porsche. The singer even surprised him on-air during an ESPN broadcast with a Swarovski-encrusted birthday cake!
Love was sure in the air this season! Vote for which couple won summer below! Be sure to also check back on Thursday when we announce our 2019 Best of Summer musical artist nominees!
2019 Best of Summer: Couples