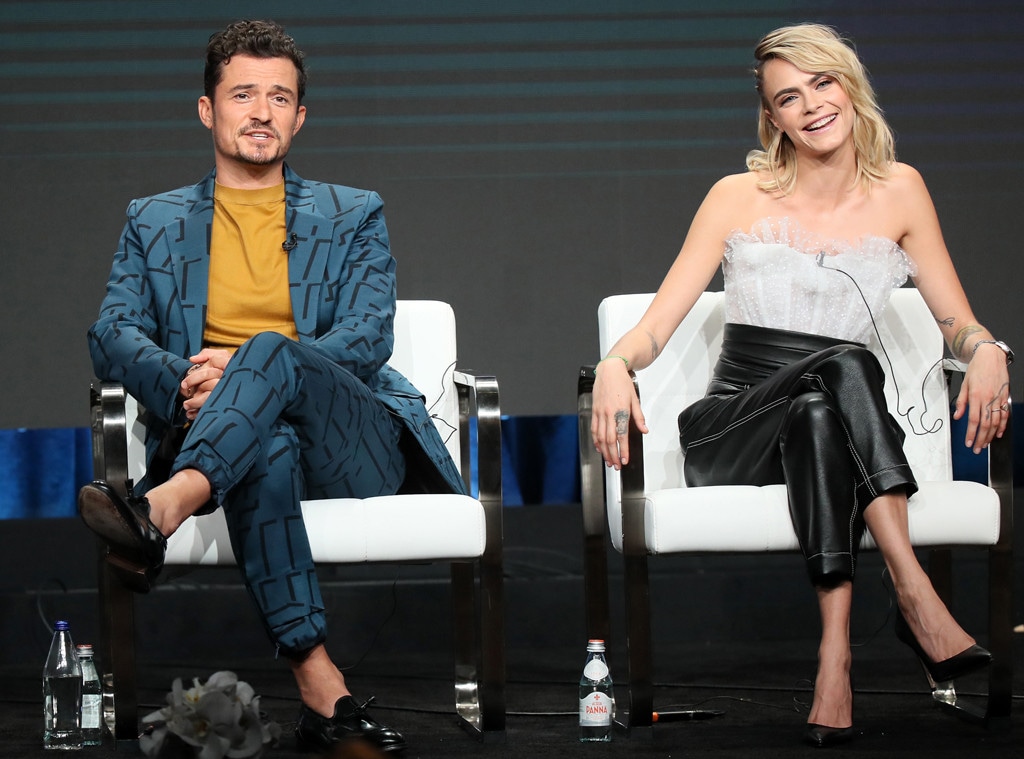 David Livingston/Getty Images
Amazon's Lord of the Rings TV show is off and running, and it just so happens that one Orlando Bloom is also promoting an Amazon show at the same time. 
Bloom stars in Carnival Row alongside Cara Delevingne as a human detective in a fantasy show about magical creatures (Delevingne plays a faerie) struggling to coexist with humans, so he clearly hasn't lost interest in the world of fantasy storytelling since he last played Legolas in 2014's The Hobbit: The Battle of the Five Armies. 
Naturally a reporter at the show's TV Critics Association summer tour panel asked if he'd be interested in participating in Amazon's upcoming Lord of the Rings series, and that's when Bloom said this: "I mean, I like to think of myself as ageless, but I don't know where I would fit in that world...They've probably got a 19 year-old kid who's playing that character now." 
Cue Cara Delevingne, standing in for all of us: "No! No!" 
Bloom recalled a time on set with Peter Jackson "20 years ago now, would it be?" when they joked together about someone, someday wanting to remake Lord of the Rings. 
"'Never gonna happen!'" they said back then. 
"Now here I am working for Amazon and they're redoing it," he said. "It's great. I mean, look, I don't know how they're going to approach it. I haven't had any conversations about that, but I feel like I have done everything..." 
If you ask us, Bloom is actually fairly ageless and could easily make use of some CGI to play an even younger Legolas if he wanted to. 
We don't actually yet know much about the Amazon series and if Legolas will even appear, but the company did announce today that the show will be led by showrunners J.D. Payne and Patrick McKay, who join director J.A. Bayona and a creative team filled with producers from shows like Breaking Bad, Game of Thrones, Boardwalk Empire, The Sopranos, Stranger Things, and more. 
The show will be set in Middle-earth and will explore "new storylines preceding J.R.R. Tolkien's The Fellowship of the Ring." 
For now, you can see Bloom in Carnival Row when it debuts on August 30 on Amazon Prime.