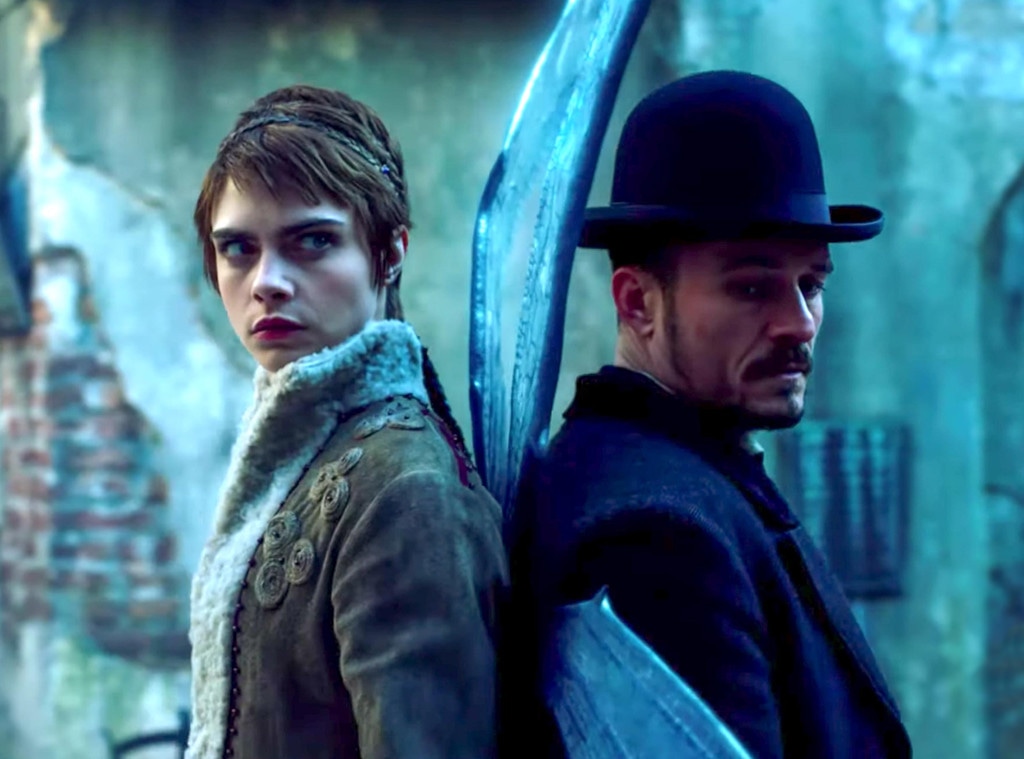 Amazon
Ready for a neo-noir Victorian fantasy starring Orlando Bloom and Cara Delevingne? 
Even if you're not, one has already arrived. Carnival Row is about a month out from premiering on Amazon Prime, and there's a brand new trailer that shows off a fantasy world populated with fairies and monsters and various mythical creatures that seem to be in a sort of war with the humans, while Bloom and Delevinge (who's got wings!) have a secret affair. 
Per Amazon, the show is set in a Victorian fantasy world "filled with mythological immigrant creatures whose exotic homelands were invaded by the empires of man. This growing population struggles to coexist with humans—forbidden to live, love, or fly with freedom. But even in darkness, hope lives, as a human detective, Rycroft Philostrate (Bloom), and a refugee faerie named Vignette Stonemoss (Delevingne) rekindle a dangerous affair despite an increasingly intolerant society. Vignette harbors a secret that endangers Philo's world during his most important case yet: a string of gruesome murders threatening the uneasy peace of the Row." 
Bloom and Delevingne were on hand at Amazon's TV Critics Association press tour on Saturday along with executive producers Marc Guggenheim and Travis Beacham to talk about the show, which began as a film script written by Beacham many years ago. 
Bloom said part of the attraction of the project and joining a TV series was that he had the opportunity to build the character of Detective Philostrate with Beacham, since this wasn't an adaptation of anything other than Beacham's own original script. Bloom also couldn't see anyone else in Delevingne's role other than Delevingne. 
She described her role of Vignette as "so strong, but not ruthless," a faerie who's been through so much and yet is still so compassionate. 
The show is quite sexy and features multiple sex scenes in just the first episode, which Delevingne said was "very necessary to the storylines," so prepare for sex with no only petticoats and corsets, but also wings. Beacham said he wanted to explore fantasy tropes without making it too gimmicky, and the more adult elements actually helped make it feel more organic. 
The series also deals in allegories of immigration as magical creatures are struggling to find a place in a world newly run by humans. 
"It's so human, it's so real, it's so tangible, you can't not get messy," Bloom said of the real-life elements of the show. 
Watch the trailer below! 
Carnival Row has already been renewed for a second season, and the first season premieres August 30 on Amazon Prime.