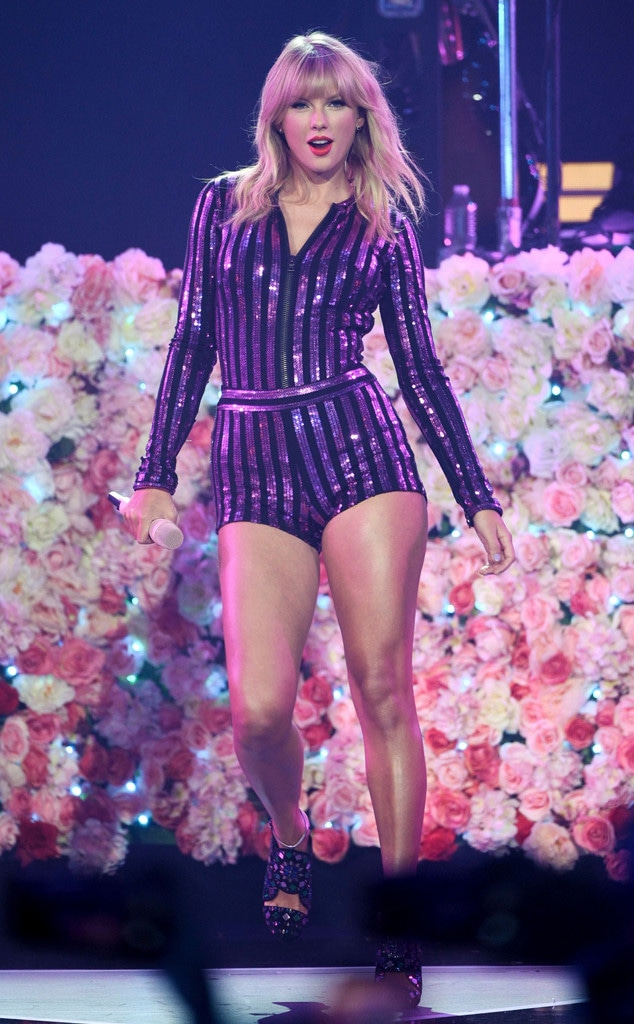 Evan Agostini/Invision/AP/Shutterstock
Taylor Swift continues to bring the hits!
The superstar singer took to Instagram Live on Tuesday afternoon to announce her new song, "The Archer." The song, co-produced by Swift and Jack Antonoff, will be track five on her upcoming 18-track album, Lover, which is set for release in exactly one month.
"I really wanted to give you track five before the album came out," Swift said during her Instagram Live, which she did from the set of her new music video. "As I was making albums, I was putting a very vulnerable, personal, honest, emotional song as track five."
Fun fact: Archer is the zodiac symbol for Sagittarius, which happens to be Swift's astrological sign. The track appears to be a nod to Swift's relationship with her longtime love, actor Joe Alwyn. In "The Archer," Swift wonders, "Who could stay?" But, by the end of the song, she has a realization, singing, "You could stay."
"Combat, I'm ready for combat, I say I don't want that/But what if I do?" Swing sings in the beginning of the track. "'Cause cruelty wins in the movies/I've got a hundred thrown out speeches I almost said to you."
In the early part of the song, Swift declares that she's ready for battle, ready to fight for a relationship.
"Easy they come, easy they go, I jump from the train, I ride off alone," Swift continues. "I never grew up, it's getting so old/Help me hold onto you."
"I've been the archer, I've been the prey/Who could ever leave me darling, but who could stay?" Swift wonders. "Dark side, I search for your dark side/But what if I'm all right, right, right, right here? And I cut off, my nose just to spite my face/Then I hate my reflection, for years and years."
In this part of the song, Swift references overreacting to situations, which would only leave her with regret and guilt.
"Who could stay? Who could stay? Who could stay?" T.Swift asks at the end of the track. "You could stay/You could stay."
If you remember, Swift has a song called "All You Had to Do Was Stay," which references a time when someone left a relationship. But now, it appears she's found someone who has stayed by her side through the good and the bad.
Many Swifties on social media have also connected T.Swift's song "Delicate" with her new track. In the "Delicate" music video, we see "track 5" written behind Swift. Just like "Delicate" on reputation, Swift's new song "The Archer" is track five on Lover. And, remember the "Delicate" lyrics: "Dive bar on the east side, where you at?" Well, The Archer happens to be the name of a bar on the east side of London! Oh, and London is Alwyn's hometown.
T.Swift also announced during her Instagram Live on Tuesday that she will be including 120 pages of her diaries in the deluxe edition of her Lover album.
Prior to her announcement on Tuesday, Swift teased the Easter egg reveal on social media.
"I have some stuff I'm reeeeeally excited to tell you about, including some info on this Easter egg right here," Swift wrote to her fans alongside a clip from the "YNTCD" music video. The 29-year-old Grammy winner also added the bow emoji, the direct hit emoji, the eyes emoji and the arrow up emoji in her caption.
Swift actually hinted at "The Archer" song title in her "ME!" music video, which features the word "Lover." The word is shown in the music video with an arrow through a heart.
Prior to her reveal on Tuesday, it was announced that Swift earned 10 nominations for this year's 2019 MTV Video Music Awards!
Lover is available on Aug. 23.