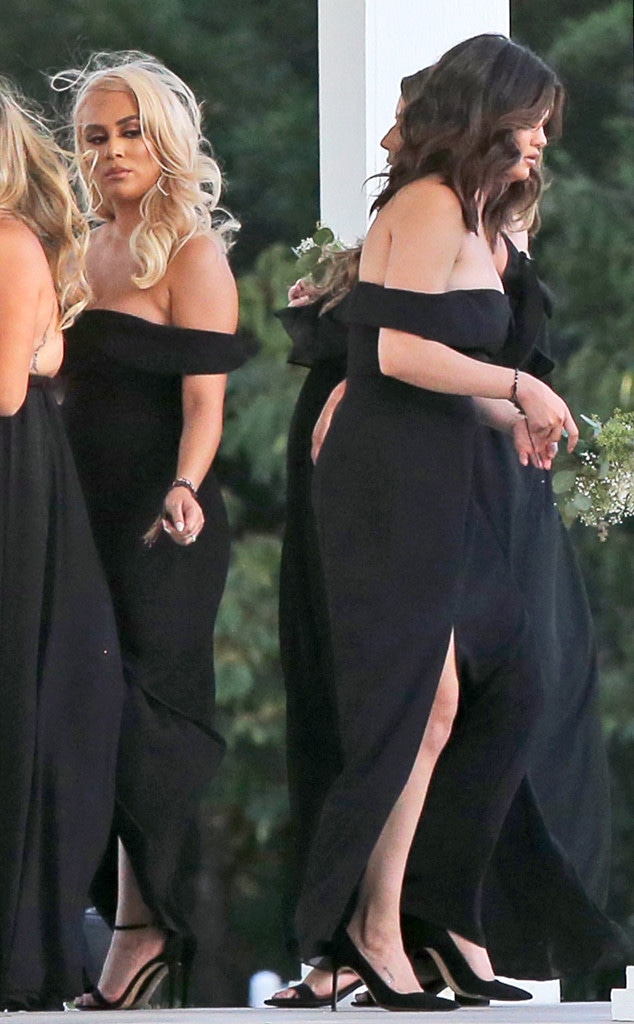 SplashNews.com
Here comes the bride and the gorgeous bridesmaid!
On Friday, Selena Gomez served as maid of honor at her cousin Priscilla DeLeon's wedding to Jay Cosme at Firefly Gardens in Midlothian, Texas, not far from Dallas. The singer looked lovely in an off-the-shoulder black gown with a thigh-high slit. The other bridesmaids also wore black. At one point, Gomez was seen drinking water to combat the sweltering heat.
Family members and friends shared photos and videos from the event on Instagram. Gomez gave a speech at the wedding reception, telling her cousin, "You taught me to be strong." She also told the newlyweds, "I pray for you guys all the time."
Gomez and DeLeon are very close. The singer bought her cousin her strapless white mermaid-style wedding dress back in 2017.
"When your maid of honor makes your dream dress a reality and surprises you with it!" DeLeon wrote on Instagram at the time.
Earlier this month, Gomez threw DeLeon a bachelorette party in Punta Mita, Mexico.
Gomez has largely stayed out of the spotlight over the past couple of years amid health problems. This past April, she performed for the first time in almost a year, at the 2019 Coachella festival. Gomez joined Cardi B and Ozuna as they made surprise appearances to perform their hit song "Taki Taki" with DJ Snake during his scheduled set.
"Selena is doing amazing," a source told E! News. "She has completely transformed her health and lifestyle. She has been making strides and improvements with her lupus and have had less flare-ups and symptoms."
"Selena has been spending a lot of time with her family and friends, being low-key," the source said. "She has also been writing new music in the studio and hoping to release something early next year. She is in a much better headspace and is really happy right now."
Gomez is not currently dating anyone but is "open to start putting herself out there again," the source said, adding, "She is taking everything day by day and focusing on herself and her music."
Gomez has been in a few weddings in recent years. In February, Gomez served as maid of honor at her best friend Courtney Barry's wedding in Los Angeles. The singer wore a black gown adorned with rhinestones.