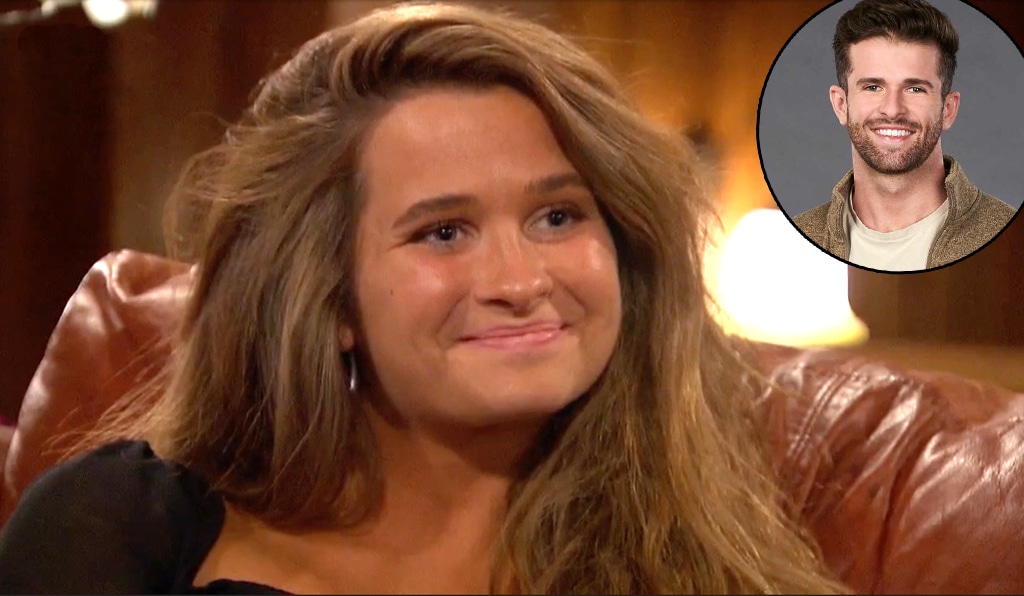 ABC
It looks like hometown dates could have gone better for Jed Wyatt's sister Lily.
Fans watched Hannah Brown travel across the country and meet the families of her four remaining suitors on Monday's episode of The Bachelorette. She started off in California, where she met Peter Weber's parents, and then flew to Florida to meet Tyler Cameron's nearest and dearest. After that, she headed to Georgia to meet Luke Parker's family and ended her trip in Tennessee, where she met the Wyatt clan.
Her date with the musician started off on a high note. Jed took the Alabama native to a recording studio, where they wrote a song together and packed on the PDA. However, things quickly took a turn after they headed to his family's home. After listening to their journey to find love, several family members expressed concern over the possibility of an engagement and how the relationship could impact Jed's music career.
Some of these worries came from his mother Dina, who told Hannah her son's "path is different" when asked if he was ready to get down on one knee. Other concerns came from Jed's sister Lily. 
"I'm very protective over Jed, and making music makes him so happy," she said. "And honestly, like, him potentially falling in love with you, I'm, like, not sure that it's a good thing."
But after the episode aired, Lily took to Instagram and made it clear her interaction with Hannah wasn't as harsh as it may have appeared.
"They made me look so mean," she captioned a shot of their conversation along with a laughing emoji. "I swear y'all our conversation went wayyyy better than this."
Lily wasn't the only one to speak out about the episode. Hannah also took to Instagram and shared pictures from each of her visits.
"Our families didn't sign up for this," she wrote in part of the post's caption. "We are the ones who said yes to the vulnerable opportunity to find love this way. But thank you to the people who loved us first, and continue to support us on this journey of love, heart break, and life lessons! To the Weber's, Cameron's, Parker's, and Wyatt's...thank you for opening your home, and supporting your son and me in opening our hearts to each other. I'm sure it's really bizarre watching, but the moments in your home were real, taken seriously, and so very special to me."
In addition, Jed, who's been accused of having a girlfriend before going on the show, shared a family photo on the social network and explained how his family has been impacted since his appearance on the show.
"Hi y'all. Several of you have reached out with messages and questions. Please know I'm not able to answer right now, but as soon as I'm able to, I will," he wrote. "Until then, I ask that you please understand how much the actions being taken towards myself, my family, the men on the show, and above all, Hannah, are affecting all of our mental and physical health. It goes beyond what is said online. Threatening letters and phone calls have been sent to our homes. My parents and sister are being verbally attacked in public. I beg you to remember what seems like a harmless action is damaging to real people. I want to thank all of you who have reached out or reserved judgement until I am able to speak openly and I can only ask for your patience and kindness until then."
Fans can see how Hannah's journey to find love ends by tuning into The Bachelorette on Mondays at 8:00 p.m. EST.