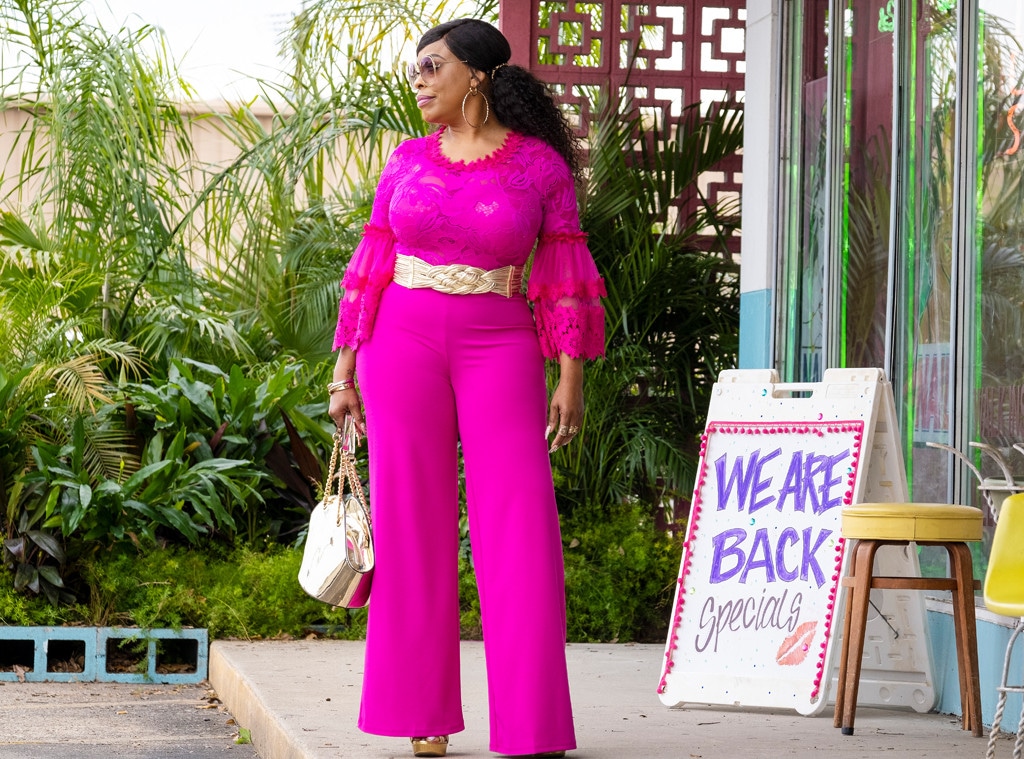 TNT
It's been a wild ride for both Niecy Nash and her Claws character Desna.
Fresh off of filming When They See Us, the Netflix miniseries about the Central Park Five that's getting Nash Emmy buzz, she went back to work on her acclaimed TNT series. Not only was she starring in a season that's all about "more money, more problems," but she also stepped behind the camera for her directorial debut.
"Oh yes, I love telling people what to do," Nash told E! News about wanting to direct more. But there were no shenanigans from her cast and crew. "Even if people wanted to misbehave, they didn't, because I brought in a second line band, I loaded them with beignets and coffee, I bought 'em all T-shirts, I played Stevie Wonder and Chaka Khan between set ups. Hey, listen, I was a great boss."
This year finds Desna and her crew, including Polly (Carrie Preston, who also makes her Claws directorial debut in season three), Quiet Ann (Judy Reyes), Jennifer (Jenn Lyon) and Virginia (Karrueche Tran), in a new setting: a casino.
"They've inherited this casino, these ladies are bossing up, they got some money coming their way, but as they say, money doesn't always solve your problems," Preston teased. "Sometimes having too much money can actually make your life worse, or at least more complicated, so that's definitely going to be the case in season three."
Over the two seasons, Desna and her crew have been through it. In season two, she found out her fiancé, the love of her life, was just using her and planned to have her killed. She went through hell and survived.
"Oh, yeah, she's still in it. She's still in hell. We think the casino is going to be heaven and it turns out being her hell on earth," Nash said. "I think she's making her rise. In some situations she's been taken for granted, but no more. She is definitely breaking bad this season...She definitely embraces her new power, but more money more problems, you know?  And having a casino definitely tests the relationships with the women in a not-so great way."
Friction on screen doesn't change what happens off screen. "We do have a sisterhood…To be able to come in and know that you have this built in group of actors—there's a lot of women on our crew, there's a lot of women writers—it has a different vibe," Preston said.
"I'm the leader of my crew on set. When I say crew, I mean my girls, my cast. I care for them. I want them to be taken care of. I want to make sure if there's any problem come to me first and let me try to mitigate it…Desna and I are alike in that way," Nash said. "Being a leading lady implies that you're someone people want to follow, so you have to lead in such a way that makes people know you have their best interests at heart."
While there's a new setting, new challenges and a potential new baby (Nash teased, "Well, somebody is pregnant this season. Not going to tell you who."), there are still some things that will stay the same for Claws viewers.
"Every episode we have what we call a Clawsian moment," Preston said. "Right out of the box we have a big dance number in the casino of course, so your readers will want to tune in for that. It gets more and more interesting and surreal as we've gone along."
Claws season three premieres Sunday, June 9 at 9 p.m. on TNT.