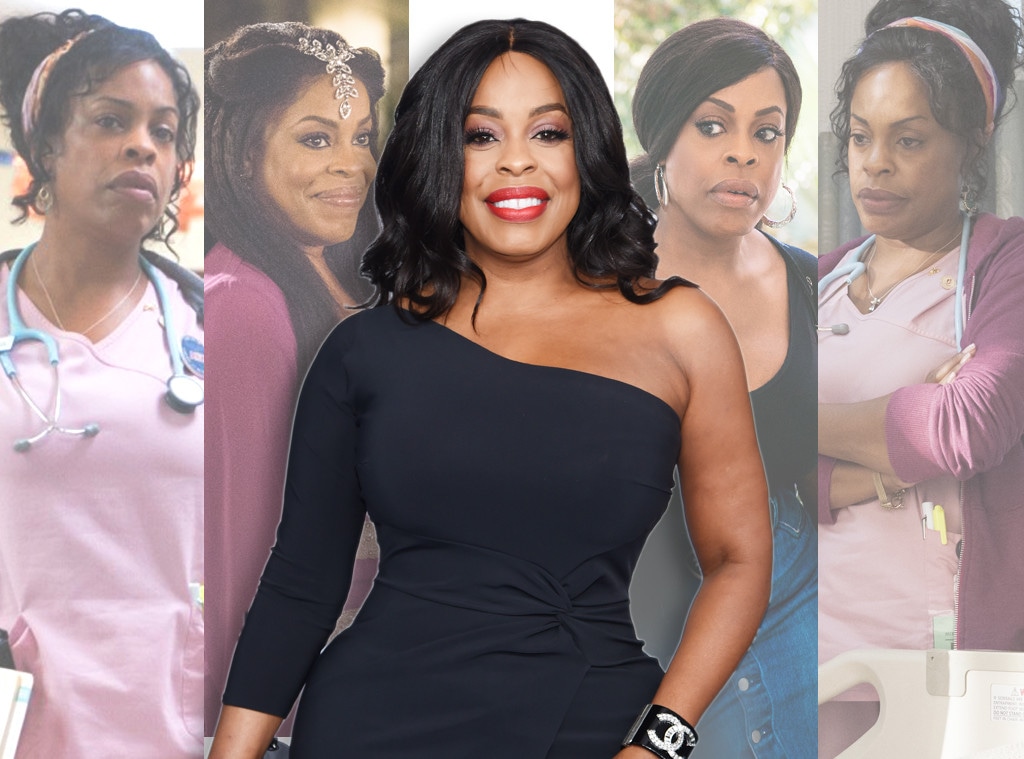 TNT, HBO, Getty Images
Drama. Improv. Sitcoms. Reality. Niecy Nash, who is now starring in Claws, always knew she could do it all, but Hollywood wasn't so sure.
"It took a long time for the industry to see me the way I saw myself, but once I was invited to that part of the party, it opened up everything for me because now I could taste it all," Nash said. "I could do reality, I could do unscripted, I could do improv, I could do a multi-cam sitcom…I could do a dramatic role, and now they know I could lead a series."
Before landing Reno 911!, the gig that would change her life, Nash popped up here and there in small roles in dramas and comedies. Everything changed when she was cast in Reno 911!, even though she was unfamiliar with the show's trademark format.
"Well, I had never done sketch comedy, I had never done improv before that show," Nash said. She had also never heard of famed improv comedy groups like the Groundlings, Second City and The State, of which many of her costars were members. "I was just a young girl with a dream and when they called to say, 'Can you do sketch and improv?' I said, 'Of course!' and just lied because I didn't even know what it was," she said.
Undeterred, Nash determined she could do the part. "I was winging it. I would say that was a time in my life when the caption over my head would've been, 'Fake it 'til you make it,'" she said.
With the success of Reno, Nash became known in the industry as a funny woman. She was often only getting seen for comedic roles, but Nash knew she could do more. But work is work, and in the years after Reno, Nash dabbled in reality TV (Dancing With the Stars, Leave It to Niecy), hosted a show of her own (Clean House), and did some voice work (G-Force, American Dad). Then, landed a role on Getting On and introduced audiences to the true breadth of her acting abilities.
This is the second act of Niecy Nash.
THE POWER OF NURSE DIDI
"When I started in this business, I started in comedy and improv. And the industry was kind, but they definitely said, 'You have a lane,'" Nash said. "It was not easy for me to go and do a dramatic role because I wasn't getting seen for those kinds of roles. Forget being offered a role, I wasn't even being seen. It was like, 'Oh, no, no, no. We know what she does,' and I was like, 'I can do other things!'"
In 2012, Mark V. Olsen and Will Scheffer, creators of Getting On, cast Nash in their dark HBO comedy. "It changed everything for me because then people knew that I could straddle that line," Nash said.
For Nash, straddling that "line" meant giving a nuanced performance, striking the delicate balance between comedy and drama. She was the heart and soul of Getting On, a three-season series set at a geriatric extended care facility. Nash starred as Nurse Didi Ortley opposite Laurie Metcalf and Alex Borstein, the trio all played beleaguered medical professionals struggling with a problematic healthcare system to care for the often-forgotten ailing elderly.
Originally, Nash came in for the role of Dawn, the part Borstein ended up playing, but Scheffer said she wasn't really right that role. Nash asked if she could read for Didi, a role that was originally written for an older actress, he explained.
"Niecy likes to 'jzuzh' herself up—hair, make-up, etc.—and she looked fab for the audition, of course. But when she read for Didi, she immediately sensed she needed to lose some of her innate desire to 'shine' and she put a scarf over her hair and we worked with her on simplifying. Taking away," Scheffer said. "We could tell she was incredibly smart and open to working with us. She was obviously talented. What made the difference was her ability to begin to 'do less,' which is probably the hardest thing to give in an audition. We saw she could think on her feet."
Once she landed the part, the rest of Hollywood started to take notice of Nash as the true "hybrid" she knew she was. She received Emmy nominations for her work in seasons two and three of Getting On.
"The day I found out I was nominated for an Emmy, I was going to get a cup of coffee, they were turning cameras around and I came back—I was on the set of Getting On—and a P.A. said, 'Congratulations, Ms. Niecy.' I said, 'On what, baby?' He said, 'Somebody said over the walkie that you won something.' I said, 'Oh, was it a raffle? What'd I win?' because I had no idea that I was on anybody's radar with that show. It was so little—it was just a very petite, little thing and I didn't know that people were even watching," Nash said.
While Getting On never got the large viewing audience it deserved, it seems like the right people were watching. During her time on the series, Nash got a call from Ava DuVernay about a role in Selma. She also caught the attention of Mindy Kaling and the writers on The Mindy Project, booking a recurring role on that show.
Working with Nash on Getting On, Scheffer said he and Olsen were "surprised constantly."
"Her biggest strength is her indomitable love of performing, but that can be a weakness. She loves to be the 'class clown,' as it were. And that's for a lot of reasons. It's not a bad thing, per se. But there is a part of her that feels she always had to 'do more,' 'be funnier,' 'look prettier.' We made a deal. We told her if she trusted us we could earn her an Emmy nomination...And then we constantly reminded her in each scene, in each moment, that she was 'enough.' That she didn't have to do more. She fought like hell. But we'd rush in and say 'less.' It's really hard to do 'less' if you've always been taught 'punch it up,'" Scheffer said. "I think Niecy watched the pilot very carefully and she liked what she saw. She evaluated herself and said, 'I trust these guys will get me that nomination.' Her strength is the vulnerability she allows if she trusts her collaborators."
Nash said her biggest takeaway from the series was just that, "to trust my gift."
"Because when you don't exercise a muscle sometimes you can think, 'Oh, well maybe I'm really not ready in this area,' or, 'I'm weak in that area,' but trust your gift because it will make room for you," she said. "I hadn't lived in a dramatic space in my career, but I was able to do it and do it well. The telltale sign of how well I did was getting nominated for an Emmy back-to-back, two years in a row. I was like, 'I guess I do know what I'm doing!'"
The Claws producers thought so too.
"I think Niecy is an American treasure," Eliot Laurence, creator and executive producer of Claws, said in an email interview. "She has so many colors and flavors. I think a lot of people were surprised and blown away by her 'dropped down' performance in Getting On, which was so subtle and real and quiet and almost Bergman-esque. Niecy certainly has the wattage to sell it to the back row, but she can also be so internal and textured."
FROM DIDI TO DESNA
In Claws, TNT's neo-noir drama, Nash plays Desna Simms, a manicurist with a tight group of coworkers—they're more like a family than colleagues. Desna also happens to be under the thumb of the Dixie Mafia, and eventually the Russians, and is tasked with helping the crime families launder money.
"The very first script I read was so delicious, and when I finished it I could not wait to find out what happened next. So, it had me right there. These are women who are cool and flawed and unapologetic and fun and sexy. And they have sex for their own pleasure. It's a role that's typically reserved for men," Nash said about Claws. "You see tough guys doing bad things, badass things, and this is turning it on its ear to say, no, women are just as badass. Watch us take the same formula and see what we do with it."
Janine Sherman Barrois, showrunner and executive producer on Claws, said Nash has "this confident fierceness that is undeniable."
"You are drawn to her like a magnet, and when you meet her you know you are in the presence of someone born for greatness," Sherman Barrois said. Both the character and the actress possess this quality. After meeting Niecy, we all just knew. When she walked out of the room we were in awe, like we had been hit by a badass meteor."
In the first season of Claws, Desna wanted out of the money laundering life, a goal she worked hard to achieve—and she nearly succeeded! But it's a TV drama. Nothing is ever that simple. Now, Desna is even deeper in the underworld in season two, and balancing a personal life with a man she believed to be her true love.
"I love her. What she's doing on television right now—I'm not a size 2. I'm not 20 years old. I'm running around here doing things that typically would be reserved for a man, but I'm living my best life and I represent women who are of a certain age, i.e. on the south side of 40, not married, no children, and trying to—pun intended—claw her way up," Nash said about her character. "Those things are lovely."
"Niecy brings all the essential earthiness, maternal-ness (with a serious edge) and sexuality to Desna," Laurence said. "When she came in to meet, Janine and I were knocked on the floor by her sheer charisma and passion for the part. We got very lucky. As crazy as this sounds, she is even more Desna than the Desna I had in my head."
The deeper Desna goes into the belly of the beast, the steeper the emotional toll.
"There's an emotional journey that I have to go on [in season two]. There's a lot of crying, there's a lot of tapping in to your spirit being broken and typically I don't have to do that. I just look at a script and I find the funny in what is even outside of the lines. I can find a way to make just about anything funny, or if it's already funny, I'm going to find a way to make it funnier," Nash said. "So, typically having to be emotional, tap into that part of myself, I haven't had to live in that space."
Beyond mastering the emotional highs and lows of her character, Nash also learned what it takes to be No. 1 on the call sheet.
"What I learned is that like Desna being like the boss of the salon, being a leading lady of a series implies it's not just a title, but it's a lead indeed," she said. "You have to be someone that people want to follow, and so I think that that is true for Desna as well as myself."
Despite the fame and success in this dog-eat-dog industry—the Emmy nominations, the star on the Hollywood Walk of Fame, headlining a hit series—Nash doesn't let it go to her head. At the end of the day, work is work and Nash resists being defined by it.
"You know, if I live my life right I would be remembered for my 'who' and not my 'do.' I would be remembered for who I am and not what I did for a living—if I live my life right," she said.
Claws airs Sundays, 9 p.m. on TNT.