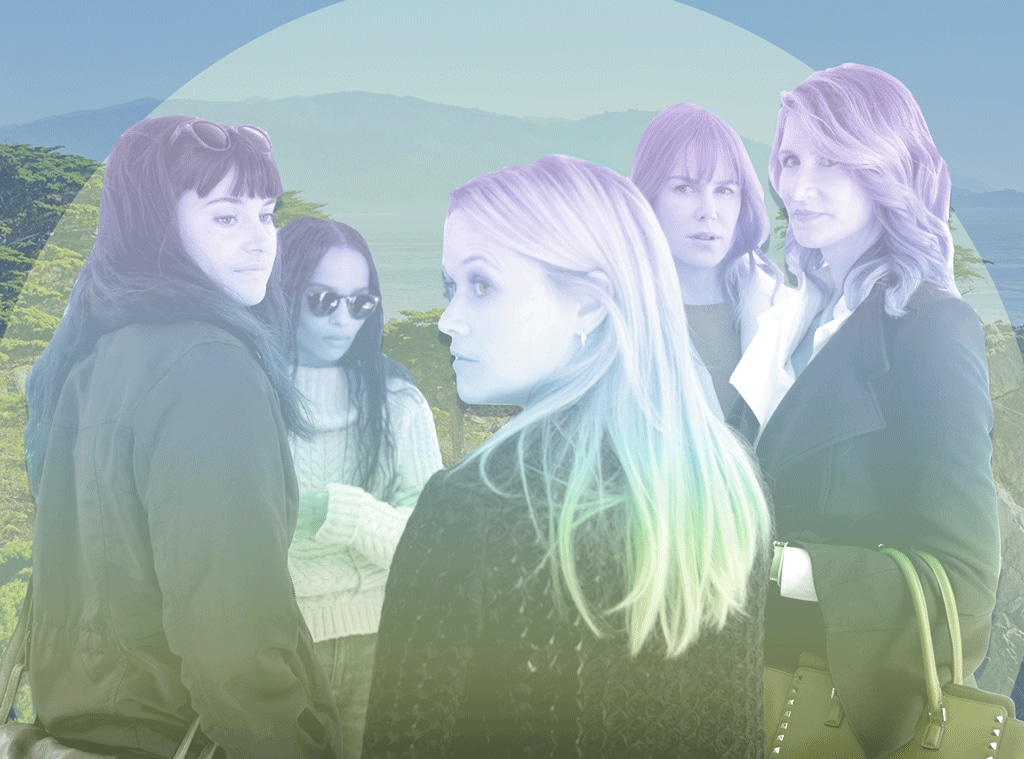 HBO; Melissa Herwitt/E! Illustration
They just couldn't stay away.
After a two-year break, HBO is returning to Monterey, Calif. on Sunday, June 9, for the highly anticipated second season of Big Little Lies, with Reese Witherspoon, Nicole Kidman, Shailene Woodley, Laura Dern and Zoë Kravitz all back in action as the Monterey Five. 
While originally intended to be a limited series, BLL is back for another season of shared secrets, mystery and mommy-sharing after it attracted huge ratings (8.5 million per episode) and major awards, including eight Emmy wins and four Golden Globe statues. 
But really, what seemed to bring the stars back wasn't the success of season one; it was the unbreakable bond and true sisterhood they formed during filming. Is it any wonder Meryl Streep wanted in on the fun for the second season? 
Even before it was announced in 2014, Big Little Lies seemed destined to happen if you look back at the five women's share histories, weaving a fun game of six degrees of separation.
Nicole, 51, and Reese, 43, both Oscar winners, actually met as teenagers in Hollywood, though they had never worked together before partnering as producers and co-stars on BLL.
Reese met Laura, 52, on the set of Wild, the 2014 Oscar nominated film in which they played a mother-daughter duo. An immediate friendship formed, with Reese later writing on Instagram, "My life changed forever when I met @lauradern on the set of WILD. Every day she makes my life better with her brilliant work and her genuine friendship. Plus she makes me laugh... a lot!"
Zoë, 30, and Nicole had also known each other for years, for far more personal reasons: Nicole had dated and was briefly engaged to Zoë's dad Lenny Kravitz in the early 2000s.
"I hadn't seen her in a long time before Big Little Lies, but there was a point where we were all kind of living together," she told The Edit. "I was about 13, and she would take me to see movies; she was so nice to me."
For Lenny, he opened up about his ex and his daughter working together on Watch What Happens Live, saying, "It was beautiful that they got to know each other as adults and make this great show together."
Zoë also had a history—albeit a much more recent one—with Shailene, as the two younger members of the Monterey Five co-starred in the Divergent film series. Like Reese and Laura, they formed an immediate bond. 
"She's like my sister. I would go to the ends of the earth for Zoë Kravitz. That woman has been a trailblazer, and she is truly interested in evolving into a better version of herself," Shailene told InStyle. "That is something I respect beyond words. She's also a genius. The world should be excited to see what Zoë creates, because she is a jack-of-all-trades.
Laura and Shailene co-starred together in The Fault in Stars in 2014, with Laura also playing the mother figure to her future fellow Monterey mom. 
"She helped me through personal battles, and I've helped her through hers. We have a connection that deserves more than the label 'friends,'" Shailene explained of their connection. "She's family to me. When I'm around her, even if I say nothing, she understands what's happening in my life. And I can vibe her out and know exactly what she's experiencing."
So really, Big Little Lies was the celebration and connection of all of these previously established relationships fusing together for a rare success—in front of the cameras and behind the scenes. 
"What's extraordinary is that because it's a multigenerational show, we get to hear feminism from different waves and perspectives," Reese told InStyle of the five women coming together. "So there's some second-wave feminism and some fourth-wave feminism in there. The perspective on sexuality and the idea of women's roles in the world is vastly different between the generations."
Despite the wide range in ages—27 to 52—the five have formed a unique sisterhood, one that defies the longstanding (and wildly) sexist myth that women can't work together in Hollywood without competition and catfights getting in the way.
And that started with Reese and Nicole, two of the industry's most successful stars, coming together in 2014 to adapt Liane Moriarty's bestselling novel through their respective production companies, choosing use their combined star power capital to push a female-fronted miniseries forward.
Evan Agostini/Invision/AP
When Reese presented Nicole with her Film Tribute Award at the 2017 Gotham Awards, she admitted she used her producer pull to spend even more time with her "beautiful, soulful, talented friend" during her speech. 
"I managed also to coerce my line producer to make sure I was in the same makeup trailer with her at all times while she was getting ready so I could ask her anything I wanted to. She was captive for two hours and I asked her a lot of questions," she explained, adding she would grill Nicole about all the directors she had worked with over the years. 
"I started a production company...to create more roles for women onscreen and behind the scenes," Reese wrote in a Glamour essay in 2017. "I think it's worth noting, I self-funded my production company for years. I think there's this fallacy that because I've been an actor, people are going to hand me stuff. Nobody hands me anything."
Of Reese, Shailene gushed to InStyle, "I want to cry when I think about Reese, because that woman holds the weight of so many worlds on her shoulders yet manages to show up day in and day out with more ambition than anyone I've ever met. More drive, more care, more passion. Even if she disagrees with you, she will take the time to understand."
Even though Reese and Nicole were executive producers, it was a collaborative environment on set from day one. 
"[Working with these women has been] astounding because I've learned so much. We all come in with our own set of skills," Nicole told InStyle. There's great listening and great contributing and great compromise, but actually, in the end, it's just a great allegiance. The show itself is its own force. We were all like, 'No, we're done,' and it pulled us back in. Reese and I just look at each other and go, 'How did we get here?'"
For Reese, who has often talked about being the "only" female on set growing up, she said, "It was great working with Nicole and Laura and Shailene and Zoë and really being able to rely on other women for advice, and performance advice...I've never gotten to work with actresses of this caliber, because we're usually cordoned off and we're the only women in movies."
Shailene, who has been acting since she was five and is the youngest member of the group at 27,  said being on set with her co-stars felt "as natural as breathing air," something she had never experienced in a group on set prior to filming BLL. 
"We can share space in silence. We can share space in noise. We can share space in reflection or gossip or anger or sadness or triumph," she explained. "But every space is grounded in business. I've experienced that on lots of movie sets with an individual, but I've never experienced that with a group."
Used to being the only female on set, the five women found they were able to have conversations they had never previously had on a project. 
"It was just a completely different working experience," Reese told The Los Angeles Times. "I've never been able to talk about those things with anybody on set." 
Laura, who grew up in a Hollywood family as the daughter of actors Bruce Dern and Diane Dadd, Big Little Lies provided her with a security working mothers in Hollywood rarely feel.
"These two goddesses have made me feel not alone as the mom who's working and feeling guilty at every step I take on set when I'm not with my children," she said of Reese and Nicole " To have other women ask, 'How do you get them to the singing thing?' 'Can we change schedules so I can go see their play?'"
Reese opened up about fostering that environment on set during a panel for the show. 
"We're definitely aware of each other's personal lives. I would say that's once difference....sometimes when I'd be at work an I was a young person with young children, I wouldn't bring my young children to set, because it made me feel vulnerable. It made me feel like I was exposed and that no one was gonna be supporting of me needting to take care of a sick child. And I have never had that experience was this group of women. I mean they did everything short of putting on a blonde wig and going out there and doing it for me. It was an incredible experience to be able to lean on each other. Even just express the feelings of guilt, or regret, or adness, or excitement over something that happened in my personal life."
Given their vast experience and impressive careers, Reese, who helped to launch the Time's Up movement in Hollywood in 2018, and Nicole looked to mentor and guide their younger co-stars, offering their experiences in the industry. 
"Having worked with Shai and Zoë, I always say to them, 'I'm here for you. I will answer your questions. I will be available to you for anything you need to know,'" Nicole told InStyle. "I really believe that we can help each other by answering questions and offering insight on whatever we've experienced. Take it or leave it. I love being able to do that."
The five women were able to be fearless because they felt safe with each other, as Zoë told InStyle, "They have my back, and I know if I was doing some weird, crazy shit, someone would set me straight. They help whenever I have a moment of panic and confusion, which happens quite often."
While season one was directed by Reese and Laura's Wild director Jean-Marc Vallee, season two was helmed by Andrea Arnold, with Reese and Nicole making sure there was female power behind the camera as well. 
"There are so many women on our set—it's so cool. I feel a different kind of energy, this feminine energy. Not only because the cast is dominated by women, but also because props and costume and grips and lighting and camera operators are too," Zoë told Reese in their chat for Harper's Bazaar. "My experience doing all my emotional scenes, I've never felt so safe and supported. It's really allowing me to go to a deeper place."
And that deeper place can lead to disagreements, with Reese and Nicole opening up about their process as producers during the show's panel at the 2019 Summer TCA press tour. 
"We'll disagree. And then, we'll find an agreement," Reese said their conversations as both producers and actors, with Kidman continuing, "Disagree, and then we'll go, 'OK, well, but I'm coming at it from this point of view with the character, and that..." and it's fantastic to be in it together. I just love having, fellow partners and women who go, 'This is–' and they're so smart, so everyone's contributing, and being able to be a part of that group, I've never had that. And it's lovely at this stage of my life and career to be doing something that I've never done before."
And during that panel, the women opened up about their downtime, with a playful argument taking place on stage when Reese jokingly revealed, "I pay...none of these girls ever pull out their credit card! OK, Meryl paid once!"
Nicole quickly chimed in that she pays as well, with Zoë then adding, "They won't let us pay! We've tried, Shailene!"
But, as Nicole noted, "You try, and we always pay. And we're producers. We should be!"
In case it wasn't obvious: These women genuinely like each other. Like really like each other.
They attend each other's husband's concerts, like Reese checking out a Keith Urban show in Nashville. Reese and Laura have gone on vacation together. They post throwback modeling shots of each other because it's "important." On Galentine's Day, they posted tributes to their five-member tribe.
They support each other's projects—whether it's the cast taking a field trip to see Shailene's new film together or Reese snapping photos of Zoe's YSL campaign ads to send to her whenever she sees them out in the wild—and celebrate major milestones, like birthdays and book releases.
Filming season two proved to be just as magical of an experience for the ladies as well, filled with long dinners and group activities when they weren't on set. 
"Our dinners are like 10-day vacations on a deserted island. Every dinner is three and a half hours minimum with food and wine," Laura told InStyle. We break it all down. It's how I think all of us feel when we get together with a group of women, particularly in the same field, like you've been crossing the desert for five days and you see water."
Reese and Nicole rented out a bowling alley for the cast and crew in June 2018, with their night making headlines after they posted photos of the group posing with bowling balls and beers...and Meryl Streep joining in on the fun. 
"We work and we play!" Reese shared on Instagram during game night. "Bowl-a-Rama party with the ladies of #BigLittleLies! @nicolekidman #MerylStreep @shailenewoodley."
Nicole added, "Sunday night fun with our amazing #BigLittleLies crew."
Even though she was there, Zoë felt major FOMO as she was at the bar grabbing a drink when the group photo was snapped...so she decided to have a little Photoshop fun, adding herself, Laura and even Brad Pitt into the mix. 
It happened again in April, with Reese posting a selfie with the ladies minus the Fantastic Beasts: The Crimes of Grindelwald star, though Reese made sure to handle the Photostopping duties before Zoë could, using a still from her Super Bowl commercial for Michelob Ultra.
During a recent visit to Good Morning America, Reese revealed the night proved Meryl, is in fact, human after all.
"I have to be honest, I found the one thing Meryl Streep is not good at," she said, "it's bowling."
Reese added, "But she was darn cute doing it and such a good sport to go out there and do it with the whole crew. But it was fun! Yeah, we always had fun and found time to do fun things."
Though she did admit on The Ellen DeGeneres Show, "I actually think at one point [Streep] threw [the ball] the opposite way and people had to like, scatter."
The women had jut as much fun on the set while filming though, with Reese dishing on each of the ladies' late-night on-set habits. 
"I like to make people laugh. Zoë tells jokes too. Nicole carries around a bag of snacks with rock-hard old-lady candies, giving out peppermints and butterscotches," she said. "Shai is just chill. And Laura gets delirious and starts making up musicals."
(It is worth noting that Reese literally pulled snacks out of her purse for Shailene and Zoe during their TCA panel when they said they were hungry.) 
While they were already complete as a quintet, the addition of Meryl, whose role as Celeste's mother-in-law was written for her, to the season two cast was just icing on the cake (or the sprinkles on an ice cream cone Reese would later hurl at her while filming a scene that would go viral) for all of the women.
"It's truly one of the greatest experiences of my career. I feel like a door opened, and I'll never go back the other way," Reese said. "When I watch the episodes, I'm always texting them saying, 'You blew me away.' I'm in awe of their talent and our collective ability to express on such a deep level, have joy on such a high level, and celebrate each other. It's the most fulfilling expression of the female experience I've ever had on film—particularly when Meryl Streep shows up. That's when you're like, 'Oh, we are doing something right.'"
And Meryl showed up on and off set, often joining the group for dinners and sharing stories with her cast members, as Kidman, who worked with the legendary star in 2002 on The Hours said she "immediately fit in and joined the gang,"
Reese told Vanity Fair, "She'd come out to dinner with us. We had pizza and pasta dinners, and she'd tell us all her stories about her career and her life. It was an incredible experience just listening to her, and we had so much fun. When the girls get together, we are just laughing all the time."
Just don't expect any of the Monterey Five to spill her secrets.
"We go to the grave with all of these stories," Nicole said during the Big Little Lies TCA panel.
"What happens in Monterey, stays in Monterey," Meryl said. 
Everything except for the women's love for one another.