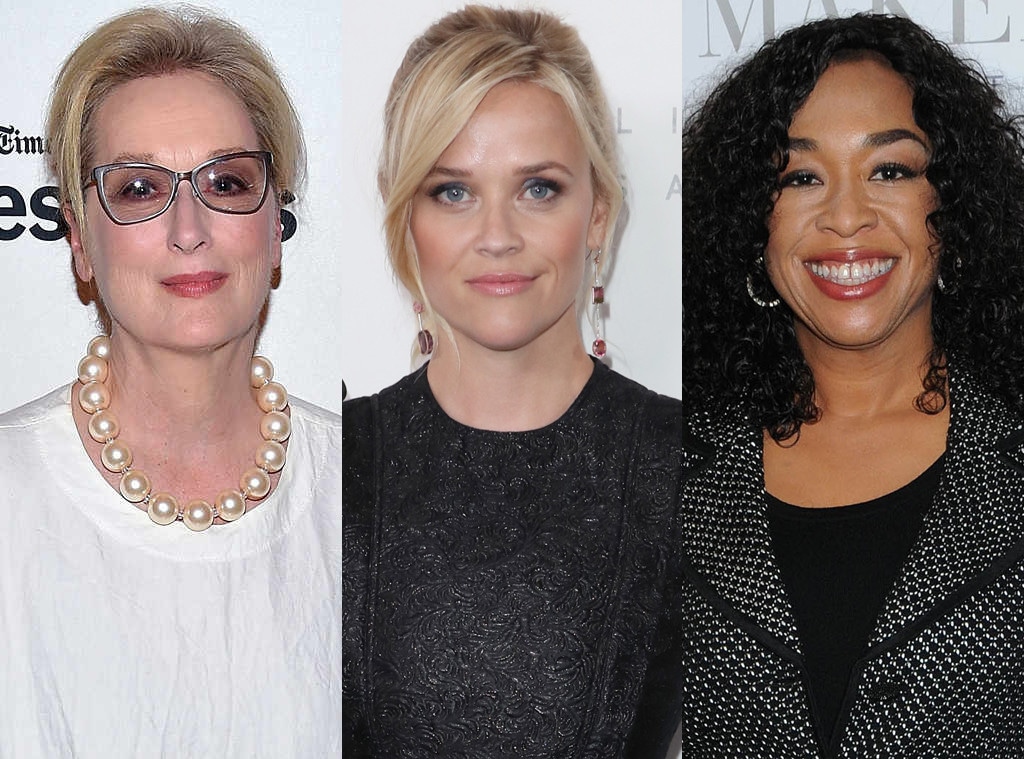 Dimitrios Kambouris/Getty images; ZUMA
Reese Witherspoon, Meryl Streep, Shonda Rhimes and more than 300 other women are taking a stand against sexual harassment and assault in the entertainment industry by launching Time's Up—a movement that aims to promote equality and safety in the workplace.
The initiative addresses legislation, corporate policy and hiring practices and aggregates resources.
"Earning a living should not come at the cost of anyone's safety, dignity or morale," Rhimes said in a statement appearing in a Time's Up email. "Every person should get to work in an environment free from abuse, assault and discrimination. It's well past time to change the culture of the environment where most of us spend the majority of our day—the work place. 51% of our population is female, over 30% of our population is of color. Those are important, vital, economically powerfully voices that need to be heard at every level."
She also added, "TIME'S UP is working to make sure the people walking the corridors of power within the workplace and in politics truly reflect the full mix of America—the real America that looks like and includes all of us. Look, this isn't going to be easy but it is right. And fighting for what is right can seem hard. But letting what is wrong become normal is not easier—it is just more shameful."
One of its newly launched initiatives is the Time's Up Legal Defense Fund—a tax exempt charitable organization that helps individuals who've experienced sexual misconduct obtain legal representation. The fund has already raised more than $13 million from more than 200 donors.
In addition to Witherspoon, Rhimes and Streep, Jennifer Aniston, Katie McGrath and J.J. Abrams, Kate Capshaw and Steven Spielberg's Wunderkinder Foundation, Creative Artists Agency (CAA), ICM Partners (ICM), Paradigm Talent Agency, United Talent Agency (UTA), and William Morris Endeavor (WME) are among the founding donors.
E! News has learned that Taylor Swift also donated to the movement. Fans will recall how Swift won her case against David Mueller after accusing him of reaching underneath her skirt and grabbing her butt while posing for pictures during a 2013 meet-and-greet.
The movement also launched the Commission on Eliminating Sexual Harassment and Advancing Equality in the Workplace in mid December. Led by Anita Hill, the commission seeks to create safe and more equitable work environments. According to the Time's Up email, the commission is "committed to a comprehensive approach to replacing abuse of power, mistreatment and silence with accountability, respect and opportunity."
Plus, the movement is working with 5050by2020—an initiative in which women, people of color and LGBTQ members in the entertainment world fight for fair hiring practices and equal leadership representation.
The movement was announced on Monday in an open-letter published in The New York Times.
"We want all survivors of sexual harassment, everywhere, to be heard, to be believed, and to know that accountability is possible," part of the letter read. "We also want all victims and survivors to be able to access justice and support for the wrongdoing they have endured. We particularly want to lift up the voices, power and strength of women working in low-wage industries where the lack of financial stability makes them vulnerable to high-rate of gender-based violence and exploitation."
Several celebrities have already posted their support for the movement on social media, including Witherspoon, Rhimes, Gabby Sidibe, Kerry Washington and Selena Gomez.
According to The New York Times, Ashley Judd, Eva Longoria, America Ferrera, Natalie Portman, Rashida Jones, Emma Stone, and Jill Soloway are all members of the movement. The newspaper also lists Donna Langley, chairwoman of Universal Pictures; Nina L. Shaw and Tina Tchen, lawyers who worked on Michelle Obama's chief of staff; and Maria Eitel, co-chairwoman of the Nike Foundation, as members.
In addition, The New York Times reported that Time's Up is requesting women to wear black to the Golden Globes as a way to speak out against inequality.