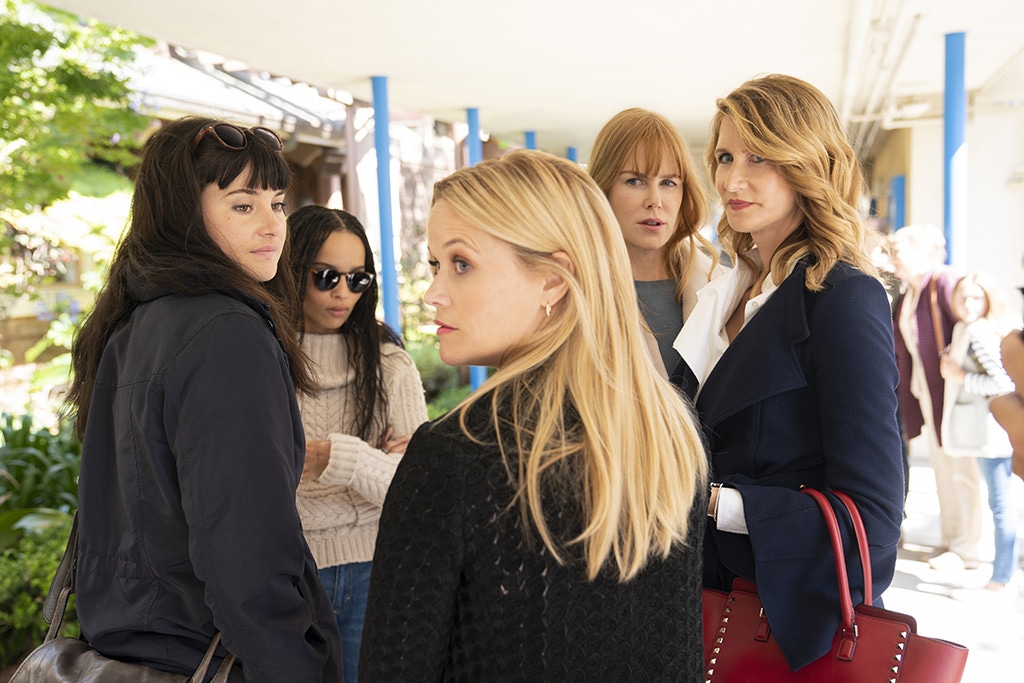 HBO
If you, like us, thought you didn't need a second season of Big Little Lies, you might be delighted to find that you, like us, were wrong.
Even David E. Kelley admitted that with the addition of Meryl Streep, this show got new life, or "a leg up," as he said. The delightfully awful Mary Louise, with her fake teeth and her wildly specific insults for Madeline Martha Mackenzie (Reese Witherspoon), is an injection of fresh air into the series that was already pretty fresh to begin with. She's a terrible, terrible delight, and she makes us regret that "nooooooo!" we tweeted when this second season was announced. After seeing the first three episodes, we'd like to change it to a "Yessssssss!" and issue an official apology. 
We're sorry, Meryl. We really are.
But the truth is that even in the scenes without Meryl Streep hurling backhanded compliments and reminding people that her son is dead, there's a whole lot of life in this show in the wake of the death that framed season one, and we've got just a few other things you can and should look forward to alongside Meryl Streep. 
Reese Witherspoon 
Madeline Mackenzie truly holds her own in the face of Mary Louise's suspicious gaze, but that's not all. She stuffs cupcakes into her mouth and sucks at selling houses and tries to keep that smile on her face no matter what's going on. And in those moments when she can take that smile down, Witherspoon is equally as good. 
Laura Dern
We can't even express to you the joy that is Laura Dern as Renata Klein. Pure, foul-mouthed joy, with some rage thrown in. She's got magazine photoshoots. She's got parent/teacher meetings. She's got some wild marriage things to deal with, and she's got a lifestyle to uphold, thank you very much. And even as everything falls apart in a way, she's still Renata AF and we don't know any other way to describe it other than one line in episode three: "She's the f--king Medusa of Monterey!" 
Nicole Kidman 
Is this list mostly just a bunch of actor names? Kind of! But Kidman's work in portraying Celeste's mix of relief, grief, and continued PTSD is devastatingly good, and you can feel her pain and the added tension whenever Mary Louise is poking around.  
Zoë Kravitz
Bonnie's getting a backstory as she deals with the fact that she was the one who pushed Perry down the stairs, and she's also getting a visit from her well-meaning parents. Her mother especially explains a whole lot about the woman Bonnie became, and all you wanna do is give that woman a hug in the face of her impossible situation. 
Shailene Woodley
It's official. This is a list of actresses, but they all deserve to be here, as they are all reasons season two was worth bringing us. Jane's doing her best to move on now that she knows her rapist is dead, but it's not as easy as anyone had hoped and oh boy are there some tears to be cried and rage to be felt. She also has bangs now, but please don't mistake that mention for their inclusion on this list. 
The Darkness 
In all seriousness, season two of Big Little Lies dives deep into the aftermath of not just what happened on Trivia night, but what had been happening long before it, and where the first episode catches you up to where everyone is a few months after that fateful night, the second episode will break your heart in more ways than one. In fact, every single one of the women might just break your heart individually as their suppressed problems all come bubbling to the surface. 
The Kids
Now that the kids are a little older, they're also a little wiser, and they have a little more to do and say this time around with very mixed results. This gives us some beautiful scenes, some infuriating scenes, and some wildly entertaining attempts at parenting (and school assemblies) in the midst of all the madness in Monterey. Who knew kids would be so broken up by the prospect of the end of the world? 
All in all, Big Little Lies season two is, so far, everything we wanted and more, and it's got us downloading the soundtrack and ordering a flowing skirt in preparation for a road trip to Monterey. 
Big Little Lies season two premieres Sunday, June 9 on HBO.