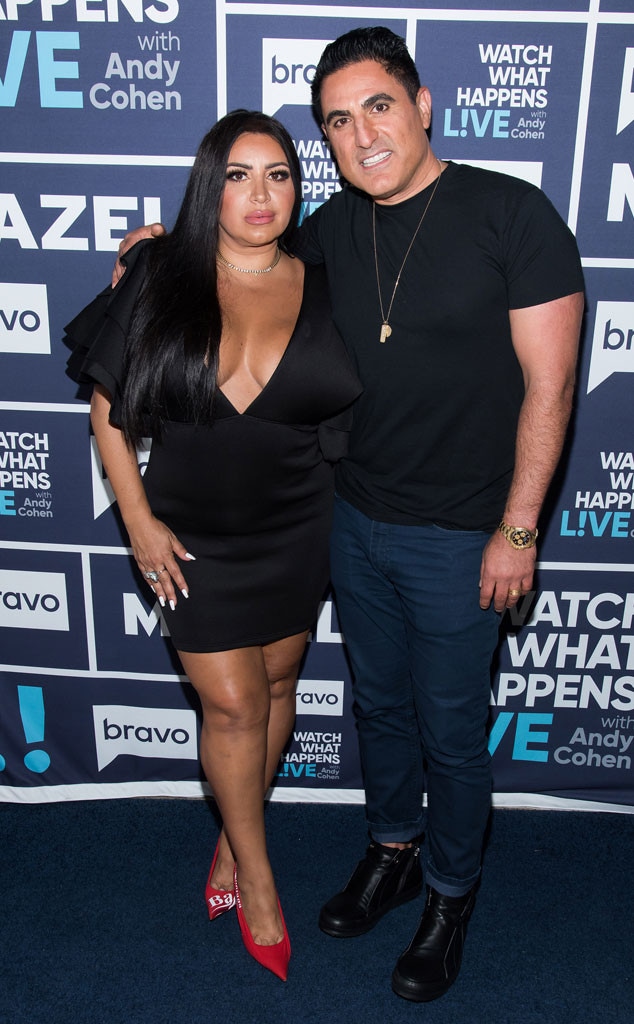 Charles Sykes/Bravo
The drama continues...
Mercedes "MJ" Javid is breaking her silence on the ongoing feud between her and fellow castmate (and "former friend"), Reza Farahan.
Some refreshers for those who haven't been following along: On Monday, the Shahs of Sunset stars' drama came to a head when the 45-year-old beauty mogul filed a restraining order on Javid's husband and fellow co-star, Tommy Feight.
In the documents, which were obtained by E! News, Farahan alleged Feight vandalized his and Adam Neely's home on Sunday, May 19, while also sending him "threats" via phone.
Now, Mercedes is weighing in and speaking out on the matter.
She tells E! News exclusively, "It deeply saddens me that my former friend is battling with his demons and has decided to go this low to hurt me." The 46-year-old reality TV personality continued, "The more he goes down this dark path, the harder it will be for him to recover from it."
Additionally, on Wednesday morning, Tommy came to his wife's defense over the very public feud between them and Reza.
"This is how my wife spent her 1st 2 days as a mom—it was without a doubt the most terrifying experience I have ever been through, i have never felt so alone and helpless and even now I can't think of this experience without breaking down—she is a warrior and stronger then any women I know—she is my Queen my hero and my universe," he captioned on Instagram, alongside a photo of his wife in the hospital.
Charles Sykes/Bravo/NBCU Photo Bank via Getty Images
Feight continued his statement, "I will let NO ONE disrespect minimize and devalue all that she went through to bring our son into this world—i took vows to protect her and keep her safe and I will do that until my last dying breath #tillthedirt #myqueen #smother #khaleesi #bendtheknee." 
Furthermore, Reza took to Instagram to "clarify" a few things on Wednesday evening.
"I want to make an apology and clarify something, then sign off.  In my haste to get the timeline of events out, I included a text w/ sensitive information, that was sent to me by Tommy, using MJ's phone. For that I'm truly sorry."
The reality TV star continued, "I had forgotten that was in there and I genuinely wish I could go back and cut that one out. Unfortunately it's out and I'm very sorry. Our lives are more important than a feud. I can't explain how unsettling it is to feel unsafe in our own home, so we're signing off." 
In his post, he tagged fellow castmates Destiney Rose, Golnesa Gharachedaghi, Mike Shouhed and Nema Vand.
It seems Reza and MJ's friendship came to a halt sometime throughout her pregnancy and over the last few weeks, the two reality TV stars have thrown jabs at each other over social media. Both Shahs of Sunset stars have since deleted their posts.
"Hope you guys have a great season without me!! I cannot wait to watch! I'm truly impressed by the extraordinary level of SELFISHNESS you have shown me during something so serious," Mercedes wrote, adding, "Where are my f--king "friends?""
In response to the 46-year-old star, Reza shared, "When you're evil and plotting against your best friend of 30 years, make sure not to leave receipts in plain sight." He continued, "If none of my friends came to see me while I was in ICU giving birth I'd look inward." 
In his post, he included screenshots of his text exchanges with Javid.
A source previously told E! News that the drama between the two is "100-percent real." They said, "No one expected there would be police and judges involved, and now their friends feel things may have escalated to [a] point where they can't rebuild their friendship."
Both Bravolebrities have signed on to film Season 8 of Shahs of Sunset, however, the source said, "MJ and Reza have not shot any scenes together and it's unknown how the cast will move forward together."
(E! and Bravo are both part of the NBCUniversal family.)
—Reporting by Spencer Lubitz