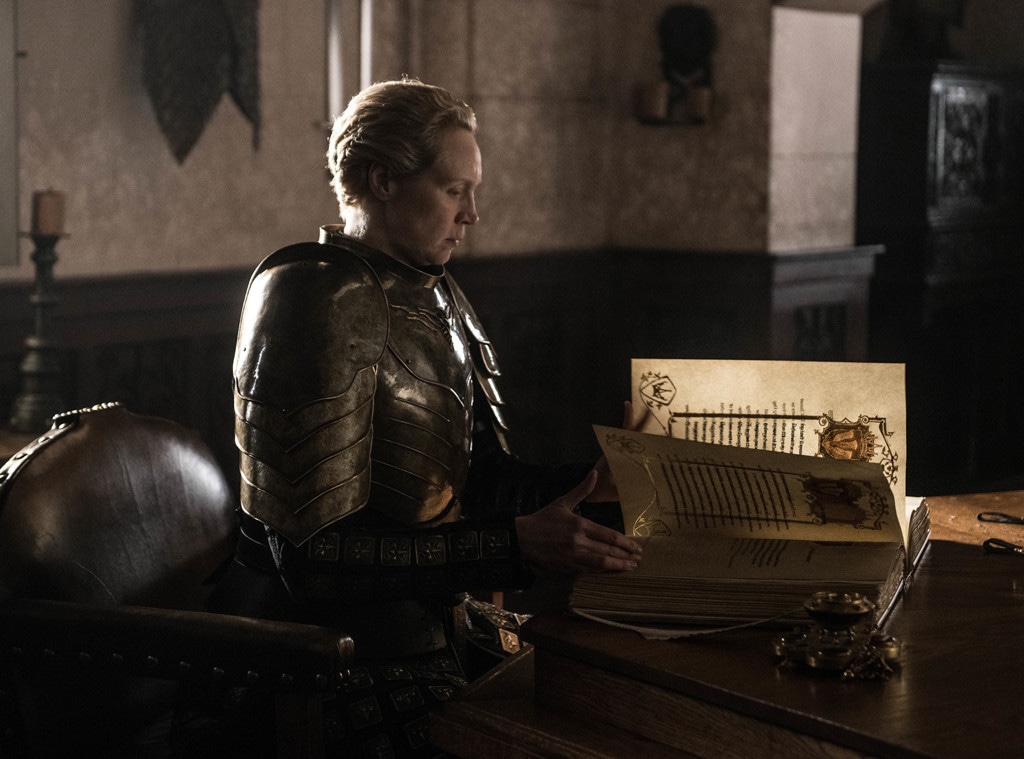 HBO
Something happened to Gwendoline Christie and it's all thanks to her Game of Thrones character Brienne of Tarth.
Christie shot to fame as the honorable fighter whose dedication inspired millions. Now that she's a household name—and the show that made her one is over—Christie is opening up about her time on the HBO series.
"THANK YOU. There is no other way to start this. @gameofthrones has changed my life beyond anything I could have comprehended. Playing Brienne of Tarth has redefined the way I look at the world, women and particularly myself," Christie wrote on Instagram. "I have never felt so exposed by a character, but happy knowing that those feelings of discomfort were about shaking off convention and embracing strength and authenticity."
The photo she posted along with her note was on her last day of filming as she said goodbye to Ciaran, a crew member who was on the show from the start. He was the first person she met on Game of Thrones and "he treated me with respect, kindness and great humour every single day," she said. "I shall miss seeing his smiling face in the misty dawn mornings, warmly welcoming me to set."
"I shall miss everyone that gave so much of themselves helping to create Game of Thrones; it was a privilege to work with such talented creatives, cast and crew. I am just so very grateful for this phenomenal opportunity and the incredible support that you've all given me, all your kind words and cheer—it truly means a great deal to have been part of something so many of us have loved. My heart aches with how much I will miss Ser Brienne of Tarth. But what she has inspired I will take with me. Thank you. Thank you. Thank you," Christie wrote.
When E! News spoke with Christie at the final season premiere, she said she'll welcome being forever associated with Brienne of Tarth "because I think that's a great privilege."
"We don't see—we haven't seen women like that in mainstream television," Christie said. "What we've seen is a patriarchal viewpoint of how men believe women should be and we haven't been allowed an awful lot of variation with regards to women or men, or all sorts of people. I feel like Brienne of Tarth inhabits the role of the classic outsider and why we love her is through her deeds and actions. And I am delighted to carry that forward for the rest of my life. It's been a huge privilege to play this role."
The series ended with Brienne becoming a knight—so it's Ser Brienne to you now—and leading up the Kingsguard for the newly appointed ruler of the Six Kingdoms, Bran Stark (Isaac Hempstead-Wright).
Up next for Christie are flicks The Friend and The Personal History of David Copperfield. The actress recently appeared as her Star Wars character, Captain Phasma, in the animated series Star Wars Resistance and popped up in Welcome to Marwen.