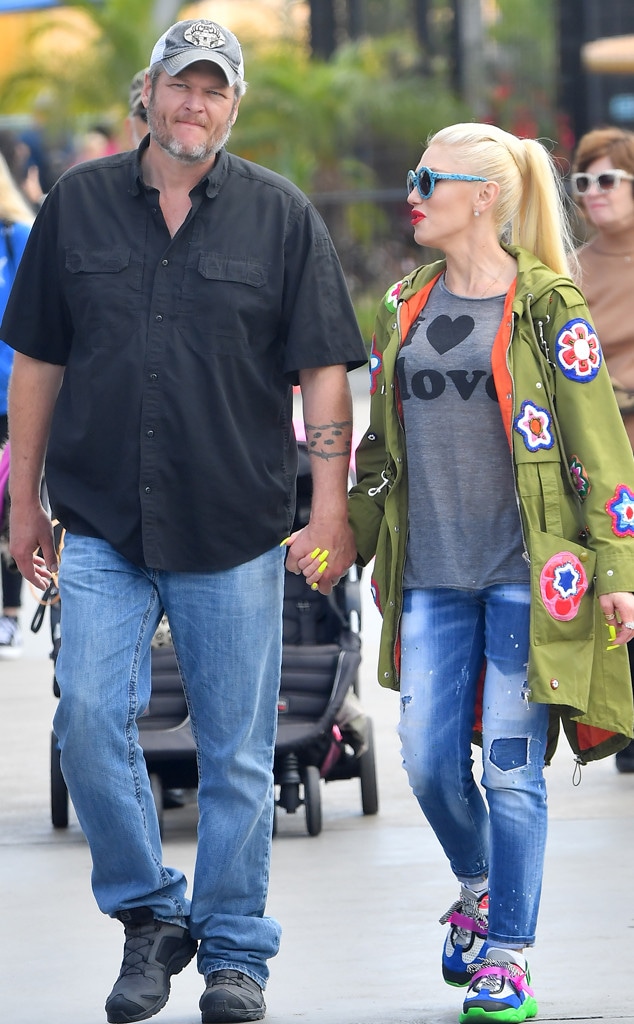 Marksman / MEGA
It was an adventurous weekend for Blake Shelton and Gwen Stefani!
The musical couple, who first started dating in Nov. 2015, enjoyed a day at Knott's Berry Farm in Buena Park, Calif., on Sunday. Shelton and Stefani were joined at the theme park by her three kids Kingston, 12, Zuma, 10, and Apollo, 5. The fun family outing appeared to be a pre-birthday celebration for Kingston, Stefani's eldest son with ex Gavin Rossdale, who will celebrate his 13th birthday in just a few short days.
Photos from the theme park visit show the "God's Country" singer and the "Make Me Like You" star holding hands while exploring Knott's Berry Farm. One sweet snap shows the longtime couple enjoying a laugh on the Calico River Rapids ride, with Stefani attempting to shield herself from the water.
Stefani was also spotted enjoying a number of other rides with her kids, including the Timber Mountain Log Ride.
This family outing comes just weeks after the Stefani-Shelton squad attended the Ugly Dolls premiere together.
"We brought all the kids, and actually Gwen's brother and his family, so we made a whole day out of it," Shelton said on The Ellen DeGeneres Show in early May. "It was a lot of fun."
During the show, host Ellen DeGeneres gave Shelton a pre-engagement gift, a clock with a picture of the couple kissing on it.
"So Jennifer Lopez was here and I wanted to help her out with [Alex Rodriguez], 'cause she wanted to marry him, obviously, like Gwen wants to marry you," DeGeneres explained. "And I gave her a clock just to remind—that she could give to him—that the clock is ticking, that time is passing. So I gave her that clock and literally like a week later he proposed to her."
"So you're saying...there's a chance she's gonna ask me to marry her?" Shelton joked. 
"Now that she knows that you're waiting for her to ask, now that she sees this, she'll ask you," DeGeneres assured Shelton. "I'll call her tonight."