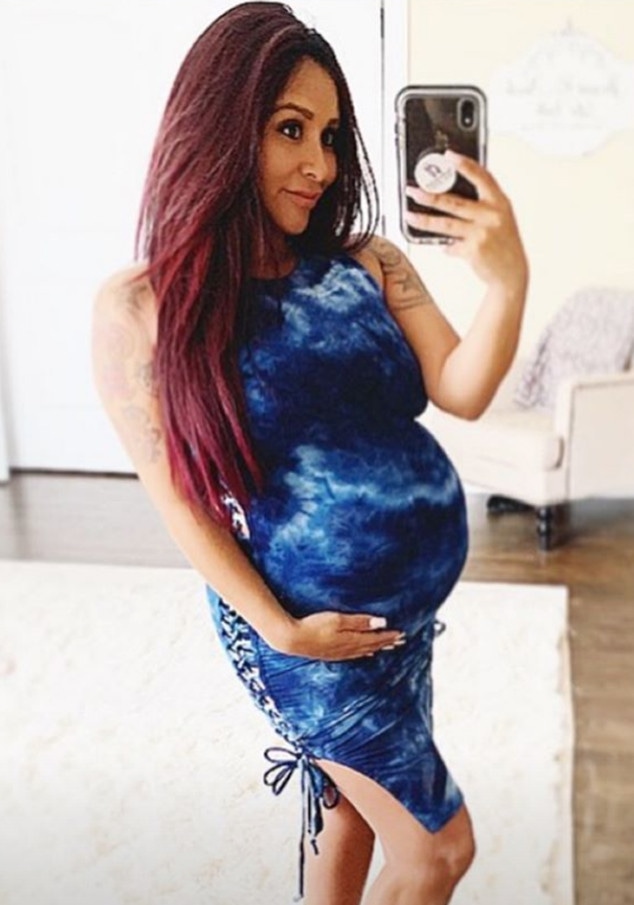 Instagram / Snooki
Snooki is ready for her son to arrive.
The Jersey Shore star, who will welcome her third child in just a few weeks, has been feeling "miserable" as she gets ready to give birth. In the latest episode of her It's Happening with Snooki & Joey podcast, posted Thursday, the expecting star dishes on her recent visit to the doctor's office.
"I just got back from the doctor's office, I'm so annoyed because I've been feeling cramps and I swear the baby's coming out," Snooki shares on the podcast episode. "And then I went today and [the doctor] said like another two weeks or so."
"So, I'm annoyed," the reality star continues, adding that she and husband Jionni LaValle want their baby to arrive on May 26. "So, I'm gonna really try and do everything...have Jionni there and switch things around."
"So, I'm annoyed that I have to spend another couple weeks feeling this miserable," Snooki adds. "You have no idea."
The 31-year-old star, who is also mom to Lorenzo LaValle, 6, and Giovanna LaValle, 4, recently revealed the name of her third child will be Angelo. In early May, Snooki celebrated her son's upcoming arrival with her closest pals at a baby sprinkle.
Watch:
"Jersey Shore" Stars' Kids Reunite at Snooki's Baby Sprinkle
Snooki previously opened up to E! News about her third pregnancy, declaring it "the worst."
"Just because I'm chasing around a 4 and a 6-year-old, I'm not really having time to rest or sleep or do any of that, which is fine, but I'm grumpy," she explained. "And I'm ready for this to be over. I'm super excited to have a third baby though, but I know it's gonna be so stressful because everyone says the third one...that's the baby that makes you crazy. And I'm already crazy."