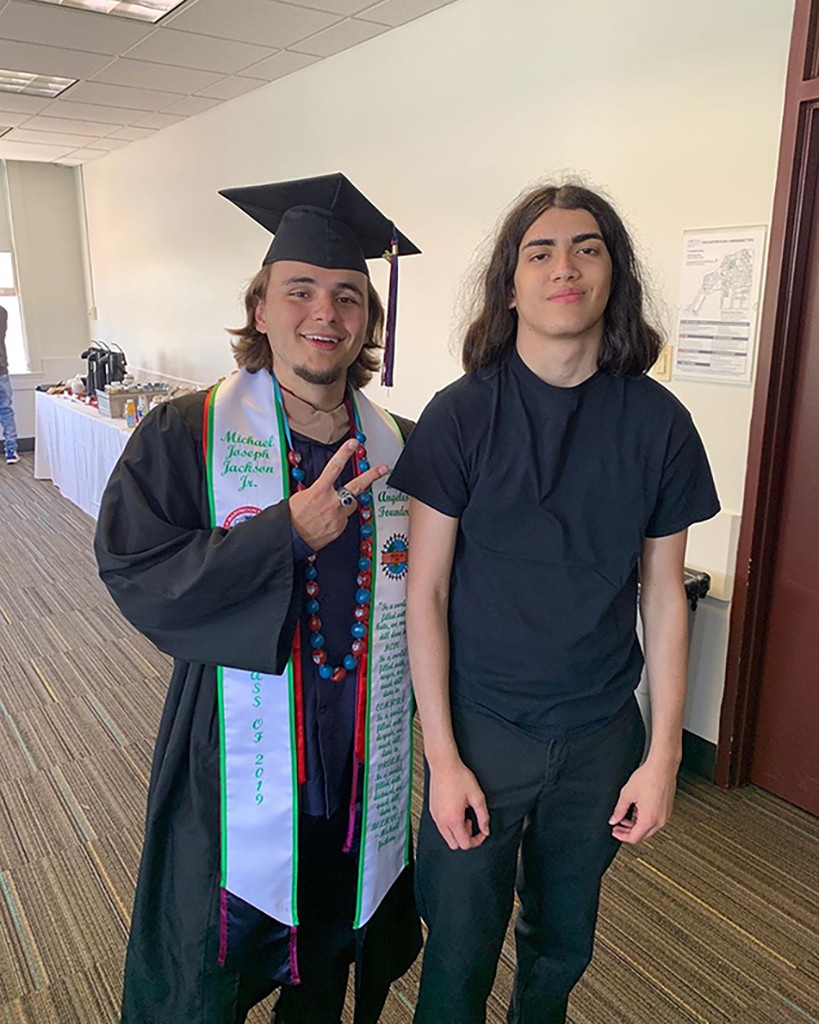 Instagram
As Michael Jackson would say, it's a family thing. 
The late singer's youngest son Blanket Jackson made a rare public appearance this weekend to celebrate his brother Prince Jackson at his graduation from Loyola Marymount University. There, the siblings posed for photos, which features a giddy Prince clad his cap and gown and throwing up a peace sign.
"I met so many people and learned so much that the experience alone is worth it," the newly minted college grad, 22, captioned the shot on Instagram. "Honestly I can't tell you if all of it was worth it yet but I am proud of my degree as I believe it is a testament to my dedication and discipline. I'm thankful for LMUs education of a whole person and the implementation of Jesuit values because I believe they inspire graduates like me to continue to change the world for the better."
While his brother and his sister Paris Jackson have begun to embrace the spotlight, Blanket, 17, has rarely been seen in public since his father died in 2009. The teen, born Prince Michael Jackson II, attends a private school in L.A. and is under the guardianship of his cousin T.J. Jackson. (All three kids were under the care of their grandmother, Katherine Jackson, until 2017.)
To fans, perhaps his most memorable moment was when, at just 9-months-old, he was held over the railing of a balcony by his dad. Though Michael was just trying to show off his son, whose face was covered by a towel, the moment caused outrage—and even the plot of a 2003 Law & Order episode.
Watch:
Michael Jackson's Legacy Crumbles & Paris Slams Lies
"I offer no excuses for what happened," he later said in a statement. "I got caught up in the excitement of the moment. I would never intentionally endanger the lives of my children."
The "Thriller" singer has come under fire more recently following HBO's two-part documentary, Leaving Neverland. The explosive special features interviews with Wade Robson and James Safechuck, who accuse the singer of sexually abusing them. 
Michael's estate has denied all of the allegations and has publicly slammed the project. Jackie Jackson previously told E! News that the claims have devastated the King of Pop's children. "They are going through some troubling times," he shared. "It's painful for them."