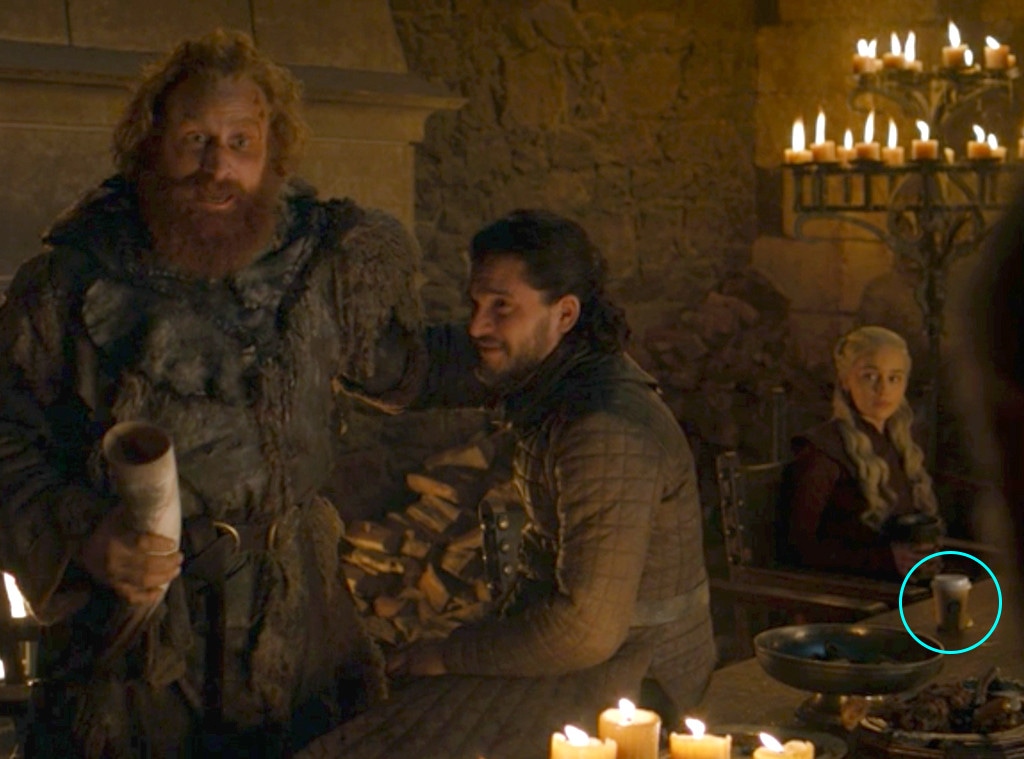 HBO
Forget crazy theories about Bran Stark being the Night King, we're all in on the mystery of Game of Thrones' coffee cup.
In a scene in the fourth episode of the final season, an errant coffee cup could be seen next to Daenerys Targaryen (Emilia Clarke) while she looked over to Jon Snow (Kit Harington). The cup has since been edited out of the show.
"The latte that appeared in the episode was a mistake. Daenerys had ordered an herbal tea," HBO said in a statement after the errant cup went viral.
But whose cup was it? While appearing on Conan, Liam Cunningham, Davos Seaworth on the series, brought Conan O'Brien "the cup" (it wasn't really the cup).
"These things happen. It's a big job, people run in, and Emilia probably drinks too much coffee," Cunningham said.
"What a bastard!" Clarke told The Los Angeles Times with a laugh. "I don't even drink Starbucks. I have no idea whose it was. Liam's a cheeky one. The funny thing is in Belfast, there is no craft coffee selling Starbucks. Unless we've got the Americans in, some hotshot producer, and then we'll have Starbucks lying around."
She went to her Instagram to share a behind-the-scenes photo of her with a cup in hand alongside Peter Dinklage and visiting former cast member Jason Momoa.
"Did I just stumble upon the truth here?! The cup bearer does not drinketh the Starbucks tea... oh and this ain't a spoiler just a lost wanderer coming home for a mid filming cuppa....[fire emoji] @prideofgypsiesyou so fire you make my hair turn blue," she said. See the picture below.
Game of Thrones airs Sundays, 9 p.m. on HBO.