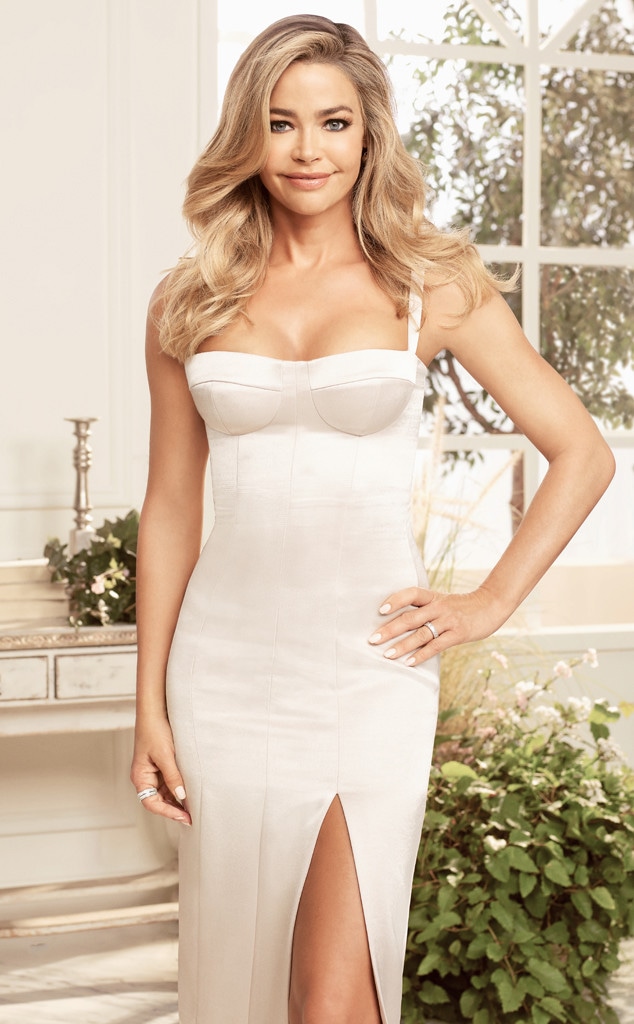 Tommy Garcia/Bravo
Since joining The Real Housewives of Beverly Hills, Denise Richards has been a breath of fresh air on a show that can easily be overtaken by a singular issue (*cough* Puppygate *cough*). Denise has been open about her life in the limelight and pulled back the curtains on what the tabloids don't report about. That continued in the Tuesday, May 7 episode when she talked about happy endings. Yep, that kind of happy ending.
After getting a massage while camping with costars Lisa Rinna, Teddi Mellencamp, Erika Girardi, Camille Grammer, Kyle Richards and Dorit Kemsley, Denise opened up about her experience with massages ending with happy endings—she's had one—and how she got one for her now-husband Aaron. This became an extended topic of conversation for all involved, but Denise rolled with it. The conversation continued on the RHOBH after show.
"I'm nervous about this story…Am I going to get arrested?" Denise said about revealing she wanted her husband to get a massage with a happy ending. "When I said that about the happy ending, I heard f—king crickets and I was like, 'Holy f—k. I don't know these women that well and I feel that they're probably judging me right now.'"
She said she was trying to navigate the situation while not offending anybody.
"It was funny, but I didn't think it was going to turn into such a conversation. I just, you know, mention it like, whatever," Denise said.
"I've got to say, it's probably some of the greatest stuff to happened on this show," Lisa Rinna told her.
Denise said viewers are probably going to think she's "f—king nuts," but said she has a "very comfortable" relationship with Aaron. They like to have "adult time" together and said they've gone to strip clubs together. "We like to have fun," she said.
It all started when one of Aaron's friends was visiting, got a massage, and then received a happy ending. Aaron revealed he never had one, so Denise wanted him to experience it.
"I was surprised that he had never had one, which might say what kind of I've dated and—" Denise said.
"Married," Lisa added with a laugh, referring to Denise's ex-husband Charlie Sheen.
"And married," Denise said. "And lost, you know, whatever. It took a few places, and so then we're like, 'Well is there a code or do you have to say something?' We weren't really sure. But it does happen."
The Real Housewives of Beverly Hills airs Tuesdays, 9 p.m. on Bravo.
(E! and Bravo are both part of the NBCUniversal family.)