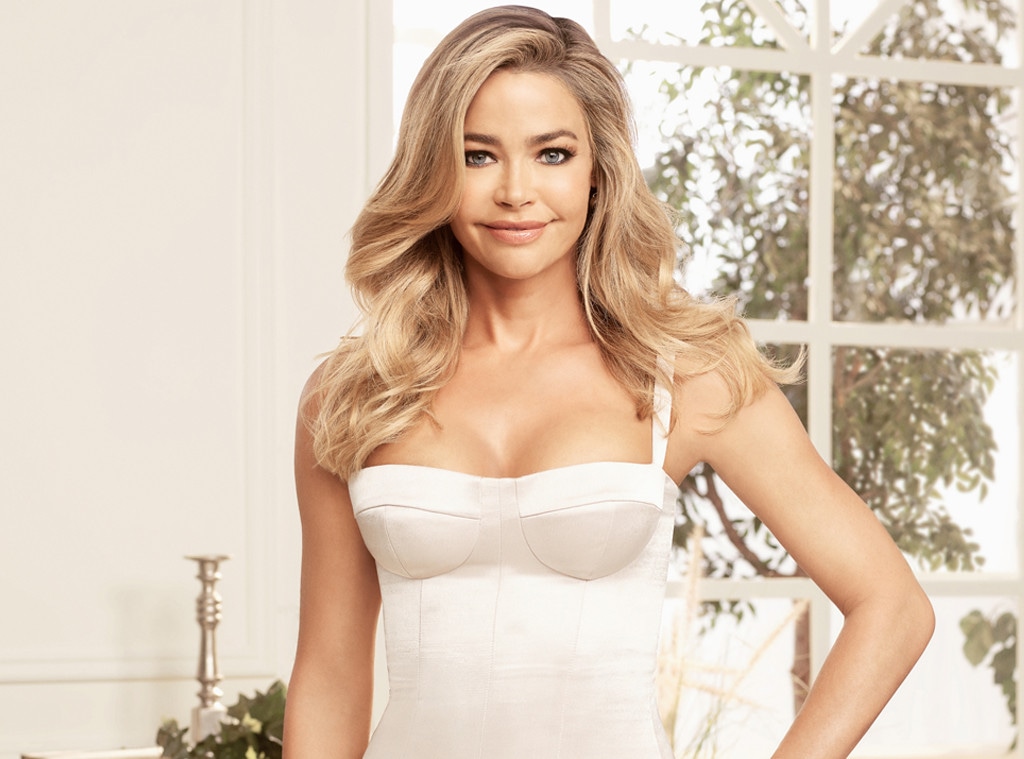 Tommy Garcia/Bravo
While the whole world has been distracted by Puppygate on The Real Housewives of Beverly Hills, Denise Richards has been there this whole season, being the best thing to happen to that show in years.
"[T]hings seemed to still turn back to Puppy Gate. I don't think there's really anything to add that hasn't been covered already," Richards wrote in a recent Bravo blog. "However, being a huge animal advocate, I just hope Miss Juicy Juicy Apple Banana Smoothie Lucy finally found a happy and healthy fur-ever home! I say we all have a cheers (with Casamigos tequila) and move the hell on."
Richards, who viewers may know as the former Mrs. Charlie Sheen and for her roles in Wild Things, Drop Dead Gorgeous and The World Is Not Enough, joined the show in its current ninth season after appearing as a guest. The actress has been nothing short of a breath of fresh air this year. While the show is called Real Housewives, many newcomers come in with an agenda, something to prove, something to sell, but it appears Richards is just there to be, well, real.
In the episodes that have aired, Richards has appeared genuinely confused about the petty squabbles, voiced her love of fries and bread baskets while the other ladies cooed over a decadent appetizer, and indulged her costars in reenacting a scene from a James Bond flick—that wasn't hers. During a trip to the Bahamas, Richards routinely showed up in perfectly fine apparel, but when compared to the others, she seemed under dressed—and unfazed by it all.
"Although, I really would have been totally down for fries and burgers, but as expected with this bunch we got the super pretty (but tiny) dishes," she wrote about a Bahamas dinner. "People may have thought I was joking, but I'll totally order off the kids menu with my girls. Old habits die hard. Between the cuisine and my 'casual' clothes, I really do feel like the Beverly hillbilly of the group, although I'm getting some inspiration from the girls' fab outfits!"
The honesty and "real" aspect seems to not have been a fluke in the first few episodes. In a preview for the Tuesday, March 19 installment of RHOBH, Lisa Vanderpump asks Richards if she had an instant attraction to her husband.
"I thought he was very cute, and I wanted to f—k him. I just wanted to have sex with him…He has a very big penis," Richards revealed.
When asked what he does, Richards spoke up for him. "He offers a very good service, aside from his very big penis," she said.
"I never took a f—king ruler to it, but he does have a big penis. And I've seen some penises in my life and I will say he has the biggest penis I've ever been with," she said in a confessional.
Lisa Rinna said Richards is fitting right in, despite the other ladies often not liking the newcomers. "Because Denise is a legend," she said. "People are a little bit in awe of her and then you get to know her and she's just really chill. She says it like she is. I think people will love Denise Richards."
"She brings wisdom, she brings life. She's been through it in the last 14 years," Rinna said.
Legends only.
The Real Housewives of Beverly Hills airs Tuesdays, 9 p.m. on Bravo.
(E! and Bravo are both part of the NBCUniversal family.)