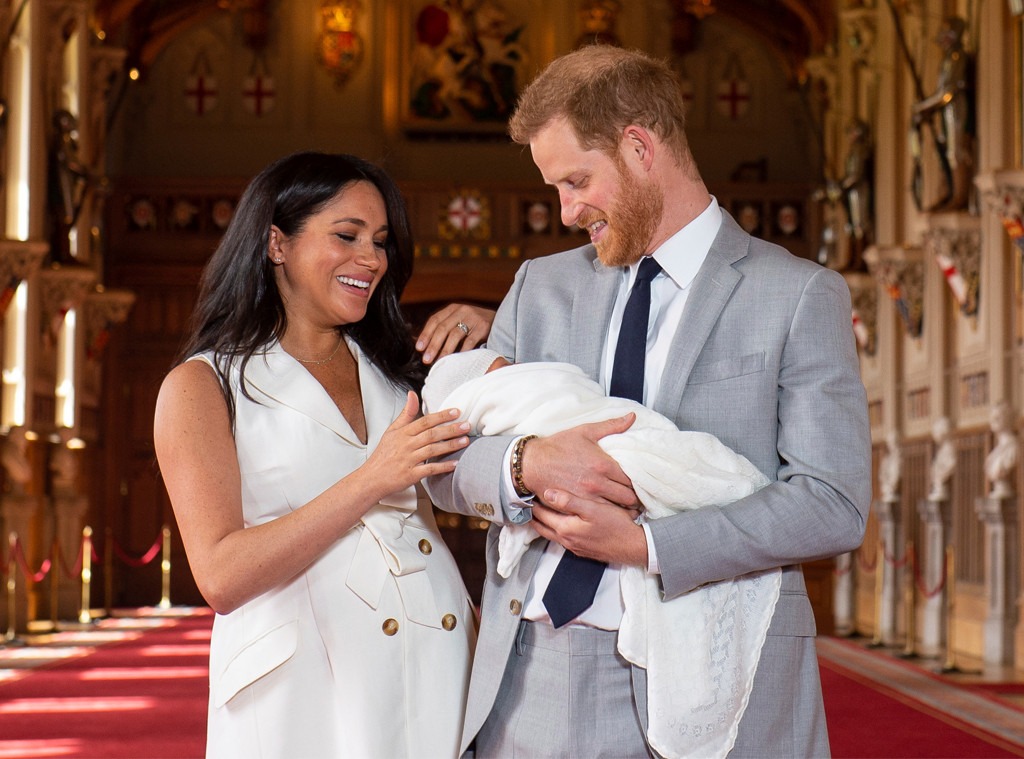 Dominic Lipinski/PA Wire
Hi, Baby Sussex!
On Wednesday morning, Meghan Markle and Prince Harry officially introduced their newborn son to the world, two days after his long-awaited birth. "It's magic. It's pretty amazing," the Duchess of Sussex told the press of motherhood. "I mean I have the two best guys in the world, so I'm really happy."
While the little one is still without a publicly announced name, his famous mom did disclose he "has the sweetest temperament. He's really calm." Markle added, "He's just been a dream, so it's been a special couple days."
A special couple days for both the new parents and also fans around the world who have followed along in anticipation of the newest member of the royal family. And, as is the case with virtually everything royal, the details matter. For the debut of a royal baby, the mother's outfit tends to sell out and the little one's outfit is of supreme interest. 
Shortly after Prince George's birth, the Aden + Anais bird-printed blanket he was swaddled in caused such a frenzy, thousands of online orders issued after his debut crashed the brand's website servers. A trendsetter was born!
We suspect such will be the case again for Baby Sussex, who, like his cousins Princess Charlotte and Prince Louis, also wore a white knit hat for his debut. George went without a cap, perhaps because he was born in late July. 
As for the blanket Baby Sussex was wrapped in in Prince Harry's arms, G.H. Hurt & Son confirmed it was their ivory white leaves and flowers merino wool baby shawl, which retails for $172 and is handmade in England. The little one's hat is also from the brand. 
"We feel so proud and honoured that Harry and Meghan have chosen our beautiful merino wool lacy knitted baby shawls and in doing so have continued a royal tradition now going back over 70 years," the company said in a press release. 
The brand is the same one all three of Prince William and Kate Middleton's children were wrapped in on their debuts, keeping with the royal tradition set by Queen Elizabeth II, who wrapped Prince Charles in the brand, and Princess Diana, who did the same for William and Harry. 
Needless to say, some things run in the family. 
Congratulations again to the new mom and dad!