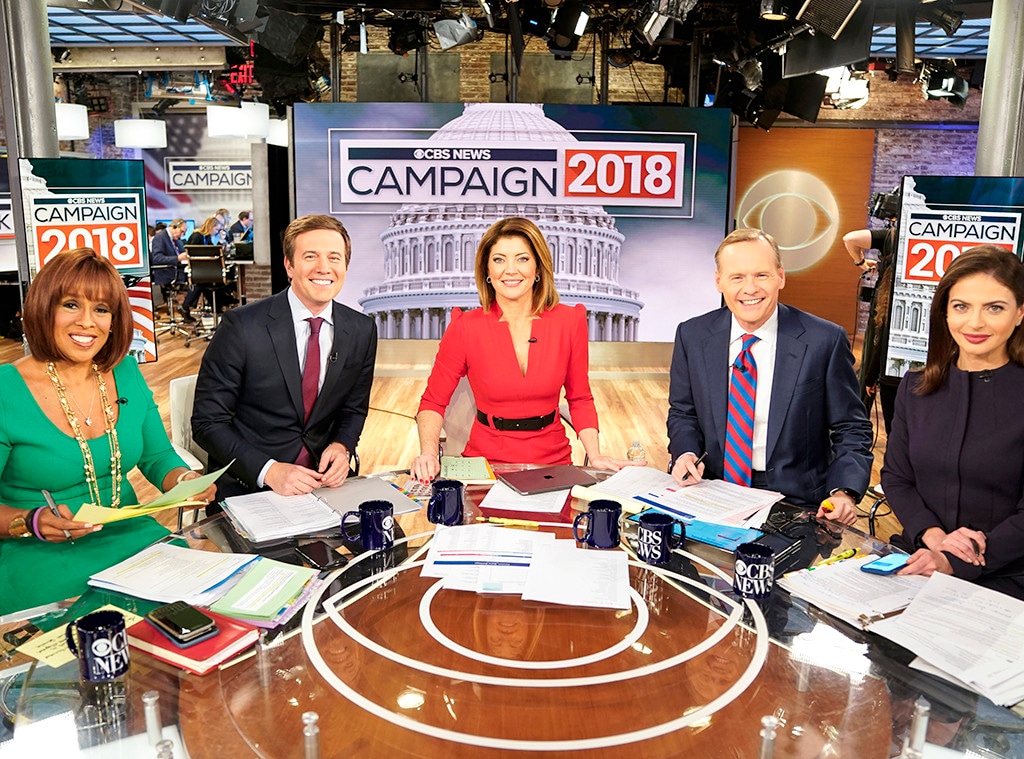 Michele Crowe/CBS via Getty Images
Gayle King and Norah O'Donnell have been through a lot together as co-anchors of CBS This Morning.
From the daily grind of waking up before dawn to tape a live show five days a week to the awkwardness of having to report on the firing of their fellow anchor Charlie Rose in 2017, the pair have become one of the most enduring duos on TV in the ongoing revolving-door era of broadcasting.
But just when viewers thought the dust had settled at CBS News, another shake-up has rattled the foundation of the network's flagship morning show.
Amid surprising rumors that King and O'Donnell's relationship had taken a turn for the toxic, O'Donnell has been announced as the new managing editor and anchor of the CBS Evening News after almost seven years working mornings alongside King and, for the past year, John Dickerson. Moreover, they're moving the nightly news broadcast to Washington, D.C., where O'Donnell has a home, this fall.
"Norah is one of the leading journalists of our time. Her outstanding reporting, incisive interviews and dedication to the truth will distinguish the CBS Evening News every night," CBS News President and Executive Producer Susan Zirinsky said in a statement announcing the move on Monday.
Her ascendance to the evening anchor chair previously occupied by the likes of Walter Cronkite, Dan Rather and Katie Couric means that she'll be only the third woman ever to be the solo anchor of a broadcast network evening newscast. It also means that Jeff Glor, who has had the job since October 2017, is out.
Tiffany Walling McGarity/CBS via Getty Images
"We are grateful to Jeff Glor for his award-winning work and his commitment to both his colleagues and to our viewers," Zirinsky said. "As we transition the Evening News to Washington, we are discussing opportunities for Jeff to remain with CBS News and continue providing the same substantive, trusted reporting that he has been offering for the past 12 years." (Sources told Page Six and the New York Times last week that the veteran newsman will likely be offered another role at the network. King said Monday on the air that Glor's "conversations, you should know, with CBS News continue, and we all hope very much that he will continue working here; it will be his decision.")
Dickerson, who was their chief Washington correspondent and host of Face the Nation before joining CBS This Morning, is also headed back to the political beat for 60 Minutes and the network's election coverage. Anthony Mason, coming over from CBS This Morning Saturday, and CBS News correspondent Tony Dokoupil are now headed to CBS This Morning as King's new co-anchors.
Page Six reported last week that King had given the final nudge that sent O'Donnell out of the a.m. fold, and that her recent contract negotiation—coming in the wake of her lauded interview with R. Kelly—included the stipulation that O'Donnell had to go.
Zirinsky—a 46-year veteran of CBS News (and inspiration for Holly Hunter's producer character in Broadcast News) who was promoted to her current role in January in the wake of CBS Chairman Les Moonves' scandal-cloaked departure, the firing of longtime 60 Minutes executive producer Jeff Fager and the resignation of previous CBS News President David Rhodes—called a headline stating King had "pushed" O'Donnell out "offensive and 100 percent false."
Michele Crowe/CBS via Getty Images
Early last month, DailyMail.com reported that O'Donnell was after Glor's job and sources called her "demanding" and "divisive." A CBS News spokesperson called that characterization "grossly inaccurate" and said she was a trusted member of the team.
O'Donnell's agent told the Post this month, in response to reports that O'Donnell's attitude was problematic: "In her 20-plus year career in news, she's become an unquestioned leader in her field. If she was a man, these kind of unsupported accusations would never be reported."
Add the situation at CBS News, or lack thereof, to the list of instances of the behind-the-scenes politicking at a morning show—exaggerated or not—proving more engrossing than the news being reported on camera, to which whole books on the subject, including Brian Stelter's Top of the Morning and the brand-new Ladies Who Punch by Ramin Setoode, about the goings-on at The View, can attest.
Top of the Morning, which came out in 2013, mainly chronicles past drama at NBC and ABC, but CBS' day in the hot seat was around the corner. At the time, Charlie Rose, Gayle King and Norah O'Donnell had only been co-anchoring CBS This Morning since 2012 (O'Donnell replaced Erica Hill, the only holdover from CBS This Morning predecessor The Early Show, seven months in), so the main story emanating from CBS back then was only that it was testing out ways to compete more with Today and Good Morning America.
And while they remained primarily in third place, the trio of King, O'Donnell and Rose proved a winning combination—until Rose's prestigious career came to a screeching halt a year and a half ago in the wake of sexual misconduct allegations first reported by the Washington Post.
With success comes more scrutiny, so it eventually was a toss-up as to which network was having the bigger issue on any given day (though ABC's The View presumably holds the record for sheer quantity when it comes to reports of discord among the talent).
But despite official assurance that the whispers about O'Donnell only amount to so much sexist tripe since ambition, even in 2019, is still considered a better look for men, there's at least no denying now that everyone except King is, in fact, changing jobs.
Hence the CBS This Morning team of King, O'Donnell and Dickerson taking the first opportunity Monday to explain what was happening.
"So you might have been reading about all the speculation," King began. "We thought today would be a good day to hear it from the horse's mouth." King turned to O'Donnell and Dickerson. "Hello, horses," she quipped.
King gave a glowing explanation of O'Donnell's new role, capping it with a clap and, "bravo, Norah O'Donnell, bravo."
"At CBS News, I don't stand on the shoulders of my colleagues," O'Donnell said. "They carry me on their backs. And so this is a great moment, I think, for all of us at CBS News as Susan Zirinsky has taken the helm.
"It's the moment we've all been waiting for!" she added with a smile. "There's been so much speculation about it, but the truth is, a new era begins and it's a great era."
But King, who was out on assignment Friday, also hoped to slam the door on the rumors hard enough to let the new era begin without any baggage. Dickerson and O'Donnell had assured last week that they would address the chatter when they were all together again on Monday.
"The news should rarely be about us," King continued after all the accolades had been passed around, "and sometimes what you read isn't even true." 
King shook her head and, looking frustrated, said, "Can I just take a minute to go off-script about that? Here we were Thursday—I know I'm supposed to stick to the script, but I've just got to say this. Thursday, I'm flying to London, to do the," she waved her hand, "we're working on the prime-time royals special [about Meghan and Harry's baby]. The news breaks 1:30 that Gayle is elbowing Norah, is insisting that Norah leave CBS This Morning."
She mimed a little elbowing.
Walling McGarity/CBS via Getty Images
"It's so amazing to me, Norah, that after seven years together, that now people would say that you and I have some beef," King said. "I have no beef with you, you have no beef with me. [Former Vanity Fair and New Yorker editor] Tina Brown summed it up very nicely: she said this never happens to men, this kind of cut-throat business. That the reality is, it's two great jobs for two great women, [Brown] said."
Brown had tweeted last week, "The @GayleKing v @NorahODonnell 'feud' is the usual cat fight trope foisted on powerful women! Both of them got great gigs!"
"I also think I know that that's true," King continued. "I look at Susan Zirinsky, who, if you haven't heard outside the building, is a badass in our building. She's our new CBS president, and when it was announced she was taking this job in January, she said there's going to be some changes...she's going to look at the lay of the land and decide. She could've come in here with a weed-wacker and we'd all be on 57th Street going 'taxi!' But what she decided to do is take a look and see what she thought would work best, and what job would suit our role.
"You know, this is a business about ratings, and when the ratings don't work, they make changes, and so they're making changes that they hope will lead to better things."
Now that is some truth.
"And I believe," King concluded, "I'm with you, I'm going to give it 110 percent, too."
O'Donnell agreed, saying that King and Oprah Winfrey (who obviously had to factor into this story at some point) had given her some great advice, "not to listen to those in the cheap seats. It's not the critic who counts, and I know you have Oprah, but I want to thank you for being my work BFF. You made me better in everything that I have done."
King humbly protested, but reiterated, "You know, we've had a lot of bad press coming from inside the building, which I think is very disturbing to me, because I think most people that work here support, respect, admire each other, cheer each other on. Even going to Washington was Susan Zirinsky's idea, not yours—but I think it will make everything better and different. So I am cheering you on and, in the words of Grace Tracy, your daughter, we all want to crush it like a popsicle."
Appreciative observer Tina Brown tweeted Monday, "Bravo to @NorahODonnell and @GayleKing for getting the golden gigs they deserve! These power ladies held firm and got the big prizes. Look forward to talking Meghan baby tomorrow on the show @CBSThisMorning."
The Daily Beast reported last week that Zirinsky had told staffers, "It's hard. I get it, but you have to stay focused." And, "when there's something to tell you, I will tell you. When we're ready, we'll do it."
Consider it done.
(E! and NBC are both members of the NBCUniversal family.)