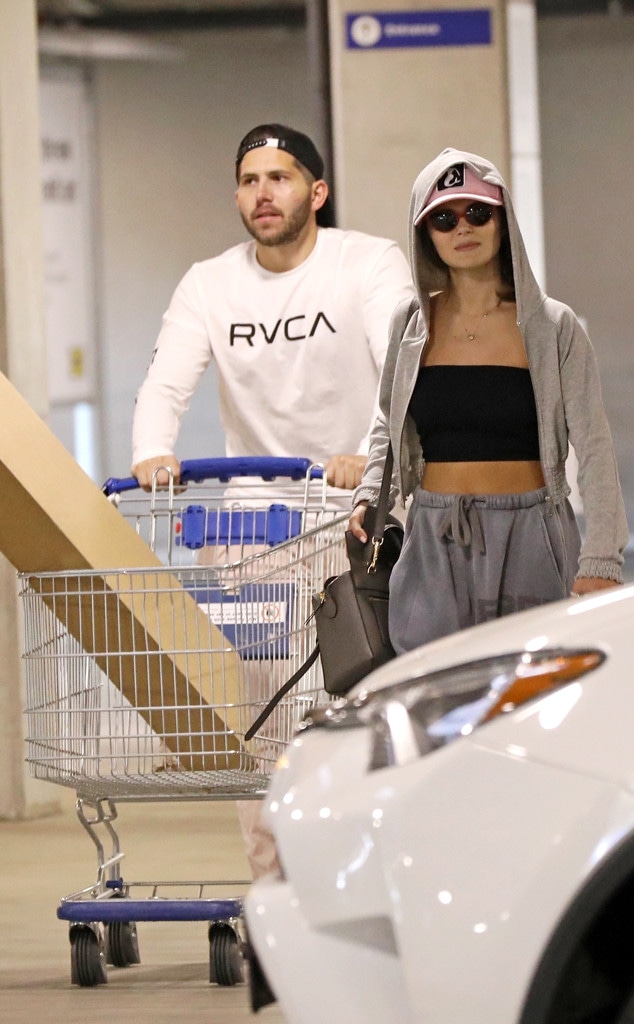 BACKGRID
Somebody hand Olivia Jade Giannulli an Allen wrench because she might need it for her new IKEA furniture.
The 19-year-old daughter of Lori Loughlin and Mossimo Giannulli was spotted at the Swedish home goods store in Burbank, Calif. on Saturday. She attempted to go incognito in a black crop top, grey Free City sweatpants, a grey sweatshirt, pink baseball cap and oval sunglasses.
Olivia's Ikea outing comes just one day after E! News learned that she moved out of her family's Bel Air home amid the sweeping college admissions scandal that has rocked the nation and implicated 50 people, including Felicity Huffman.
A source told E! News recently that the YouTube star packed her bags and got out because she "wants more privacy." It turns out she "hasn't been staying there full time for the last few months" anyway.
The insider gave some more insight into Olivia's head space and how she's been feeling as controversy around her college admission to USC continues to swirl.
"Everything that's going on with her parents is very stressful for her and she needs some space," the source added. "She doesn't feel that it's healthy for her to live with her parents right now."
The source explained that Olivia thought this was the "best" decision she could make for her brand as well as herself. Finding herself some "distance from the drama" will also help, the source said.
Olivia has not been seen in public many times since the stunning March 12 indictments. She was seen for the first time about two weeks after the news broke, and a second source told E! News that she was not in a good place with her parents.
"Olivia is furious with her parents and it's going to take a lot to repair their relationship," the source said. "She blames them entirely and feels they have ruined her career."
The source also said she was in "crisis mode" and "more embarrassed than anything and doesn't know how to handle all of the stress and scrutiny that has been surrounding her and her family. She feels completely lost."
Loughlin and Giannulli have both pleaded not guilty to the charges, whereas Huffman pleaded guilty. Huffman said in a statement on April 8, "I am in full acceptance of my guilt, and with deep regret and shame over what I have done, I accept full responsibility for my actions and will accept the consequences that stem from those actions."
She continued, "I am ashamed of the pain I have caused my daughter, my family, my friends, my colleagues and the educational community. I want to apologize to them and, especially, I want to apologize to the students who work hard every day to get into college, and to their parents who make tremendous sacrifices to support their children and do so honestly."
Another source explained to E! News why Loughlin opted to go the not guilty route. 
"Lori really believes she isn't guilty and that any parent would have done the same thing that she did if they were in that position," they said. "She plans to fight this and for her girls. She can't imagine what will happen to them if she goes to jail. She's rolling the dice and thinks that she has a strong defense."