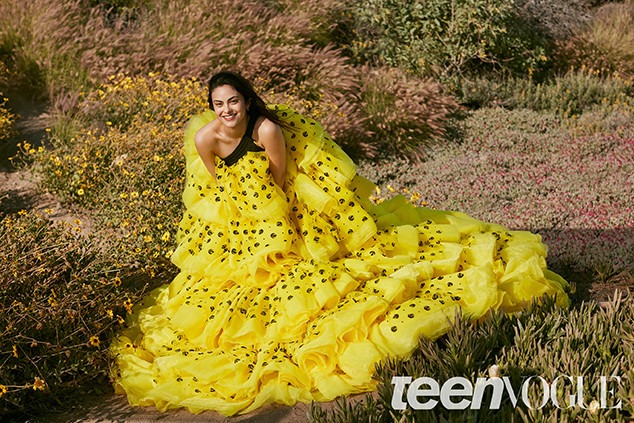 Wai Lin Tse for Teen Vogue
Haters, step down. Camila Mendes doesn't have the time. 
In an interview for Teen Vogue's May cover story, the Riverdale actress admitted she is done hearing any comments or criticism about her relationship with co-star Charles Melton, who she began dating in the fall of 2018. "I know I'm happy, and I know where I am in my life," the 24-year-old confessed to the magazine. "So I'm going to let [people on Twitter] say whatever they want. Why should I care?"
Still, as her fame has continued to skyrocket since the CW's show premiere in 2017, she's learning to draw a line between opening up and keeping to herself.
"I'm not a private person," added Mendes, who plays Veronica on the high school drama. "I don't like hiding. But the more I get used to this lifestyle the more I reevaluate what I want to share and what I don't."
In the past, when promoted, she has bitten back. When a fan posted shots of her with Melton and of her with ex Victor Hudson, claiming Mendes looked happier with the latter, she spoke up. 
Wai Lin Tse for Teen Vogue
"I'm happier than I've ever been in my life," she wrote in a since-deleted message last November. "It's absurd to me that you call yourself a fan, yet your entire page is dedicated to disrespecting my relationship and my boyfriend, both of which you clearly know nothing about." 
"I hope you're young," she continued, "because that seems to be the only justification for this kind of immaturity."
In early October, after weeks of speculation, the duo confirmed their romance with an adorable PDA picture on Instagram, which she captioned "mine." The following month, while chatting with E!'s Jason Kennedy, Mendes revealed the even cuter nickname Melton has her: Baby Dragon.
"I'm baby dragon! I'm just like a baby dragon," she admitted. "'Cause I'm kind of, you know, ferocious a little bit. I'm cute, but psycho."
Looks like Riverdale has it's very own Khaleesi!