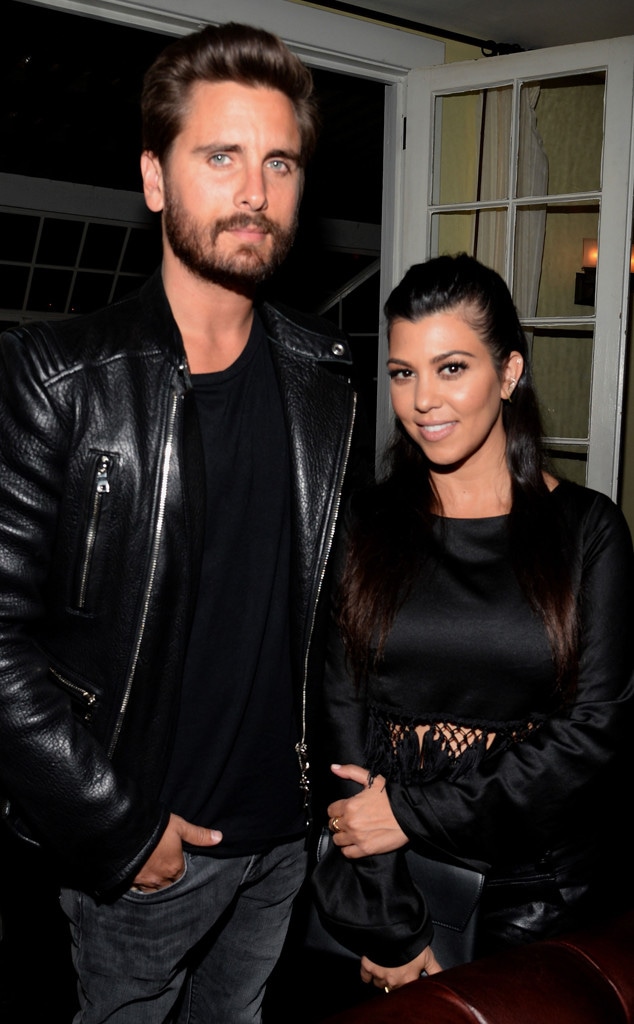 © 2015 Getty Images Entertainment/#mycalvin
Family. Best friends. The longest Ferris wheel of all time. 
Just a handful of the terms that have been applied to Kourtney Kardashian and Scott Disick's admittedly complicated relationship throughout the course of the past decade. 
And on Sunday's episode of Keeping Up With the Kardashians, a new phrase was added to the Kardashian-Disick lexicon: soulmates. To be clear, while the Bali healer who used it seemed to mean it in the straightforward sense—"The guy was basically saying that in a past life that we were together and that we're soulmates," Kourtney would later relay to sisters Kim Kardashian and Khloe Kardashian. "So, he was like, 'You have to decide if you want to be together or not be together,"—the exes were open to other interpretations. 
Thanks to their kids, Mason Disick, 9, Penelope Disick, 6, and Reign Disick, 4, "Scott and I, we're going to be in each others' lives forever. Like, we are soulmates in a sense," Kourtney reasoned. "No matter what. Whether we're ever together again or not."
Asked to offer his take, Disick concurred: "I mean, we have three children, we love each other and we're family. And I'm happy with that."
Watch:
Kourtney Kardashian & Scott Disick Are Soulmates?!
As well he should be. In the rollercoaster-like saga that is Kourtney and Scott, there have been plenty of highs, some truly unfortunate lows and even a few loop-the-loops. That the 40-year-old reality star turned lifestyle mogul and the well-heeled native of Long Island, N.Y. have reached a spot where they're blissfully coasting is certainly a moment to be celebrated. 
Some four years after Kourtney put an end to their nine-year, back-and-forth romance, they've danced around the idea of reconciliation, worked through the awkward jealousy that accompanied the dating-new-people phase and somewhat unbelievably emerged on the other side as legitimate friends. "Scott and Kourtney are really getting along," an insider told E! News last year, "and there hasn't been an issue between the two in a long time."
"I think it's honestly been better than ever," the 35-year-old luxury home flipper shared with Khloe, his kinship with Kourt's younger sis just one sign of his permanent footing amongst the tight-knit clan. 
 
Agreed Khloe, "I think you two coparent phenomenally and it's gotten to that point so much faster than most people would."
It just felt like forever at times. Though their union wasn't without its complications in the years following their 2006 introduction at mutual friend Joe Francis' Mexican pad, things truly got sticky in July 2015 after Scott's unsavory behavior forced Kourtney to take decisive action. 
As Scott worked through the dramas that had accompanied him for most of his adult years, admitting that the one-two punch of losing first his mom Bonnie then his dad Jeffrey in a three-month span between 2013 and 2014 sent him into a tailspin, he worried that his connections with the rest of the Kardashian-Jenners may be slipping out of his grasp as well.
"It's like if I step out of line one way I could lose everybody in the matter of a second," Scott mentioned to Kim in 2017. "Sometimes I just feel kind of insecure like if Kourtney met somebody, fell in love, got married and then everyone's like, 'Eh, we have a new Scott. Like, we don't really need to be close with him anymore.'…But it's a scary thing for me."
In all honesty, neither Kourt's sisters nor her mom Kris Jenner really knew how to view their relationships his Lordship, what with he and Kourtney still going on trips, indulging in family time and generally sparking continuous are-they-or-aren't-they speculation. 
That all came to a swift close in January 2017 when Scott secretly invited a date—a girl named Chelsea—to accompany him during the extended family's trip to Costa Rica. 
"Scott and I are living our own lives, but we're here with our kids," Kourtney explained in
the Keeping Up episode
that aired months later. "We're here to just be a family and I don't understand why he would even think to invite somebody. It's hurtful and disrespectful."
And, ultimately, incredibly clarifying regarding the status of their union. As Kourtney explained to Scott, "I think the moral of the story is we are never getting back together." 
By the time her final words aired on TV screens, she had begun dating Younes Bendjima, 25, further severing their ties. And following months of largely unsatisfying flings ("I'm just not happy with anybody," he admitted to Kim) Scott would settle into his most stable post-Kourtney romance to date with Sofia Richie. 
But just because they were both on similar paths to happiness didn't mean they were exactly happy for each other. 
"I get a little jealous," he admitted in the early days of Kourt's Younes romance. Because it's one thing to accept that their forever is finished, it's another to be cool with watching her ponder a new future. 
"Whether they are together or not, Scott gets really jealous when he sees or hears about Kourtney with anyone," an insider told E! News at the time. "He'll always love her, regardless of their status."
For Kourtney the issue, as always, came back to the well-being of their children and whether or not they might be ready to have new faces enter their world. Sitting down with her ex to tape a vlog for her lifestyle site Poosh, she pointed to the moment they started separate relationships as the "hardest part" of their coparenting adventure: "That caused fights between you and I about introducing the kids."
Including one captured by Keeping Up cameras in which Kourtney chided Scott for not letting her in on his intentions to take that step with Richie. "It's called giving someone a heads up and having a respectful conversation," she noted, "giving someone the respect." 
She credits joint counseling sessions with moving them past the hurdle and getting them to the point where they were "able to communicate together."
There were other difficulties en route to this new normal, chief among them avoiding the good cop, bad cop coparenting trap. "It helps when you do the same routines in both houses," she shared in the recent Poosh video. "Try and keep the same rules so the kids aren't like, 'We're dying to go to dad's because we get unlimited video game time.'"
But for Scott the toughest challenge "was just trying to figure out how we separate our relationship as friends and parents and still be on the same page. What's appropriate and what's not, when to be able to talk to each other." 
Instagram/Kourtney Kardashian
For example, Kourtney felt it necessary to put the kibosh on Scott entering the personal spaces of the 11,500-square-foot Tuscan-style spread they once shared in Kardashian enclave of Calabasas. "Scott just roams into my house like it's his house, he walks in my bedroom—I don't think he should come in my bedroom anymore!" Kourtney complained to her sisters on a 2017 trip to San Francisco.
With a little guidance from a therapist, she approached him about setting up boundaries, Scott conceding, "All things that are understandable in this co-parenting life," before jokingly throwing out one of his own: "I don't really want to hug anymore, I think we should just shake hands with each other."
Eventually though, they found their footing in this new type of partnership, with Scott following through on his vows to be a constant presence in his kids' lives.
"I feel like the biggest thing that you and I have always talked about that you wanted from me, if there was anything, was just to see me consistent with you and my family. And you know, it's been over a year of consistency and I feel like we're good and our parenting has been better and the kids are better," Scott told Kourtney on a recent episode. "We've always said that we were gonna try to be family. Obviously it didn't work out perfect but this is as close as we can get." 
He was, quite respectfully, arguing his case to be included on the family's October adventure to Bali some 21 months after his Costa Rican escapades led Kourtney to declare a moratorium on his tagging along to such outings. And they've since piggybacked on the success of that Indonesian vacation with other joint excursions—jetting to Cabo San Lucas, Mexico ahead of Christmas, then Aspen alongside the entire Kardashian-Jenner clan for New Year's Eve—with Richie even joining in.
Though the family was initially not a fan of the May-December coupling ("Wait, so how old is she? Because I really don't know!" Kris wondered on the show) the model—at 20 she's one year younger than baby of the family Kylie Jenner—has officially been welcomed into the fold. "Everyone has accepted Sofia at this point and she has been able to tag along and be a part of the family activities," a source told E! News. 
Should she become an official member of the clan, that would be fine too. Asked what her reaction would be if Scott proposed, Kourtney gave her one word take on a January episode of Watch What Happens Live With Andy Cohen: "Congratulations." 
Because, really, in this chapter of her 13-year history with Scott, there is much to celebrate. 
"We get along really well," she enthused on The Ellen DeGeneres Show this past week. "He definitely makes it clear that the kids are his priority. He checks in with me every morning, throughout the day, every night just to make sure that I'm good and the kids are good."
Considering everything they've been through to get to this point, "It's such a nice change," she raves. "I feel like he's finally grown up."