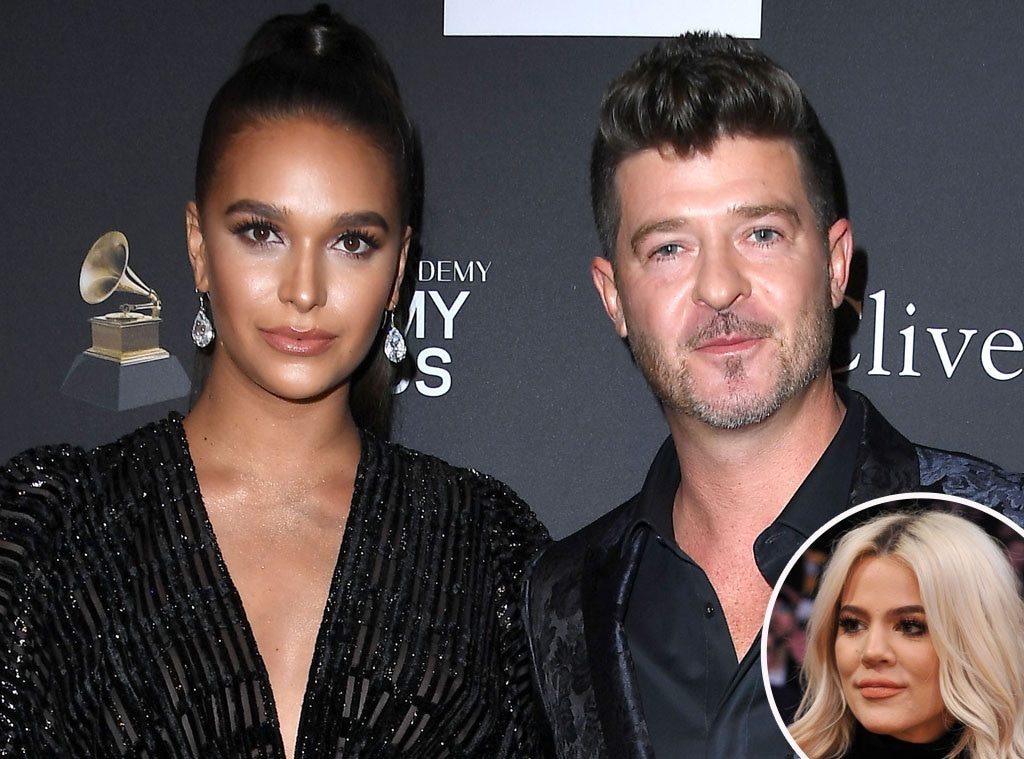 Steve Granitz/WireImage/Allen Berezovsky/Getty Images
There's nothing blurry about this fun night out.
On Thursday evening, Kourtney Kardashian celebrated her birthday with a star-studded party at Kris Jenner's house.
Everyone from Paris Hilton and Sia to French Montana and Younes Bendjima were in attendance for the special bash.
But as most Hollywood parties go, some pop culture fans couldn't help but search the web and start some rumors about what was posted on social media.
When Kim Kardashian was sharing Instagram Stories from the bash, a few followers spotted Robin Thicke hugging Khloe Kardashian. A fan site proceeded to share the screengrabs and wrote, "Watch there be rumors of Khloe and @RobinThicke dating all because of this Snapchat of them hugging and talking."
Lo and behold, Robin's fiancée April Love Geary saw the video and had to set the record straight.
"I STAN!!!!" she replied to the fan site in a moment shared by Comments By Celebs.
In other words, no need to spread any rumors. Besides, April was invited to the party and had a great time with Robin.
Whether dancing to "SexyBack" on the dance floor or watching Robin perform to the crowd, the model appeared to be having a blast. And no, there's no trouble in paradise for Robin and his leading lady.
For those curious to learn more about the party, E! News was able to get some fun details about the bash that is sure to be remembered for quite some time.
Guests experienced a DJ and a symphony band that played music late into the night. Lucky attendees could order drinks or customize their own Don Julio bottle.
"They wanted to go all out for Kourtney and make it a night to remember and it definitely was," a source shared with E! News. "There were little white lights and candles everywhere. It was a great party and Kourtney was so happy."
After all, the Kardashians and party planner Mindy Weiss know how to throw a celebration.