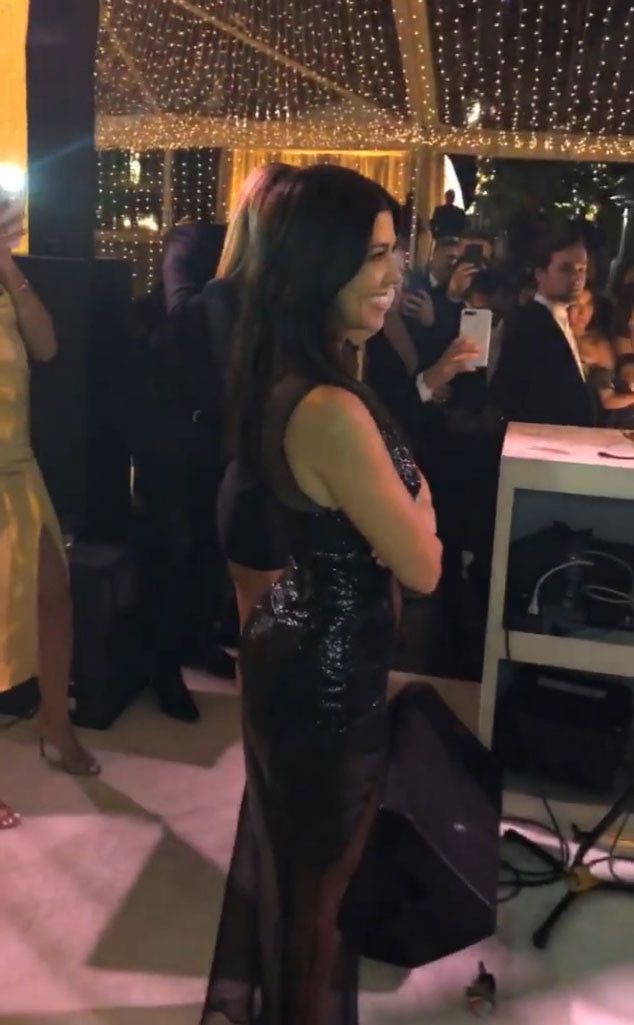 Instagram
On Thursday night, Kourtney Kardashian was a birthday girl living in a star-studded world. 
In celebration of her 40th birthday, the Poosh mogul and mom of three spent the night surrounded by all of her famous family and Hollywood pals at a glamorous bash thrown in her honor. "They wanted to go all out for Kourtney and make it a night to remember and it definitely was," a source told E! News, noting the bash was held at Kris Jenner's house. "They had a big tent up in the yard and a grand entrance from the house to the tent with [sparklers] lining the walkway and sexy jazz music playing. There were little white lights and candles everywhere. It was a great party and Kourtney was so happy."
All of the guests were dressed to impress, including both Kourt and sister Kim Kardashian, who donned black vintage Versace looks for the occasion. The star also poked fun at her sister's famous insult with "Most Interesting to Look At" inscribed on bottles of Don Julio for guests, along with an etching of the birthday girl's face. Of course, sisters Khloe Kardashian, Kendall Jenner and Kylie Jenner were in attendance as was matriarch Kris and grandma Mary Jo Campbell. 
There was also no shortage of guys at the party, including Kim's famous husband, Kanye West, French Montana, Jonathan Cheban, Kourt's ex Scott Disick, and even her former flame Younes Bendjima, who not-so-subtly revealed his attendance at the soirée by posting a photo of the napkins on his Instagram Story. 
Underneath a sparkling ceiling of lights, guests grooved while a DJ and symphony band played. The famous sisters shared drinks, took photos together and danced, including Khloe, who twerked with the birthday girl. Khloe also poked fun at her sister on her big birthday. According to a second source, True Thompson's mama kept calling Kourtney an "old b--ch," which everyone thought was funny. 
When it came time to commemorate the special day with some song, Robin Thicke and Sia did the honors with "Happy Birthday" harmonies, finished off with a cake in the shape of Kourtney nude sitting on the edge of her bathtub. 
Needless to say, we don't think Kourt will ever forget this party. 
Happy Birthday, Kourtney!