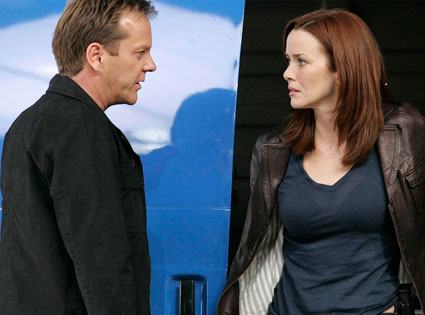 Kelsey McNeal/FOX
We've never once seen him hit a water fountain, a vending machine or the men's room, but that doesn't mean 24's Jack Bauer doesn't have needs!
You fans who've been hoping for a hookup between Jack [Kiefer Sutherland] and the show's new femme fatale, Renee Walker [Annie Wersching], were thisclose to getting exactly that.
"In the script after episode 10, when I slap Jack, there was a kiss written into that episode, but they took it out of the script last minute," Annie herself dishes to us.
But why? We want to see them hook up, don't we? Read on for the scoop from Annie...
"We thought it was a little cliché for that moment in particular," Annie explains. "And besides, I don't know I want a romantic storyline with Jack. Isn't that usually the kiss of death for a character involved with him? It doesn't usually fare well to be in a relationship with Jack Bauer."
And how do the two get on offscreen? "We get along great. Kiefer plays a lot of chess. He tried to teach me, but it didn't go well."
As for what the future holds for her character, Annie says, "I'm going to get into big trouble in an upcoming episode. But I did get picked up for the next season, which starts soon. So that means I don't die."
Do you want to see Jack and Annie up in a tree, k-i-s-s-i-n-g? Or is it far too soon given that they've only known each other half a day now? Post your thoughts below...
Get full episodes of 24 at Fancast.