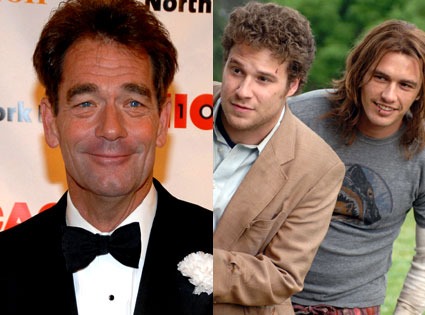 AP Photo/Jennifer Graylock, Dale Robinette/Columbia Pictures
Huey Lewis & the News has a new drug.
And
Seth Rogen
is the one who got them hooked on it.
The "I Want a New Drug" hit makers from the '80s have recorded the theme song for Pineapple Express, Rogen's upcoming summer comedy that he wrote and costars in. Rogen plays a stoner and James Franco is his dealer. The two find themselves on the run from some really bad dudes after Rogen's character witnesses a murder. Pineapple Express is the name of the fictional strain weed that Franco's character sells.
Rogen's filmmaking funnyman pal Judd Apatow coproduced Pineapple.
"We were in the editing room one day when me and Seth were geeking out about the tone of the movie and how we think it captures what we love about '80s movies," director David Gordon Green tells me. "We thought, what would be the icing on the cake, and Seth came up with Huey Lewis and the News."
Before they knew it, Lewis screened the movie and sent them some lyrics. "We told him that we wanted a theme song that told the plot of the movie and said the title a lot," Green said. "It's very '80s-inspired and very Back to the Future-esque."