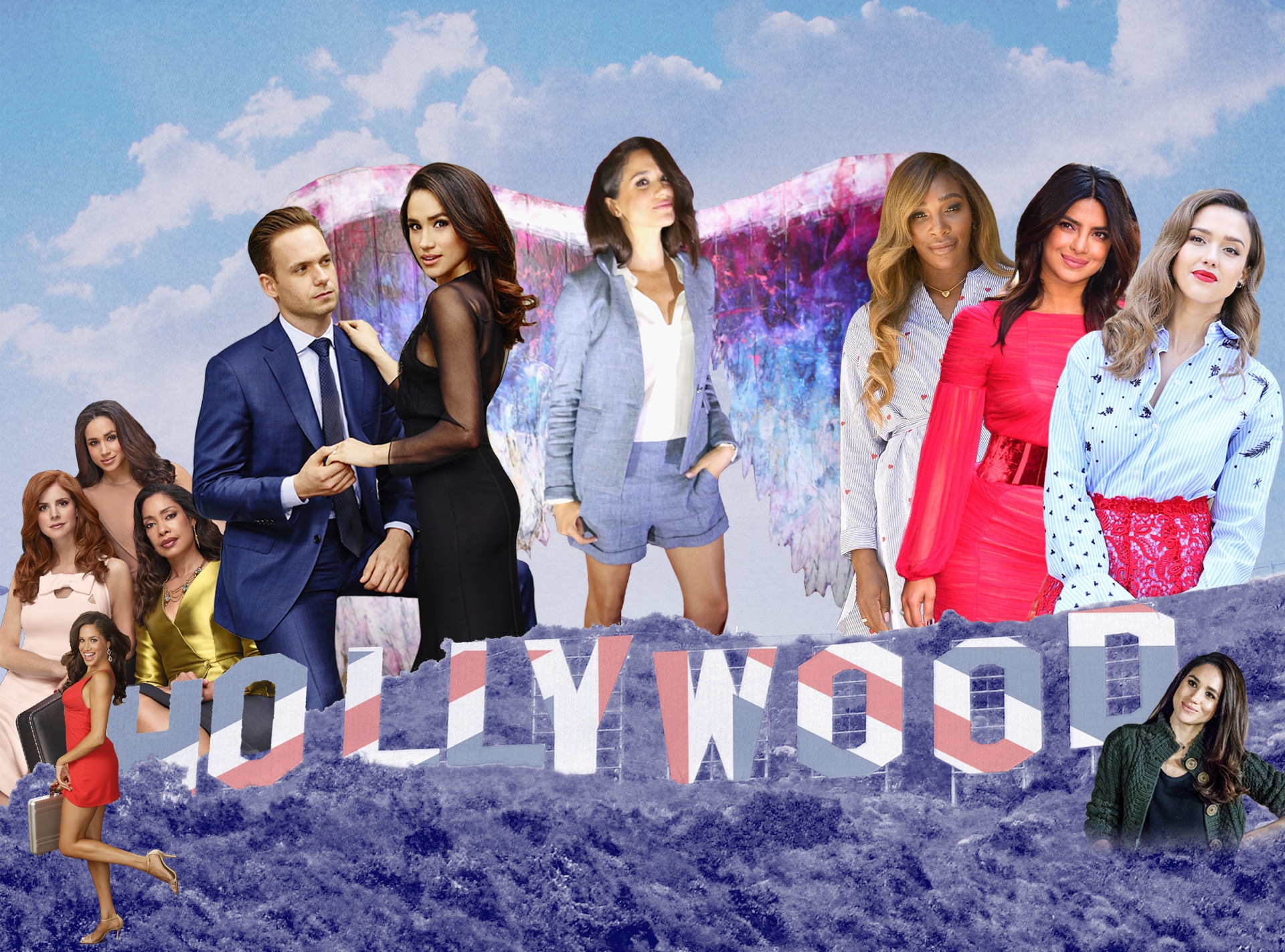 Getty Images; E! Illustration
Meghan Markle was hardly the first commoner, or even the first American, to marry into Britain's royal family.
Members of the sprawling clan have been settling down with people devoid of titles and not of noble birth for years. Even future queen Kate Middleton, now formally Catherine, Duchess of Cambridge, was merely the daughter of self-made millionaires when Prince William met her at university. Of that generation alone, Princess Anne's daughter Zara Tindall, married a rugby player. Princess Eugenie just tied the knot with a tequila brand ambassador. And 82 years ago, King Edward VIII abdicated his throne so he could marry twice-divorced Wallis Simpson of Pennsylvania.
But these royals had not gone Hollywood yet.
Not that Meghan, Duchess of Sussex, would have ever described herself as "Hollywood," despite having been gainfully employed as an actress up until she got serious with Prince Harry, and having actually grown up in La La Land itself.
What the brand-new mom is, at heart, is a California girl.
"I can play dress-up, but I was born and raised in L.A. I'm used to no makeup, flip-flops on, really chill," the actress said in an interview in Miami Livingbefore Suits returned for a sixth season that July. 
Meghan later told Vanity Fair that she met Prince Harry in July 2016, but in their engagement interview she said they had "a good five, six months almost with just privacy" before they were first outed as a couple on Oct. 31, 2016. Whether she knew the royal or not by then, she was perfectly chill while sipping rosé and munching on zucchini carpaccio (which she quickly took a snapshot of for Instagram) on the patio of an Italian restaurant in SoHo while giving that interview.
Though no one could have guessed that in two years time she'd have a wedding that an estimated 1.9 billion people took at least a minute out of their days to watch, her Suits character Rachel was newly engaged—so that had been fun, living vicariously through the ambitious paralegal she had played on cable for five fears.
"When Rachel got engaged, oh my god, I have never in my life been in more restaurants where someone sends over a glass of champagne to say congratulations," she said. "I'm like, 'but I'm not getting married, my character is.' People are like, 'We're so happy for you, you're getting married!' I'm like, 'No, I'm not, but sure, thanks, I'll take it.' I love a glass of bubbles."
While her SoCal upbringing is moving further into the distant background for royal watchers who care far more these days about what sort of neckline the Duchess of Sussex is sporting, what brand of coat she's wearing, what she's telling people when out and about on official engagements and how she's getting on with her staff, in-laws and the local press, she did spend her formative years in Los Angeles, and her mother still lives there—in View Park-Windsor Hills, if you want to talk coincidence. 
So, you can take the girl out of California, but...
Rachel Meghan Markle was born at 4:46 a.m. on Aug. 4, 1981, at the since-closed West Park Hospital in the San Fernando Valley's Canoga Park neighborhood to Doria Ragland, who's originally from Ohio, and Thomas Markle, who grew up in Pennsylvania. Her parents met on the set of General Hospital, where Doria was a makeup artist-in-training and Thomas was the lighting director. Thomas' Emmy-winning lighting work for soap operas and his role as director of photography on Married... With Children acquainted Meghan at an early age (she wasn't actually allowed to watch Married...With Children yet) with how TV shows were made. 
"He was just so, so happy," Thomas Markle Jr., Meghan's half-brother, told royals biographer Andrew Morton about their father following Meghan's birth. "He spent every single minute he could with her. My dad was more in love with her than anyone in the world, and that included Doria. She became his whole life, his little princess."
Thomas' kids from his first marriage, Tom Jr. was 14 and his older sister Yvonne (who later started going by Samantha) was 16 when Meghan was born. Tom Jr. warmly recalled when Doria came into their lives, telling Morton that his step-mother's family, which also included her half-brother and half-sister, made him feel welcome.
Meghan developed her lifelong love of yoga early on, doing mommy-and-me classes with Doria when she was 7, and also learned the importance of self-care and caring for others at a young age.
Sylvain Gaboury/Patrick McMullan via Getty Images
"My mother raised me to be a global citizen with eyes open to sometimes harsh realities," Meghan, whose mom and grandmother Jeanette called her "Flower," wrote in a 2016 essay for Elle UK. In Jamaica, "I had never seen poverty at that level and it registered in my glazed brown eyes."
Doria started taking Meghan for facials when she was 13, but also took her to visit the poorest areas of Jamaica when on vacation when her daughter was 10.
In a July 2015 essay for Elle UK, Meghan wrote about being biracial and people's subsequent efforts to define her, to shoehorn her into one box (sometimes fairly literally, as when she was told she could check only one race box on a form in 7th grade), all of which led to her feeling as though she wasn't accepted fully by any community. She recalled her mom, who is African American, being mistaken for her nanny when they were out and about in their fairly homogenous Valley neighborhood.
For Christmas one year, her dad—who told her to draw her own box the next time she was told to only pick one—bought two sets of the popular Heart Family dolls and made them into one family, with a black mom and white dad and a child of each color.
Doria, whom Meghan has referred to as a "free-spirited clinical therapist," and Thomas separated when Meghan was about 2 and divorced when she was 6. After the split Meghan didn't see her half-siblings much—and going by Samantha's tweeted-and-televised observations about Meghan's fractured relationship with their father since she got engaged to Harry, the chances of ever having much to do with them are nonexistent.
But Meghan spent weekends with her dad, and Thomas would stay and watch TV with his daughter and Doria on Sunday nights when he brought her back.
Meghan went to private schools, her first stop being Elizabeth Taylor, Judy Garland and Lily-Rose Depp's alma mater Little Red Schoolhouse in Hollywood.
A school friend told journalist Angela Levin that Meghan always admired Princess Diana's humanitarian efforts and was inspired to collect toys and clothes to deliver to the less fortunate. When she was 10 and the Gulf War was happening, she staged an anti-war protest at school in response to a classmate who was worried about his brother in the military.
Meghan also had early concerns about gender inequality: She wrote Procter & Gamble a letter when she was 11 protesting a dish soap commercial with the line "women all over America are fighting greasy pots and pans." She also shared her concerns in letters to first lady Hillary Clinton, Nick News host Linda Ellerbee, and activist attorney Gloria Allred, all of whom communicated their support. P&G didn't, but a few months later, after Ellerbee did an interview with Meghan, "women" was changed to "people."
"She was a genuinely decent human being who looked out for people who needed help," Little Red Schoolhouse classmate Elizabeth McCoy told Morton for his 2018 book Meghan: A Hollywood Princess. "She gave a damn about people other than herself."
Financed by Thomas Markle's $750,000 state lottery win in 1990, Meghan went to high school at Immaculate Heart, an all-girls Catholic school in the L.A. neighborhood of Los Feliz that today costs up to $15,200 a year. Her dad worked in Los Feliz, so Meghan lived with him during the week.
Meghan worked part-time at a frozen yogurt shop (she has said that a pleasant run-in with Baywatch star Yasmine Bleeth inspired how she later treated her own fans) and, when she was 16, she started volunteering at the Hospitality Kitchen, a Catholic Worker-run shelter on L.A.'s Skid Row, serving food and clearing tables. 
And in 1997, according to Morton, she and her friends cried watching Princess Diana's funeral, featuring a somber 15-year-old Prince William and 12-year-old Prince Harry walking behind their mother's casket in the procession toward Westminster Abbey. The tragedy piqued Meghan's interest in the royals, and she's said to have sought out video of Diana and Prince Charles' 1981 wedding and immersed herself in the late Princess of Wales' story.
Meghan would later say that she joined clubs in high school in part so that she would have people to eat lunch with, but she performed in school plays, stealing the show as the devilish vixen Lola in Damn Yankees; had a steady boyfriend and was homecoming queen her senior year. So, not exactly an outcast.
Her high school graduation was held at the nearby Hollywood Bowl, and in addition to her diploma, Meghan was given awards for grades, service and her participation in the arts. That summer an audition for a Shakira music video didn't work out, but she landed a part in Tori Amos' video for "1000 Oceans," shot in a downtown L.A. parking lot.
The first in her immediate family to go to college, Meghan went to Northwestern University in Evanston, Ill., where she double-majored in theater and international relations, dated a basketball player (until he transferred to Wake Forest) and enjoyed partying. When she was 20 her uncle helped her get a six-week summer internship at the U.S. Embassy in Buenos Aires.
Amanda Edwards/Getty Images
Meghan's first appearance on a TV show was on General Hospital, a small part her father helped her get when she was on break in 2002.
Though at first glance her various pursuits might be at odds, she saw the connection between politics and acting. "They're both negotiating drama, but in a different way," she pointed out. "It's understanding personalities, triggers...There's a really strong parallel in that and as an actor, the more life experience you have, it makes you a better actor."
After graduation, she returned to L.A. to pursue the profession for the long haul, driving a Ford Explorer with broken door locks she couldn't afford to fix, so to reach the passenger seat, she climbed in through the back. 
She worked as a hostess at a Beverly Hills restaurant and put her private-school handwriting lessons to use, supplementing her income in between auditions working as a freelance calligrapher for special events. Among her most memorable pen work: Robin Thicke and Paula Patton's wedding invitations, and Dolce & Gabbana's celebrity correspondence.
"I think handwritten notes are a lost art form," Meghan mused to Good Housekeeping for its August 2016 issue. "When I booked my first pilot, my dad wrote me a letter that I still have. The idea of someone taking the time to put pen to paper is really special."
After playing "Hot Girl" in the 2005 Ashton Kutcher comedy A Lot Like Love, she got a regular gig as one of the briefcase-holding models on Deal or No Deal, which, she described to Esquire, fell into the "category of things I was doing while I was auditioning to try to make ends meet."
Trae Patton/NBC/NBCU Photo Bank via Getty Images
"It's run the gamut," Meghan continued. "Definitely working on Deal or No Deal was a learning experience, and it helped me to understand what I would rather be doing. So if that's a way for me to gloss over that subject, then I will happily shift gears into something else."
No one ever seemed to pick her briefcase, she lamented.
"I would end up standing up there forever in these terribly uncomfortable and inexpensive five-inch heels just waiting for someone to pick my number so I could go and sit down," she recalled.
She booked one- two-episode parts in shows such as CSI: NY, 90210, Without a Trace and Fringe before getting back on the big screen in the 2010 romance Remember Me, starring Robert Pattinson and Emilie de Ravin and produced by her then-boyfriend, Trevor Engelson. She also had tiny parts in Get Him to the Greek and Horrible Bosses.
Meanwhile, Meghan found that Hollywood wasn't always interested in people who didn't fit inside one box, either, and she was told more than once that she was too ethnic, or not ethnic enough.
"I wasn't black enough for the black roles and I wasn't white enough for the white ones, leaving me somewhere in the middle as the ethnic chameleon who couldn't book a job," she wrote for Elle UK.
By 2010, she had been a briefcase girl, simulated cocaine use on The Boys and Girls Guide to Getting Down and oral sex on 90210, and played a former stripper who marries a cop in the TV drama The Apostles, the pilot of which aired as a stand-alone movie when the network didn't pick it up for series. She had been left on the cutting-room floor and demoted to "uncredited" when her lines didn't make it onscreen.
In an anonymous blog she reportedly kept called Working Actress, Meghan wrote in 2010, per Morton's Meghan: A Hollywood Princess, "I'm not gonna lie. I've spent many days curled up in bed with a loaf of bread and some wine. A one woman pity party. It's awful and ridiculous."
But finally, she was about to get a full-time job. And the right job at that.
Also in 2010, Meghan auditioned for a show called A Legal Mind that was in development at USA. Originally dressed in jeans, a satin spaghetti-strap top and heels, it occurred to her before she went in that maybe it wasn't the right ensemble to channel a no-nonsense paralegal, no matter how sexy Rachel Zane was supposed to be. So she dashed to H&M and bought a simple black dress for $35.
Ironically, Meghan thought she blew it.
"It was a really good lesson in perspective," she recalled. "I think we are always going to be our own worst critics."
But she was called back to read opposite Patrick J. Adams, who would play her love interest, Mike Ross, and that sealed the deal. She shot the pilot for what had turned into Suits that fall in New York and tried not to get too excited.
While she waited, her boyfriend of six years, Trevor Engelson, took her on vacation to Belize—and proposed.
Meghan said yes—and found out in January 2011 that Suits had been picked up for a full season, with filming set to begin that April in New York. The show premiered on June 23.
"This is precisely why Suits stole my heart. It's the Goldilocks of my acting career—where finally I was just right," Meghan recalled in her 2016 Elle UK essay.
"The show's producers weren't looking for someone mixed, nor someone white or black for that matter," she wrote. "They were simply looking for Rachel. In making a choice like that, the Suits producers helped shift the way pop culture defines beauty. The choices made in these rooms trickle into how viewers see the world, whether they're aware of it or not.
"Some households may never have had a black person in their house as a guest, or someone biracial. Well, now there are a lot of us on your TV and in your home with you. And with Suits, specifically, you have Rachel Zane. I couldn't be prouder of that."
"We needed somebody in the role that was absolutely engaging, relatable, young enough, who is beautiful in a non-traditional way, and who had an authenticity," NBCUniversal Cable chair Bonnie Hammer told Vanity Fair.
Ben Mark Holzberg/USA Network/NBCU Photo Bank
Suits embraced the fact that Meghan is biracial, casting Wendell Pierce to play Rachel's father—which puzzled some viewers. "Puzzled" being a kind word for some of the vitriol spewed on Twitter.
"The reaction was unexpected, but speaks of the undercurrent of racism that is so prevalent, especially within America," she wrote. Noting the then-recent unrest in Ferguson, Mo., and Baltimore, "as a biracial woman, I watch in horror as both sides of a culture I define as my own become victims of spin in the media, perpetuating stereotypes and reminding us that the States has perhaps only placed bandages over the problems that have never healed at the root."
She herself, luckily, had come to embrace having "a foot on both sides of the fence."
The first season of Suits shot on location in New York, where the fictional legal goings-on take place. When USA renewed the legal dramedy, they moved production to Toronto and Meghan started spending at least seven months out the year there—which was an adjustment.
"No kidding, right?" she replied, when Esquire noted the culture shock. "And I'm a California girl. Born and raised in L.A. So it's quite the departure.
"But I like it. It's what I've always asked for: a show that gets picked up and becomes this successful," she continued. "I'm so grateful, so I'll take Canada. We just celebrated Canada Day here. What we've been doing every year since we've been up here is Patrick J. Adams and his family have us up to their home on an island on the Georgian Bay. I guess it's really a testament to how well we all get along as a cast that when we have a three-day holiday weekend, we all drive up there with our coolers and our beer, and everyone brings their kids and husbands and wives and everything."
During the long weeks of shooting when it was just the cast, downtime included "playing Apples to Apples and drinking Scotch into the wee hours of the night."
2011 was a huge year for Meghan in more ways than one: Suits premiered that June and she married her longtime boyfriend Trevor Engelson on Sept. 10. They tied the knot in a civil ceremony in L.A., followed by a destination wedding at the Jamaica Inn in Ocho Rios full of beachside drinking and dancing.
Amanda Edwards/Getty Images
They had been together since 2004 after meeting in a West Hollywood bar, their relationship all of a sudden became long-distance for half the year, with Meghan filming in Toronto while Engelson, a producer, lived in L.A. The circumstances (the distance and Meghan having finally found the breakout part that made her a household name) proved unsustainable, and they divorced in August 2013, citing irreconcilable differences. 
"It was such a shock when she told me they were getting divorced," Ninaki Priddy, a childhood friend of Meghan's who was her maid of honor when she married Engelson, told the Daily Mail in 2017. "After about three seasons of Suits, she called me and said she wanted me to know because it was going to come out in the papers. I knew they fought sometimes, but it wasn't anything huge. The only obstacle was the distance because she was living in Toronto and Trevor was based in L'A."
Engelson, whose recent credits include the FX drama series Snowfall, remarried in October, tying the knot with nutritionist Tracey Kurland at a private home in Hidden Hills, Calif.
Tom Markle Jr. told DailyMail.com about Engelson and Meghan, "He was a nice guy. I'm not sure what happened with them. They were together for a few years but I'm not quite sure what their falling out was. I guess they just decided to go their separate ways. It's a Hollywood thing I guess."
Though we may never know what, exactly, went wrong between them, Meghan was still in regular touch with her dad when she got Suits.
Acknowledging that, thanks to her upbringing, she'll always know how to find her light during filming, she told Esquire that, if she didn't find that light, "my dad will be the first person to call me and say like, 'You need to have him bring another 2K in,' and 'Why aren't you using this sort of lighting gel?' The crew guys know that it's where I grew up. And definitely craft services guys know that it's where I spend a lot of my time, in craftie. So I can whip up a great snack on a whim with almost nothing."
Meghan also credited her dad for her strong work ethic, telling Miami Living, "I think I've always had a really strong sense of responsibility and I think a lot of that comes from my upbringing."
George Pimentel/WireImage
A self-described foodie who would bring her Vitamix with her on vacation, Meghan started her lifestyle website The Tig in 2014. For the three years of its existence before she shuttered it while getting ready to marry Harry, she chronicled her life through as prism of eating, travel, fashion and her humanitarian work. Famous pals such as Serena Williams and Jessica Alba contributed content.
Other friends she was making along the way included her Suits co-star Abigail Spencer, Priyanka Chopra, stylist Jessica Mulroney and golfer Rory McIlroy, who helped Meghan take the de rigeur Ice Bucket Challenge for ALS research in 2014, and Sophie Trudeau, wife of Canadian Prime Minister Justin Trudeau.
The Tig attracted the attention of UN Women and World Vision, and so began Meghan's journey to start effecting change on a global scale.
Michael Loccisano/Getty Images for DirecTV
She spoke at the One Young World conference in Dublin in 2014 and Ottawa in 2016, and discussed gender inequality with the UN Foundation in Washington, D.C.
By then, Meghan had told the Suits team that she wasn't going to be doing any more scenes in which Rachel wore only a towel or was otherwise unnecessarily unclothed, having noticed one-too-many scantily clad moments for her character in season four when she read the scripts.
"So I rang the creator and I was like, 'It's just gratuitous, we get it, we've already seen it once,'" she explained to Ireland's Independent. "So I think at a certain point you feel empowered enough to just say no. I think it's a challenging thing to do if you don't know your worth and your value for wanting to speak up."
Hence her nickname on the set, MSH. It's short for "making s--t happen."
Between filming seasons five and six of Suits, she traveled to Rwanda for World Vision's Water Color Campaign, helping to dig a well and teaching kids how to paint with water colors, so they could chronicle the arrival of fresh water in their village.
"Even before Harry, she was starting to think about transitioning out of acting," a source told E! News in March 2017 when Meghan reported back to Toronto to film the seventh—and what would be her final—season of Suits. "She wants to focus on other worldly endeavors she is passionate about, like her philanthropy."
Along with The Tig, Meghan fashioned her personal Instagram account into a go-to spot for a glimpse at a life well-lived, but with an emphasis on the day-to-day.
"Here's me walking my dogs with a baseball cap on," she described her social media aesthetic to Miami Living. "It's not all about the glitz and glam, that's not where I come from."
Recalling the days when her car doors wouldn't open, the Suits star said, "That is what I remember from my experience as an actor. So this version of it, where you get to play dress-up, it's still a Cinderella moment and it's no reason not to be forthcoming about that and be like, 'Oh yeah, this is what life is like.' No, this is not what life is like. This is what I've earned and I'm so grateful."
"If anything it serves as an inspiration," she added. "It's attainable. I didn't think my life would be this amazing, so it's a really good reminder that you have to dream bigger."
After her divorce, Meghan dated Canadian chef Cory Vitiello for a couple of years and even started living together, but they broke up in 2016. ("Meghan's a wonderful girl, and I'm very proud of her," Cory told the Daily Mail after she got engaged. He welcomed a son last September with Dragonette singer Martina Sorbara.)
It was reportedly just a few weeks later when her friend Violet von Westenholz, whom Meghan knew from Violet's PR work with Ralph Lauren, asked the newly single actress if she wanted to meet her dear friend Prince Harry, whom she'd known since childhood.
"Is he nice?" was all Meghan wanted to know.
Harry wasn't familiar with Meghan or with Suits, but he was "beautifully surprised" when he walked into the room and first saw her, as he relayed in their engagement interview the following year. As the first date wound down, they decided to have their second the next night. Then she had to return to Toronto, but their third date, a few weeks later, was a trip to Botswana to camp out under the stars.
"There has always been an affinity between royalty and actors going back to Shakespeare and Thomas More," historian Dr. David Starkey told Angela Levin for her 2018 book Harry: A Biography of a Prince. "In the Tudor period it was completely understood that the royal household lent out their actual robes for actors to wear onstage. And in the 1920s it was said that the royals were our best film stars. It remains true."
Meghan wrote in a post on The Tig in the summer of 2016, having secretly known Harry for a couple of months: "I have to say that when I close my eyes and think of what I wish for, I come up with a blank. A big, old, happy blank. I am feeling so incredibly joyful right now, so grateful and content that all I could wish for is more of the same." She cheekily posted a couple of photos of Kensington Palace (the exterior, of course) and Buckingham Palace on Instagram, but no one was the wiser yet.
It wasn't until October 2016, about six months after they met, that London's Sunday Express broke the news that she and Prince Harry were dating, matching friendship bracelets the couple had been wearing while on separate continents giving them away for good.
By the time Meghan and Harry rang in 2017 in Norway, she had shuttered The Tig.
Harry proposed in November 2017 while they were preparing a roast chicken, Meghan's specialty, and the following month they had their first official engagement together, on World AIDS Day. They went to the National Justice Museum and Community Recording Studio in Nottingham, where they recognized the good work being done by Full Effect, one of the young royals' foundation programs, which provides mentoring and educational opportunities for at-risk kids.
"Meghan was having a right laugh," Trevor Rose, who runs Full Effect out of the studio, told Angela Levin. "I hope it won't be a long time before [Harry] has little ones. He is such a good guy, I want to see him happy and bring a little one to see us."
Meghan's final episode of Suits aired on April 25, 2018, less than a month before she married Harry at St. George's Chapel in Windsor, where they're also now living, at Frogmore Cottage.
"With Meghan, a lot went unsaid," Adams, who left the show at the same time, told The Hollywood Reporter before the big farewell, in which Mike and Rachel exited as newlyweds. "Meghan has this whole crazy part of her life that's just beginning now. In some ways, Meghan and I were the closest because we were the youngest people in the cast and both came in with the least experience. We grew up together over the course of the show. There was this natural sense that we both knew that the time had come for both of us."
Adams and wife Troian Bellisario, as well as Suits' Abigail Spencer, Gina Torres and Sarah Rafferty were all in attendance at the royal wedding.
Meghan and Harry will be taking maternity and paternity leave from their day jobs, but the proud new mom already was already making plans while pregnant for what she's going to do next—and when and where she'll be returning to the public eye (minus the first photo of her with their baby).
In October, she and Harry will attend the annual One Young World summit, which will be welcoming 10,000 young leaders from around the globe to London.
Facundo Arrizabalaga/AP/REX/Shutterstock
"Harry is keen to support Meghan in developing her own role and the opportunity to partner with a cause so close to her heart is an ideal stepping stone," a source told Vanity Fair. "All being well with the baby, the timing is perfect for her to expand her Commonwealth work through this new One Young World partnership with the Queen's Commonwealth Trust."
Meghan shut down her personal Instagram, Twitter and Facebook accounts in January 2018, having last posted a photo the previous April, and her brief experiment of having a private Instagram account to keep up with her friends didn't ultimately work out thanks to too many trolls. But just in time for their baby's arrival, she and Harry got the go-ahead to start their own official Sussex Royal Instagram account, meaning they're no longer sharing bricks-and-mortar or social media real estate with William and Kate anymore.
Determined to do her own thing, much like a certain princess who rocked the royal world decades ago, there's a chance that Meghan is curating their Instagram herself—a remaining vestige of a pre-royal life that may no longer apply, but which led her right to where she is today.
"I was like, 'Yes! My voice is heard!'" she recalled the thrill of making a difference at the tender age of 11 to Miami Living. "That's who I am...If something's wrong, I wanna make it right. And if something is great, I want to make it greater. That's what I do."