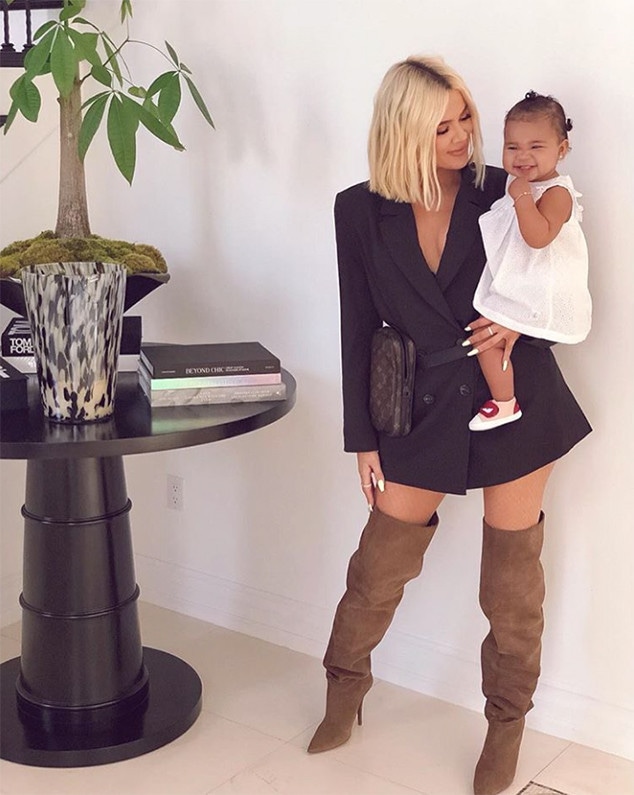 Instagram
Mirror, mirror on the wall, who's the cutest one of all?
Khloe Kardashian posted on her Instagram page on Thursday an adorable new video of her 11-month-old daughter True Thompson squealing with joy as she kisses and touches her reflection in a mirror while babbling.
"Do you love yourself?" Khloe asks her. "Do you say, 'I am so beautiful?' Hey look, say, 'I am so happy! Yes, I love myself! I am so strong!' What else do you say in the mirror?"
"PRECIOUS GIRL," commented Khloe's mom Kris Jenner.
Earlier on Thursday, Khloe posted on her Instagram Story clips of the baby using a pink walker.
"Are you having fun? Hey! Your glasses are crooked," Khloe said, laughing. "Whoa, speed bump! Go! Come on! Go, boo, go!
True is Khloe's only child. She has been getting used to life as a single mom after she and her baby's father, the reality star's ex-boyfriend, Tristan Thompson, broke up in February after allegations he cheated on her for the second time, this time with her sister Kylie Jenner's bestie Jordyn Woods, who admitted to being kissed by him but denied sleeping with him.
"What's been harder & more painful is being hurt by someone so close to me," Khloe had tweeted last month. "Someone whom I love & treat like a little sister. But Jordyn is not to be blamed for the breakup of my family. This was Tristan's fault. I have to move on with my life & count my blessings, my family, my health, & my beautiful baby True."
Earlier this week, Khloe posted a photo of her sitting with True on a blanket in a backyard.
"You are my sunshine / My only sunshine / You make me happy / When skies are grey / You'll never know, dear / How much I love you," she wrote.