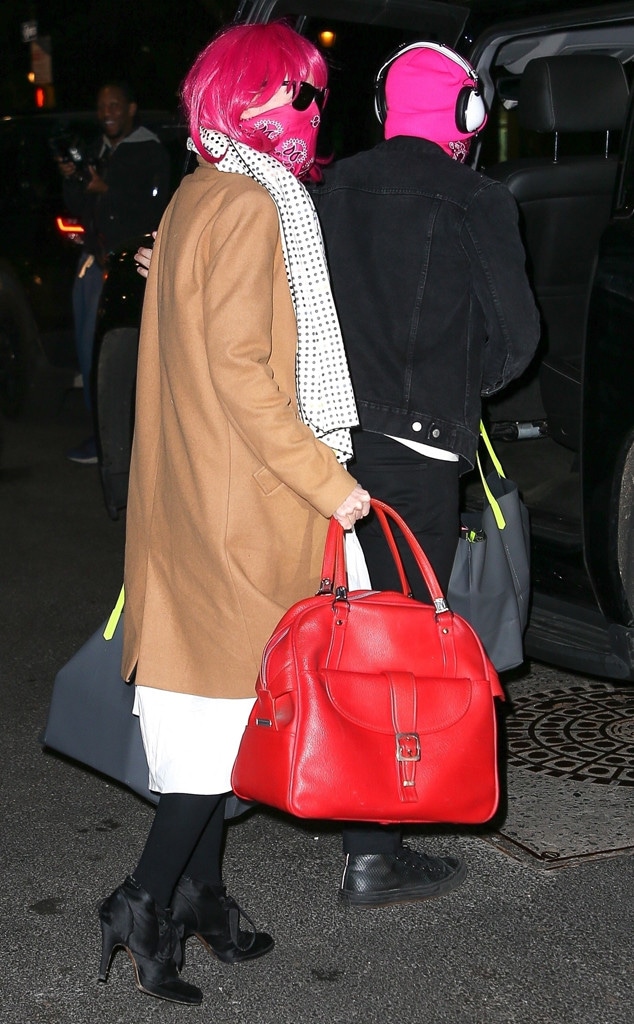 BACKGRID
Taylor Swift and Joe Alwyn will most likely not be trying their hands at going undercover in the CIA or MI5 any time soon. That's the case because they haven't actually been pretending to walk around New York in disguises at all.
In fact, Swift was in London over the weekend celebrating at a Cats wrap party. She took a selfie with co-star Eric Underwood at White City House in London. That seems more like their pace, not playing tricks in some over-the-top outfits.
Over the weekend, a couple initially believed to be Swift and Alwyn wore some pretty over-the-top disguises over the weekend. This couple—most definitely NOT Swift and Alwyn—were thought to be out and about on their way to celebrate the Cats wrap party in New York City. This seemed to be a game these two mysterious people were playing with the paparazzi and perhaps attempting to do a couple's version of the Taylor-Swift-hiding-in-a-massive-suitcase situation (the claim that it was Taylor inside the trunk was later refuted and walked back).
Pink was the overall theme for the fake disguised day out. The woman pretending to be the Reputation artist wore a knee-length white dress with a tan coat over it. She had on black tights and red shoes with a kitten heel. While all of that seems rather innocuous, she balanced it all out with a hot pink wig, big black sunglasses and a matching pink bandanna wrapped around the bottom half of her face.
The fake Alwyn followed suit in rather normal clothes (read: black pants, a white shirt and a black jacket) but paired that with a magenta beanie and bandanna also wrapped around his face. He, too, donned big sunglasses and a pair of large headphones.
The fake Swift and Alwyn were identified on Twitter as a couple known as "The Bumbys" and wearing bright-colored wigs and bandannas seems to be their M.O.
Neither Swift nor Alwyn prefers to talk at length about their relationship, but they aren't shy about holding hands or showing a bit of PDA while out and about in New York or elsewhere.
In February, Swift and The Favourite star had a fun night out at a pub in London's Hampstead neighborhood. They were photographed leaving The Spaniards Inn and Swift wore a scarf on her head likely as a makeshift umbrella because it was raining. That was probably her main way of going incognito—no disguise necessary here!
A source told E! News at the time that they had a "lovely evening" out together. The insider said, "They were in great spirits, cozied up together and gazing at each other with smiles. They seem to really enjoy being at the local neighborhood pubs and frequent them often when they are in town."
Swift and Alwyn also packed on the PDA together at the 2019 BAFTA Awards after-party in London. Alwyn's film The Favourite took home seven awards that evening and the 29-year-old singer made her enthusiasm known on Twitter. "AHHHHH @thefavouritemovie just won 7 @bafta awards !!! Bout to go give some high fives - thanks @stellamccartney for this dressss," she wrote.
Alwyn told Mr. Porter's The Journal that he doesn't necessarily want to open up to random outlets and talk about something as private as his relationship.
"I don't think anyone you meet on the streets would just spill their guts out to you, therefore why should I?" he said. "And then that is defined as being 'strangely private'. Fine. But I don't think it is. I think it's normal."
The 27-year-old echoed similar words in a September 2018 interview with British Vogue. "I'm aware people want to know about that side of things," he told the publication. "I think we have been successfully very private, and that has now sunk in for people. But I really prefer to talk about work."
Meanwhile, Swifties are eagerly awaiting TS7 and have some pretty ornate theories about a potential new album. She briefly mentioned some new hits during her 2019 iHeartRadio Music Awards speech, where she was honored with the Tour of the Year award.
"One of the most wonderful things about the way that this whole tour turned out is that, for, like, the entire six months leading up to the first show of this tour, every headline that I read was, this is going to be a massive failure. And it really did wonders for my self-esteem. It was really great to hear people saying that I was going to be playing to nearly empty stadiums," she began her speech.
Swift continued, "I've learned a lot. One of the things I've learned is that life is really unpredictable and people can make forecasts and they can make predictions, but those predictions and forecasts may not come true if there is an unforeseeable factor involved, and that unforeseeable factor in this case was my fans."
She assured her dedicated and massive fan base, "I just wanted to let you know that when there is new music, you will be the first to know."
Whether it was Swift and Alwyn in these disguises or not, those two just made a great case for hot pink hair.