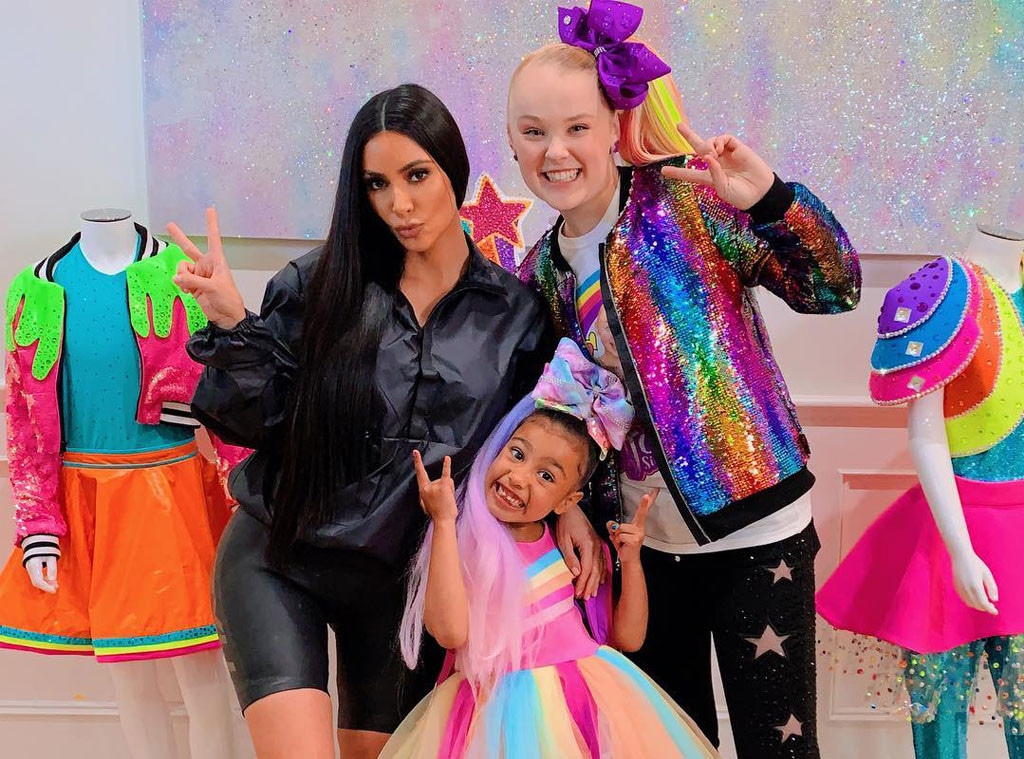 Instagram
You've never seen glitter or rainbows until you've seen the inside of JoJo Siwa's house, and North West can surely attest to this.
Kim Kardashian and Kanye West's oldest child spent the day with the YouTube star at JoJo's home where they made glittery slime, played hide-and-seek, had a dance party (North can do the splits!) and looked at cars. She acted as North's caretaker for the day and the two of them filmed their highly-anticipated YouTube video together. The title is even "BABYSITTING NORTH WEST!!!"
JoJo describes the video on her YouTube page, "JoJo Siwa BABYSITTING NORTH WEST!! I had so much fun Pretend babysitting Kim Kardashian West and Kanye West's little girl North West!"
The 15-year-old had been teasing the video's release for some time, and it finally dropped on Sunday afternoon. North is apparently a huge JoJo Siwa fan, so it was a momentous occasion for both parties involved. The Dance Moms star told E! News at the 2019 Kids' Choice Awards that Kim might make a cameo, and she certainly did.
The video began with the KKW Beauty owner dropping off North at JoJo's house. The 5-year-old wore an appropriate rainbow dress as well as a rainbow bow with a purple ponytail coming out of it. North looked more than ready to jump into filming a music video at that very moment.
Before leaving JoJo's house, Kim reassured her daughter that if she needed anything she could just give her a call.
"But I don't know your phone number," North responded. She then blurted out that she only knew Kim's phone password, but those digits were bleeped out. JoJo was prepped and ready to go as babysitter-in-chief and told North that she had her mom's phone number, so everything would be fine.
The two of them went up to JoJo's room first and North even got to ride down the slide that covers JoJo's bed. She also had the chance to pick a bow from the selection on JoJo's bow wall.
After playing some hide-and-seek and making a mess glittery slime, the "Hold the Drama" singer showed off her many cars to North. Of course, there's one in particular that she wanted to see—the "Dreamer Mobile."
The "Dreamer Mobile" is JoJo's white BMW convertible that's customized with pictures of unicorns and stars and her face on it. The car received some extra publicity of its own a few months ago when Justin Bieber shaded the car on Twitter. West Coast Customs, which designed it, posted a picture of JoJo with her new ride on Instagram and Bieber commented, "Burn it."
JoJo's mom even got involved and replied, "burn your own things."
The "Sorry" singer felt just that and took to Twitter a few days later to apologize. "@itsjojosiwa I have nothing against you it was the car and the colors I didn't like I really hope you didn't think it was malicious or mean spirited," he wrote.
The two of them made peace and the YouTuber even offered her own way of him making it up to her. "It's all good bro! you can perform at my 16th birthday party and we'll call it good!" she tweeted.
All's fair in love and social media because later that day JoJo shared a picture on Instagram of herself giving a thumbs up in her car while seated next to a cardboard cutout of Bieber. The two of them have even found a way to joke about it with each other.
JoJo spoke highly of North while promoting the video both on Sunday and beforehand. She wrote in the caption of a picture of herself with North and Kim, "Seriously North is SO adorable and awesome, and Kim is one of the SWEETEST people ever!"
She shared similar sentiments on the orange carpet at the Kids' Choice Awards. For starters, JoJo joked that she and Kim are "best friends" because they texted a decent amount in order to coordinate the details about the video.
JoJo added, "North West hasn't really been on the Internet before and no one has really met her personality yet, so it's going to be really, really fun. Kim says she's super excited so I'm excited."
When Kim picked her daughter up from JoJo's house, she asked if North had the "best day of her life" and North enthusiastically threw her hands in the air and screamed, "Yes!"
Watch the full video of North and JoJo's fun babysitting day above.
Keeping Up With the Kardashians returns this September, only on E!