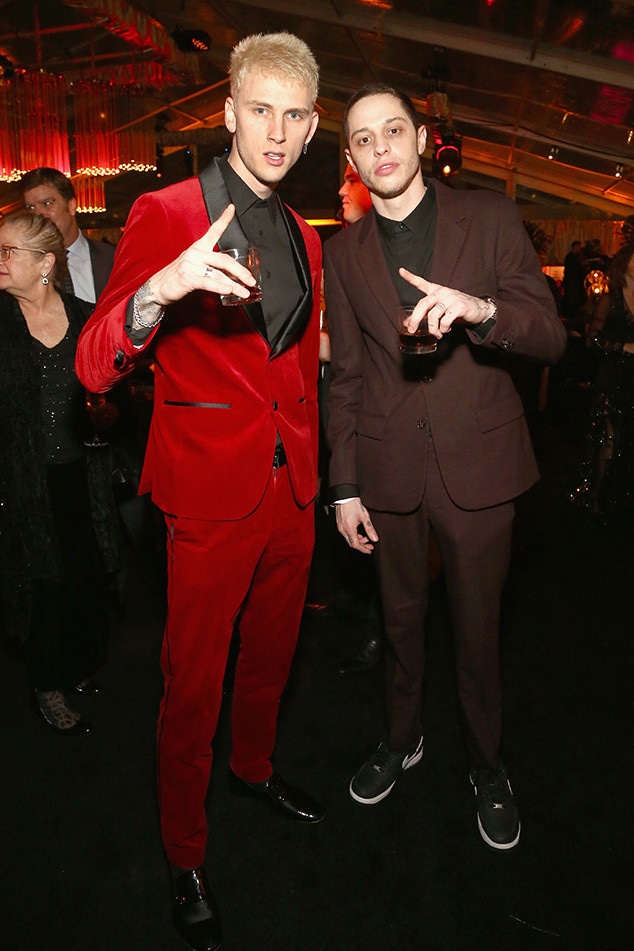 ommaso Boddi/Getty Images for Netflix
Machine Gun Kelly and Pete Davidson's friendship has headed to uncharted territory: the lie detector test.
The rapper and SNL comedian appeared in a Vanity Fair video where they interviewed each other while connected to the detector. During the question and answer session, the two men talked about their friendship, their acting skills, who has better BDE and more. It went...as expected.
The main takeaway from Kelly and Davidson's lie detector test is that their bromance is as strong as ever. For starters, the "Bad Things" rapper wasn't afraid to admit that he doesn't think Davidson should try his hand at that musical genre. It turns out Davidson doesn't think he'd be a good rapper either.
Kelly, whose real name is Colson Baker, not only has a long list of songs to his name, but movie titles, too. He's currently the star of Netflix's The Dirt and admitted during the test that he thinks he's a better actor than rapper. The two of them also appeared in the film Big Time Adolescence together, which is where their friendship really solidified.
The 28-year-old praised Davidson's comedic chops and said that he's never fake laughed at any of his jokes. Plus, he tunes into Saturday Night Live on a regular basis but not the entire episode.
"I watch Pete's parts every week," Kelly said.
Just because Kelly watches SNL and supports his friend on TV, he did lie about one part in terms of the show.
The 25-year-old asked if he was the funniest person on the show and Kelly replied, "Yes."
However, the administrator in charge of the test chimed in and confirmed, "That's a lie." In the end, both friends were happy to say that Kenan Thompson is funnier than Davidson and they know it.
John Salangsang/Variety/REX/Shutterstock
The questions took a bit of a more personal turn when Davidson took out a photo of George Clooney and asked if he had more BDE (big dick energy) than the Ocean's Thirteen star.
"Hell no, that dude rocks," Kelly said.
"Yeah, that dude's cool. I agree with that," Davidson added.
He then showed a photo of Rihanna and asked the same question about BDE. Kelly replied with a "hell yeah" and Davidson definitely agreed.
Even though they're best friends and smoke an "even" amount of weed, Davidson has not yet appeared in one of the rapper's dreams (which he's pleased about). Kelly also said he thinks Davidson would be a great babysitter and he hopes that his music career will span for a long time—just not long enough to be a 73-year-old rapper.
"We don't want to be like some guys, just overstaying our welcome," Kelly quipped.
Kelly later turned the tables on Davidson and began interrogating him as he was connected to the lie detector.
The "Let You Go" artist asked Davidson to confirm if he really did get dinner with Kanye West, Kid Cudi and Timothée Chalamet in Malibu one time. Well, it happened and they "ate a bunch of rich people stuff." Davidson wants everyone to know that he paid for the meal and "that's 100."
Apparently, Kanye ordered the most expensive meal because "he just kept ordering the entire time."
In a similar vein to Davidson's BDE question, Kelly pulled out a photo of Post Malone and asked if he thought the "Better Now" rapper was better looking than him.
"No, not even close," Davidson affirmed.
Davidson and Kelly have been extremely supportive of each other throughout their friendship. Kelly expressed his concern after Davidson's worrying Instagram post on Dec. 15 when he said he didn't "want to be on this earth anymore."
Not long after that message, Kelly tweeted, "I'm in the plane now on the way to see Pete. Gonna make sure he's good, I promise. Can't have my boy in the darkness like that." Kelly arrived in New York and the two left Saturday Night Live together. Davidson even joined Kelly onstage at one of his concerts in Cleveland a week later.
A Twitter user at that concert told E! News at the time, "He was only on stage for about two songs but it just showed the type of friendship that him and MGK have together. It was honestly a beautiful thing that everyone was in awe of."
Watch Davidson and Kelly's full lie detector test video above.