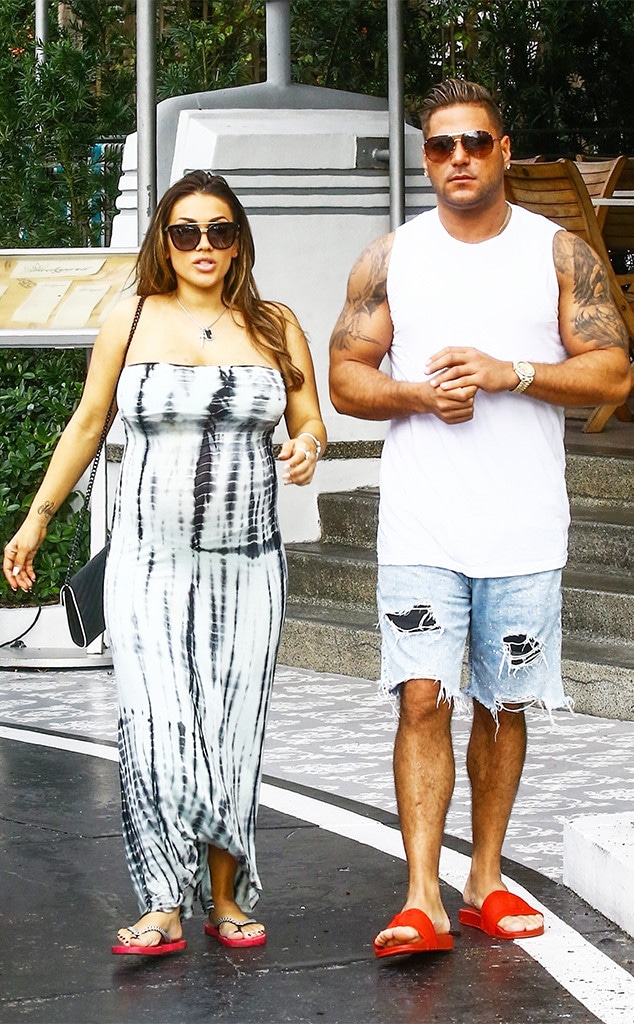 VAEM / BACKGRID
Ronnie Ortiz-Magro and Jen Harley have headed down South to Texas.
The Jersey Shore stars spent the day together in Austin at one of Jen's friend's baby showers.
Jen shared videos and photos of the day on her Instagram Story, which mostly centered around their 11-month-old daughter, Ariana Sky Magro. In the clips, Ronnie gave his daughter a sip of some water out of a bottle and she played with the cap on the table. She danced around a bit and loved repeating the phrase "Opa!" 
She looked just as festive as any of the adults at the get together, too. Ariana wore a multi-colored pattern onesie with a baby blue ribbon in her hair. Ronnie kept it casual in a pair of light blue shorts, a black sweatshirt and bright red shoes. Ronnie also took a few moments to play with her cheeks and lovingly squeeze them together a bit.
Both Ronnie and Jen constantly post updates and sweet photos of their baby daughter. The 33-year-old always dubs her his "whole world" or "whole life" on his profile. On Valentine's Day, Jen shared a photo of Ariana in a red dress with red roses and wrote, "your 1st Valentine's Day, my beautiful baby girl !!! I love you more than life. my little love bug here's to making you feel special every day of your life."
The two of them have had their fair share of ups and downs throughout their relationship, which often play out on social media. Right at the beginning of the year, the couple split after an altercation at Jen's home in Las Vegas. A source at the time called it a "huge fight" and said that she "threw something at his head."
A source told E! News that the two of them are working on their relationship and have reconciled since their explosive New Year's Eve fight. One insider explained to E! News, "They are co-parents and trying to work on their relationship. They see each other all the time and still get together as a family for the sake of Ariana."
They added, "He is committed to maintaining a healthy lifestyle and his number priority is Ariana."
Another source echoed their commitment to co-parenting. They explained to E! News that Ronnie and Jen have been "spending a lot of quality time together recently as a family."
The second source said, "Ron and Jen are doing so well as a couple right now. Their relationship is the smoothest it has ever been."
Ronnie recently completed a stint in rehab, which he opened up about around the holiday. He explained to Us Weekly that he decided to seek treatment because he "was just making the wrong decisions" and "was very depressed."
He added, "I was definitely in a place where I didn't know how to control my life anymore."
Ronnie also said Ariana played a huge role in his treatment plan. "I decided to go to treatment because I wanted to be a better person, a better father for my daughter," he told the magazine.