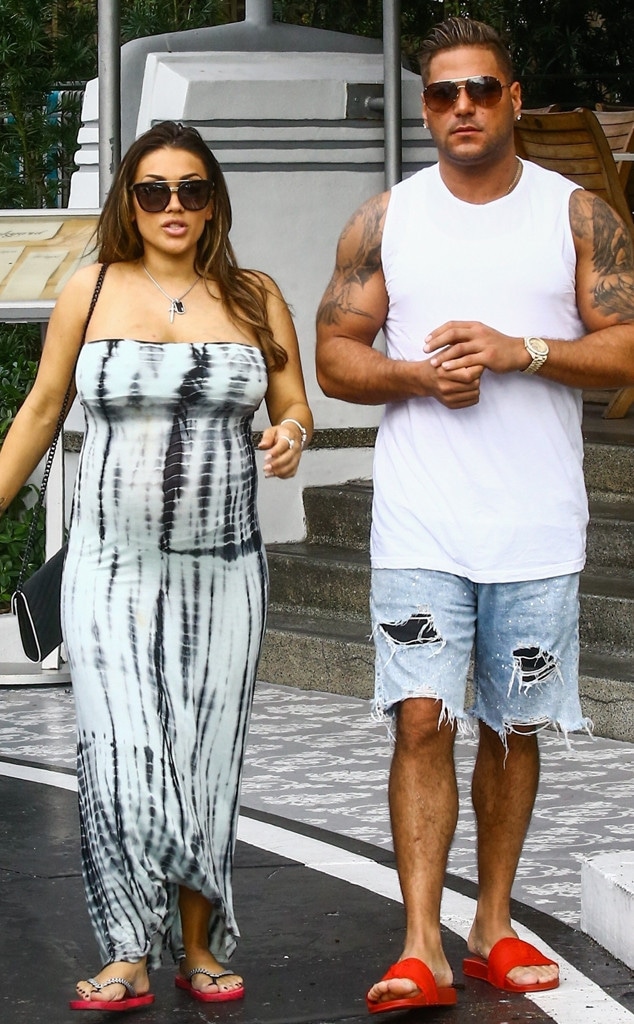 VAEM / BACKGRID
Ronnie Oritz-Magro and Jen Harley called it quits again. 
A source tells E! News the pair is currently split, following a huge blowout on New Year's Eve. Like their last few fights, things turned violent, says the source, leading Ronnie and Jen to breakup for yet another time. "They got into a huge fight and she threw something at his head," the insider explains.
While the source is unaware of what transpired between the pair, ultimately resulting in the heated discussion, they doubt this is the last time the reality stars will break up. "They are a mess," the source shares. "At this point, they even laugh about it."
Up until New Year's Eve, things appeared to be going well between the parents. Their last tiff was in October, when Ronnie claimed on Instagram that Jen gave him a black eye. Jen vehemently denied these claims, even going as far as accusing him of being a "drug addict."
However, it looks like the couple quickly put their problems behind them, because just days later, they were together celebrating Jen's birthday in Miami. This came as a surprise to their friends, who seemingly had no clue what their relationship status was. 
But, according to one source, their friends are used to it since "They have always been on-and-off with each other because things are so volatile between the two of them, but they're ultimately brought back to each other because of their daughter."
Their daughter, Ariana Sky Magro, turned nine months on Wednesday, prompting Jen to share a cute selfie of her and her daughter. "I cannnot believe in 3 months we're going to be having your first birthday," the mom wrote. 
While Jen still has photos of Ronnie on her social media, Ronnie appears to have deleted all traces of his ex from his Instagram account, save for one photo of their family of three meeting Santa.