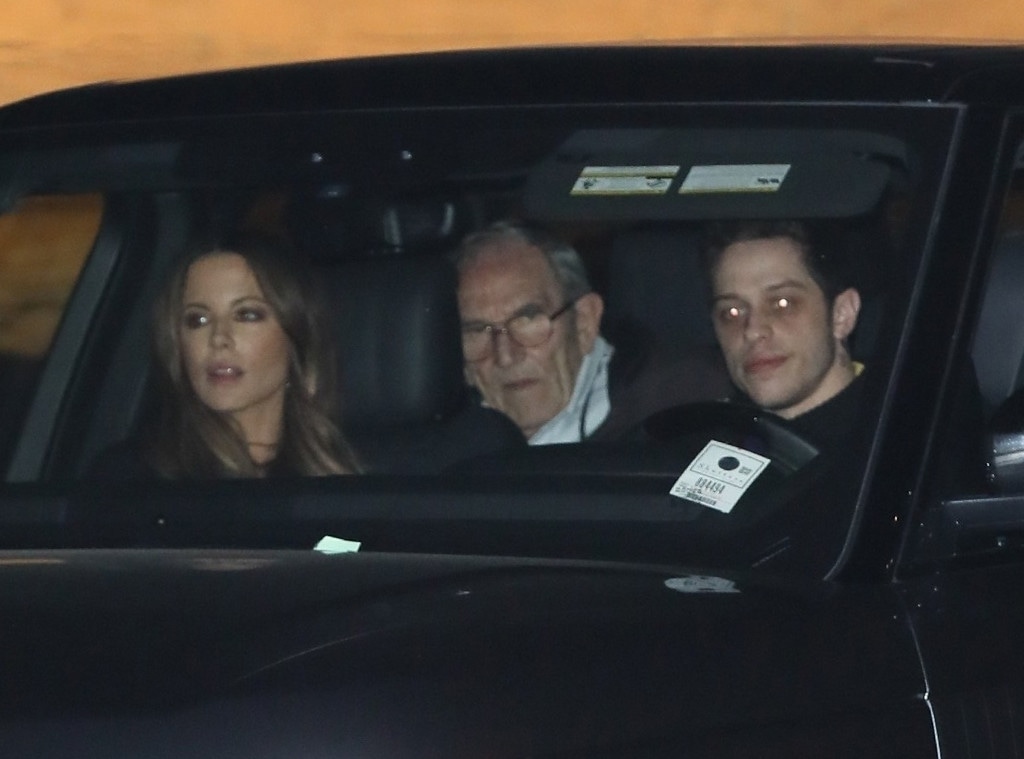 Backgrid
Pete Davidson and Kate Beckinsale's romantic date nights are still going strong. This time, they even brought some guests along.
The SNL star and Beckinsale were seen out at Nobu in Malibu on Tuesday night and were accompanied by her mom Judy Loe and step-dad Roy Battersby. 
Tuesday was a bit of a solemn day for The Widow actress because it marked the 40th anniversary of her dad Richard Beckinsale's death, who passed away in 1979 at the age of 31. She paid tribute to her late father on social media and shared a number of pictures of him from some of his acting roles as well as family photos.
"40 years is a lot of missing. Thank you so much to everyone who has been kind. Lots of love xx," she captioned the post.
Beckinsale and Davidson have had a few outings in the City of Angels this week as their relationship continues to grow. On Monday, the two of them showed some PDA after the movie premiere for Netflix's new film called The Dirt. Although they entered separately, they were seen sharing a kiss in their car after the premiere and heading to the Whisky a Go Go in West Hollywood for the after-party.
A source told us that night, "She kept looking over at Pete and couldn't help but break out into the biggest smile. They look like they are gaga for each other."
Their affection continued inside the club, too. The eyewitness explained that she "looked very into it" and "they didn't care who was watching." The source continued, "They clearly just wanted to be together. They aren't shy with the PDA and look very happy together."
Davidson and Beckinsale were first seen flirting at a 2019 Golden Globes after party and they've since enjoyed nights out together in both New York and Los Angeles. They recently sparked some memes and laughs when they were photographed kissing at a New York Rangers hockey game while Queer Eye's Antoni Porowski seemed to embrace his role as the unofficial third wheel of the evening. That hockey outing happened just a few hours after they spent the night out in New York City at an SNL after-party.
In February, another source told E! News that their relationship was pretty "casual" for now, especially because he's based in New York. The source said Beckinsale thinks him to be "the sweetest and nicest guy."
"They may seem like an unlikely match but she thinks he's great and she just loves all the laughs she has with him," the source explained.
The 25-year-old comedian addressed his relationship with the Oxford-educated actress on his preferred platform: "Weekend Update" on SNL. Colin Jost slyly pushed him to talk about it and he said, "Apparently, people have a crazy fascination with our age difference. But it doesn't really bother us. But then again, I'm new to this."
Davidson was previously engaged to Ariana Grande, who is also 25. They broke off their engagement in October.
Davidson noted that the 20-year age difference between the two of them is really not that uncommon in Hollywood. He joked on the show, "So if you have questions about a relationship with a big age difference, just ask Leonardo DiCaprio, Jason Statham, Michael Douglas, Richard Gere, Jeff Goldblum, Scott Disick, Dane Cook, Derek Jeter, Bruce Willis, Harrison Ford, Tommy Lee, Alex Baldwin, Sean Penn, whoever the president of France is, Mel Gibson, Billy Joel, Mick Jagger, Sylvester Stallone, Eddie Murphy, Kelsey Grammer, Larry King, Larry King, Larry King, Rod Stewart and Donald Trump."