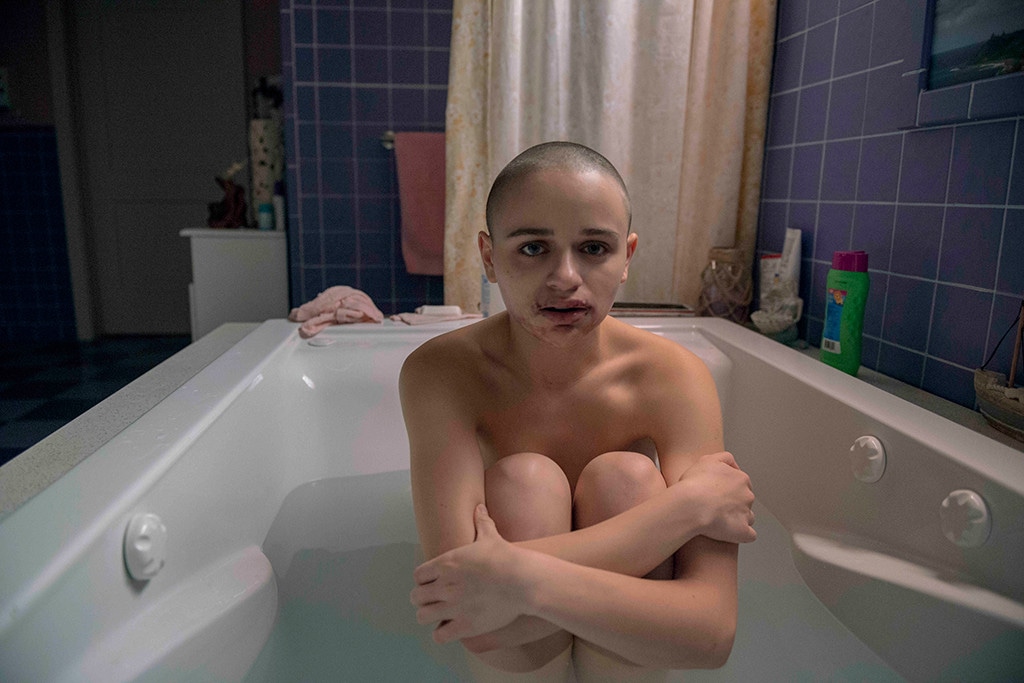 Hulu
With The Act, Hulu's new true-crime anthology series that is taking on the life of Gypsy Blanchard and murder of her mother Dee Dee Blanchard (Patricia Arquette), Joey King is going to leave audiences shook.
King, known for her work in Ramona and Beezus, Independence Day: Resurgence and The Kissing Booth, plays Gypsy Blanchard. As Gypsy, she's sweet, innocent, and captures the festering desire for independence in a haunting way. Besides shaving her head to play Gypsy, who according to her mother in the show had a wide range of afflictions from leukemia to muscular dystrophy to a life-threatening sugar allergy, King went all in to portray Gypsy.
"It was one of the hardest roles I've ever taken on. The hardest I would definitely say. I'm very fortunate we had [journalist and executive producer] Michelle Dean as our main resource for information on Gypsy and Dee Dee," King said at the 2019 Television Critics Association press tour. "Basically I, like a lot of people, rewatched the documentary more times than I can even count. And I would go online and just find any interviews I could. I wanted to see the way she spoke, the way she carried her body. A lot of time I would fall asleep with my headphones on, listening to interviews of her just so I could hear her voice in my head, over and over again. And I would go to Michelle a lot for advice, which was really, really helpful."
King told press at TCA that she connected with the role and has zero regret shaving her head for it. She and Dean had several dinners filled with questions about Gypsy that informed her performance.
"It's crazy though because with a role like Gypsy, no matter how much prep you do, no matter how much research you do, no matter how much script work you do, nothing will prepare you," King said. "Nothing will make it fall into place more than when you actually step on set. I truly believe that. Along with shaving my head, putting in the fake teeth, I wear several stages of fake teeth throughout the entire series, and being in the wheelchair. Being in Gypsy's clothing, all of it. The minute you get on set, everything that you've prepared for truly all falls into place right then and there. Obviously, the story and the writing is amazing so it was really easy to just make it all happen once we stepped onto set."
King even nailed Gypsy's voice, which she developed while doing research and watching interviews with the real person. In an interview with Vulture, she said originally producers didn't want her to do it while auditioning. "I'm very happy that I was able to do her voice and become her more completely," she said.
In The Act, viewers will see King's Gypsy learn she's not really as sick as her mother has been telling everybody. And in a way, Gypsy knew that. King said it was hard to wrap her brain around the fact that Gypsy seemed understand she was faking illness, but at the same time be unaware of what was really happening to her.
"I think Gypsy was confused herself. I think she knew that she could walk. For a long time, that's all she knew. And then she slowly tried to find out more things — she's her mother's daughter, in that she also had to use manipulation to get what she wanted," King told Vulture. "It's not really her fault that's the role she had to play. She was really good at manipulation because she was forced into these scenarios where she had to manipulate to survive."
Nick Antosca, executive producer on the series, described it as a "a psychological horror story," with the central aspect that made the true story and fictionalized version so complex is the relationship between Dee Dee and Gypsy. Arquette and King met prior to shooting, but their relationship began in earnest during rehearsals, King said, when they were "diving into the crazy and horrid mentality of these characters. We really became emotionally reliant upon one another and I'm so happy that we did because I feel like she's like family to me now. I text her and I call her whenever I just feel like talking."
To truly nail what was going on, in addition to leaning on Dean who researched the Blanchards thoroughly, Antosca said the writers room spoke to Munchausen syndrome experts who shared "chilling stories."
"And they told us about how it's a compulsion, and the women who suffer from it, and men, they get something out of it psychologically and they can't stop. And we were curious about what that experience is like. We talked with Patricia about what she is thinking in the moment that she injects her daughter with something that, on some level she knows she doesn't need. And it's also interesting because it's a love story. It's a story about love that is so extreme it becomes toxic and that's really fascinating too," he said.
The Act premieres Wednesday, March 20 on Hulu.