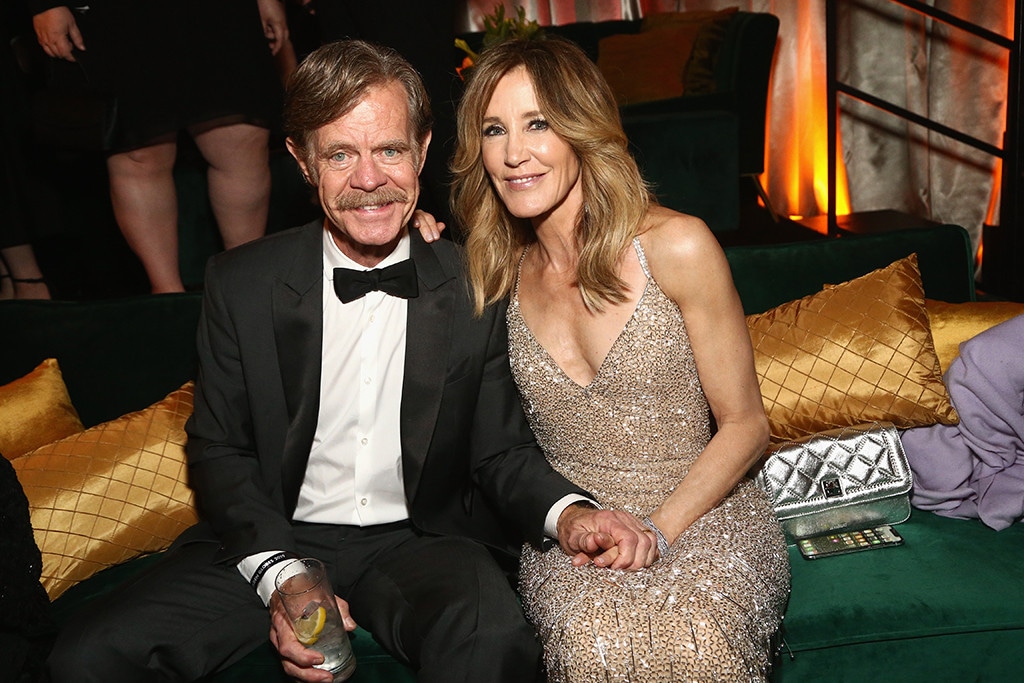 Tommaso Boddi/Getty Images for Netflix
For more than 30 years, Felicity Huffman could count on William H. Macy to be by her side.
And this year he proved that he'd be by her side anywhere, including in court.
Huffman was one of 50 people indicted in March in connection with a massive college admissions scam that ripped the veil off the smarmy world of greasing palms to get a leg up in higher education and resulted in the firing of multiple athletic coaches and administrators at esteemed universities. Newport Beach businessman William "Rick" Singer, the named ringleader, cooperated with authorities and pleaded guilty to racketeering conspiracy, money laundering conspiracy, conspiracy to commit fraud and obstruction of justice. The FBI investigation's code name was, much to late-night comedians' delight, Operation Varsity Blues, and the lengths to which Singer's tentacles stretched to secure results for his clients are still being calculated.
Hoping to swiftly put the embarrassing episode behind her, Huffman pleaded guilty in May to charges of conspiracy to commit mail fraud and honest services mail fraud after paying $15,000 to ensure her college-bound daughter would get a competitive SAT score. The actress is scheduled to be sentenced on Sept. 13 and prosecutors are recommending she spend a month in prison and pay a $20,000 fine.
"I am in full acceptance of my guilt, and with deep regret and shame over what I have done, I accept full responsibility for my actions and will accept the consequences that stem from those actions," the Desperate Housewives and American Crime star said in a statement at the time, her only public comment to date on what happened.
"I am ashamed of the pain I have caused my daughter, my family, my friends, my colleagues and the educational community. I want to apologize to them and, especially, I want to apologize to the students who work hard every day to get into college, and to their parents who make tremendous sacrifices to support their children and do so honestly.
"My daughter knew absolutely nothing about my actions, and in my misguided and profoundly wrong way, I have betrayed her. This transgression toward her and the public I will carry for the rest of my life. My desire to help my daughter is no excuse to break the law or engage in dishonesty."
Planning to fight it out in court, meanwhile, is fellow actress Lori Loughlin, who along with husband Mossimo Giannulli has pleaded not guilty on all counts, including charges of conspiring to commit fraud and money laundering that were handed down in a subsequent indictment.
The "Aunt Becky" jokes ran rampant, and Loughlin's case was made none the more sympathetic by the video of her influencer daughter, Olivia Jade—the beneficiary of her parents' allegedly criminal acts to secure her a spot at USC—basically announcing to the world her indifference to getting a college education. But for all the nostalgic angst triggered by Loughlin's Full House stardom, it was Huffman who was the real heartbreaker in the group.
And not least because of the way people viewed her in real life as seen through the prism of her enduring, enviable relationship with Bill Macy, who as of Friday she's been married to for 22 years—and who wrote a letter to the judge singing his wife's praises as a mother in pleading for leniency on her behalf.
Talk about your golden anniversary gifts.
Danny Moloshok/Invision for the Television Academy/AP Images
Loughlin and Giannulli, he of the hip '90s brand Mossimo, lived a relatively private life, in that Giannulli isn't an actor and Loughlin wasn't exactly high on the paparazzi's list of must-gets (pre-scandal, that is). She held a place in people's hearts as a star of a few cult-classic '80s movies, as well as Full House and, more recently, Fuller House and Hallmark Channel's Garage Sale Mysteries (neither of which included her in their future plans), but she could get to a yoga class unencumbered.
Huffman and Macy aren't a flamboyantly out-there couple by Hollywood's standards, but they have become a beloved show business fixture, one of those most-admired couples on the red carpet, lauded for their long marriage, visible admiration for each other and what always seemed to be the charming, witty heads on their respective shoulders. They're also just those kind of actors that you dig, with Huffman showing off the depth of her talent in everything from Sports Night to this year's Emmy-nominated limited series When They See Us, and Macy masterfully playing one delightfully strange character after another, his most recent being derelict patriarch Frank Gallagher in Shameless, for which he's won two SAG Awards.
They were together for the better part of 15 years before tying the knot in 1997, but were broken up for awhile before Macy proposed for what was not the first (or second) time.
"Bill Macy asked me to marry him several times over several years," Huffman recalled to the Pittsburgh Tribune-Review in 2015. "And I was finally smart enough to go: 'I'm going to marry this guy or really lose him for good.' And it was after we broke up for four or five years when he asked me again, I knew I couldn't say no. It was the work I had to do in order to bring myself to the marriage and then the work that I did to be able to trust another person and see what comes out of that comfort and that safety. I was able to blossom out of that."
"I was actually her teacher at one point," Macy told CBS News in 2004, recalling when they met at his and David Mamet's Atlantic Theater Company in New York in the early 1980s. "And I was smitten. And I've been in love with her for a long time." Huffman is 13 years his junior and, she recalled in 2011, "I think I had to talk him into [dating] for a while. I went on a campaign. He was certainly worth it."
"When you've been married for 100 years it's all a beautiful throwback," Huffman tweeted on Feb. 28 with a throwback photo of the two of them. "My partner in crime since we met."
Rob Latour/Variety/REX/Shutterstock
Kids, do hope you never have to read about your #CouplesGoals heroes in court documents.
According to the charges filed by the U.S. Attorney's Office for the District of Massachusetts, "Huffman and her spouse made a purported charitable donation" of $15,000 to a nonprofit called Key Worldwide Foundation "to participate in the college entrance exam cheating scheme on behalf of her oldest daughter." The criminal complaint states that an unnamed cooperating witness referred to as "CW-1"—now known to be Rick Singer—met with Huffman and her spouse at their home in 2017 and proceeded to explain "how the college entrance exam scheme worked."
Huffman and Macy, who's referred to solely as "spouse" in the indictment, are parents to daughters Sofia, 19, and Georgia, 17.
The complaint continued: "According to CW-1, he advised Huffman and her spouse that he 'controlled' a testing center, and could arrange for a third party to purport to proctor their daughter's SAT and secretly correct her answers afterwards. CW-1 has advised investigators that Huffman and her spouse agreed to the plan."
Per the charges, Huffman exchanged multiple emails with Singer in the summer of 2017 about "how to obtain 100 percent extra time on the SAT for her daughters." When the College Board informed the older daughter that she had been approved for "100 percent extended time," Huffman forwarded the email to Singer and wrote, "Hurray! She got it."
When Huffman found out via email that a different proctor was going to administer the test, she forwarded that message to Singer and wrote, "Ruh Ro! Looks like [my daughters's high school] wants to provide own proctor."  That resulted in an adjustment to the plan so that the test could be administered by the agreed-upon person at a different site. 
Meanwhile, the complaint continued, a scheme participant referred to as CW-2 flew into Los Angeles under the guise of proctoring an SAT or ACT, but really to facilitate cheating "either by correcting the student's answers after the test or by actively assisting the student during the exam." He duly "purported to proctor Huffman's daughter's SAT exam." KWF paid CW-2 $35,000 for "purporting to proctor" the test for Huffman's daughter and exams for several other CW-1 clients.
Also per the complaint, Huffman "later made arrangements to pursue the scheme a second time, for her younger daughter, before deciding not to do so." It's alleged that she and her spouse were both on a Dec. 12, 2018, call to discuss a plan for their younger daughter to also benefit from a test-taking shortcut offered by CW-1, in this case taking the SAT over two days before her answers were corrected by CW-2.
When CW-1 asks, per a partial transcript included in the complaint, "are we going to do this similarly that we did with [your older daughter]...?" To which the spouse replies, "Yes, I think we are." 
CW-1 continues, "We will ensure that...we get a score that will be in the 14-[hundreds] or, or higher, because we want to achieve the schools we want to get to, correct?"
The spouse replies, "We're talking about Georgetown, places like—" "Yeah," CW-1 interjects, explaining that they would need to get to the mid-1400s to 1500 (out of 1600) to "be solid." CW-1 assures, "...she'll score in the 700s in each category."
In February, the complaint continued, Huffman "expressed concern" that a dramatic score increase would "cause her SAT tutor to suspect cheating." Ultimately they "decided not to pursue the SAT cheating scheme for their younger daughter."
Prosecutors stated that Singer, whose so-called admissions strategy and coaching business was called Edge College & Career Network, started cooperating last September and agreed to wear a wire; he was charged with and pleaded guilty to obstruction of justice after tipping off some of his clients that the feds were investigating him.
(And from the annals of really weird: Lynette Scavo, Huffman's character on Desperate Housewives, made a $15,000 donation to ensure that her twin sons got into private school, while one of Frank Gallagher's kids on Shameless ran an SAT scam.)
Huffman was forced to surrender her passport but has remained free on a signature bond of $250,000—basically a promise to pay if she didn't show up for court. Macy was at the federal courthouse in downtown Los Angeles to support her from day one when she first pleaded not guilty on March 12, and the couple were also spotted walking hand-in-hand back to the courthouse days later. 
The Emmy winner subsequently shuttered all of her social media accounts, but she's sporadically been photographed out and about since, hiking with Macy near their L.A. home or heading to yoga class. And outwardly they looked just like any other proud parents when they attended Sofia's high school graduation in June.
Huffman can rest assured, at least, that those who know her don't all of a sudden think that she's some wicked person.
"I think she has a heart that is bigger than the sun and that's the Felicity I know and that's the woman I choose to support and love," former Desperate Housewives co-star Eva Longoria (who also wrote a letter on her friend's behalf to the judge) told Entertainment Tonight in July. "She was humbled by what happened and I think she did handle it with as much grace as she could in that situation."
The overall scandal seemingly rattled—if not exactly surprised—the entire country with its detailed description of a higher-education system in which the deck couldn't be more stacked in favor of the wealthy and connected. Again, not that that's a big shock, considering the way many elite private colleges are known to consider, for instance, a student's family legacy or the family's previous financial contributions to the campus in the admissions process. That brazen display of privilege is conducted out in the open because it's perfectly legal.
One of the initial oh-so-many big questions this story raised, however, was why Macy didn't face any charges, since in the complaint he appeared to be aware of lengths taken to get Sofia, who was a senior in high school, a higher SAT score, and discussed the possibility of doing something similar for Georgia. (There was nothing in the indictment that indicated either girl was aware of, or otherwise involved, in the plan.)
But according to legal experts, purportedly talking about something simply isn't the same as doing it.
"It's a very interesting question, why William H. Macy was not charged," civil litigator and family law attorney Lisa Bloom told E! News in a discussion about the case, "because it says in the complaint that he was a part of it. But in the criminal law, we look at the mental intent—did he know what he was doing?
"And it appears that he was a part of the $15,000 contribution, but did he know that that was for a criminal purpose, or did he think it was a legitimate contribution? We just don't know at this point."
Veteran criminal defense attorney Murray Richman explained to Vulture, "If there's no active participation in the wrongdoing, the spouse will not be charged. Mere knowledge, even with the presence, does not constitute criminal conduct." If a spouse is mentioned but not charged, he could be considered an "unindicted co-conspirator," Richman said.
In acknowledging her guilt in the matter, Huffman stated that she had messed up in the course of attempting to help her daughter. But while she didn't necessarily set out to commit a crime in the beginning...
"There's a kind of person who thinks it's all right to lie a little bit for a greater good," Macy told ET back in 2006 on the red carpet at the Bobby premiere, at the time talking about the war in Vietnam raging when Robert F. Kennedy was killed in 1968. "But people who lie a little bit for a greater good are called liars and that's the end of it."
And that wasn't an actor speaking in a more innocent time, before hard living had wrung the scruples out of him.
The Shameless star reiterated to Men's Journal in an interview published in February that the best piece of advice he'd ever received was: "Never lie. It's the cheapest way to go. Lies cost you a lot, and they're never worth what they cost."
Seriously, someone's just playing a prank now, because he was also asked which human qualities he most despised.
"Dishonesty," Macy replied. "Self-delusion. Lack of character. President Trump is sort of my touchstone for the qualities I do not like."
Asked which living person he most admired, Macy said, "I married very, very well. It's great fun for me to watch Felicity. I love the way she mothers our daughters. And her career—I find myself getting lazy and slowing down and losing my drive. My wife is doubling down."
Anyway, undoubtedly he meant every word he said. Such are the blinders people apply to themselves, and their beloved spouses and their kids, whom of course they would supply with every advantage to get ahead.
And, while he probably wasn't thinking too hard about college yet when his kids were just 2 and 4, Macy also surely meant it when he told Entertainment Tonight in 2004 that he would have no qualms about using his status to help his daughters if they chose to go into show business.
"One can help your children in this business, and the nepotism works, and I have no problems with it," he said. "If I can give them a leg up, I absolutely would. It's a great way to make a living. It really is."
But first, a college education.
Kevork Djansezian/Getty Images
"She's going to go to college," Macy, who studied acting at Goddard College, told Parade earlier this year when asked about Sofia's plans. "I'm the outlier in this thing. We're right now in the thick of college application time, which is so stressful. I am voting that once she gets accepted, she maybe takes a year off. God doesn't let you be 18 twice. I know from casting, if you need a 25-, 26-year-old actress, there are a lot of them out there and they're really good. But if you need a 15-, 16-year-old actress, it's tough. Sofia looks young. I think this is an opportunity for her.
"But it's just my opinion, and we'll see what she wants to do, what Felicity thinks and how the chips fall. My daughter Georgia, she's interested in politics, political science and pursuing that. She's in a very academic school and killing it."
While the last few years have been especially rife with disappointment when it comes to celebrity behavior, the myth of the Hollywood golden boy, or golden couple, has always been exactly that, a myth. Not necessarily because they've done something all that bad, but just because there is no one who isn't a flawed human being at the end of the day.
But the onus isn't entirely on an impressionable public when it comes to really liking these two. There seemed to be a consensus on them.
"He's the nicest guy in the world, and so you bring that into characters and then out comes the beauty of that character, or the goodness," Door to Door director Steven Schacter gushed about Macy to CBS News. "He'll find the goodness in that. And it's very appealing." Macy played real-life salesman Bill Porter, who didn't let cerebral palsy keep him from tirelessly and cheerily going door to door to peddle his wares, and won an Emmy and the first of his four SAG Awards for the 2002 TNT movie.
"I said hello. He said hello," veteran court sketch artist Mona Shafer Edwards told Yahoo! Entertainment in March about sitting next to Macy while sketching him and Huffman on Wednesday. "Then I started drawing—and I'm drawing his wife—while he's sitting literally 3 inches from me." While drawing Macy, "he's literally touching shoulders with me." And then "he leaned over and said, 'You are really good.' I said, 'Thank you.'"
Huffman is also an actress who, despite many memorable character parts, didn't become a household name with Desperate Housewives until she was in her 40s, and she was part of the mid-'00s renaissance of TV, which came with meatier parts for women of all ages. And that made for a more interesting, inspiring success story, as well as made her seem more down-to-earth than a starlet who hit the jackpot right out of the gate.
"When you've been in the business a long time, and you've had the stuffing knocked out of you several times, as anyone who's been in it long enough has, you give up that dream," she explained to The Guardian in 2006. "All you really think about is that you'd like a job and get paid for it...Having a job for a couple of years when you're a freelancer is life-changing."
And Huffman was refreshingly relatable—a quality everyone is apparently looking for in their celebs these days—about her insecurities as a parent.
"I'm not the greatest mother—I find motherhood really challenging, and really exhausting, and really frustrating," she shared. "I feel like I go from one mistake to another. I'm not saying this to get up on a soapbox, but because it's how I really feel. I know that it's not everyone's experience and I'm not saying that—some people move into it with great harmony and equilibrium—but there are people like me who don't, and they should be able to say that."
More recently she described herself as a fearful person, telling the Tribune-Review in 2015, "I wake up afraid. I'm afraid of everything. Everything is triage to me, I have to get the kids' breakfast. I have to get everything done. I guess I would string it together to say I feel like I'm a lazy girl. I feel bad about being a lazy girl. I want to be a perfect girl, so I drive myself to do it. I think that's how I would thread the necklace of those different beads."
That self-imposed pressure has been tempered by the fact that she has had an unwavering support system at home. "My husband cherishes me," Huffman told Closer in February at the Emily's List Pre-Oscars Brunch. "There's no accounting for taste, but that man is totally in my corner." And when it came to parenting, the most important lesson she'd learned over the years was to "be 100 percent more prepared than you think you ought to be."
It's not as if cheating to help her daughter have a better shot at an elite college means Felicity Huffman isn't hard-working and grateful for her good fortune, or that she isn't generous, or that Macy isn't the nicest guy you'll ever meet, whether working with him or sitting next to him in court. It doesn't mean that they both aren't still great actors, and it sure as heck doesn't mean that they aren't still soul mates.
Rebecca Sapp/Getty Images for Backstage Creations
In his letter to the judge, obtained Friday by E! News, Macy wrote, "To be sure Felicity's relationship with her daughters exploded on March 12th and rebuilding that relationship will be a long process. But I also want you to know Felicity has raised two amazing young women.
"After her arrest Felicity found a wonderful family therapist and we've all been going (in various combinations) for the last few months. There is much to be done, and some of the hurt and anger will take years to work through, but we are making progress. But of course, Felicity has borne the brunt of this."
He concluded by saying, "If I may I'd like to tell you one more thing: every good thing in my life is because of Felicity Huffman."
 (Originally published March 20, 2019, at 3 a.m. PT)