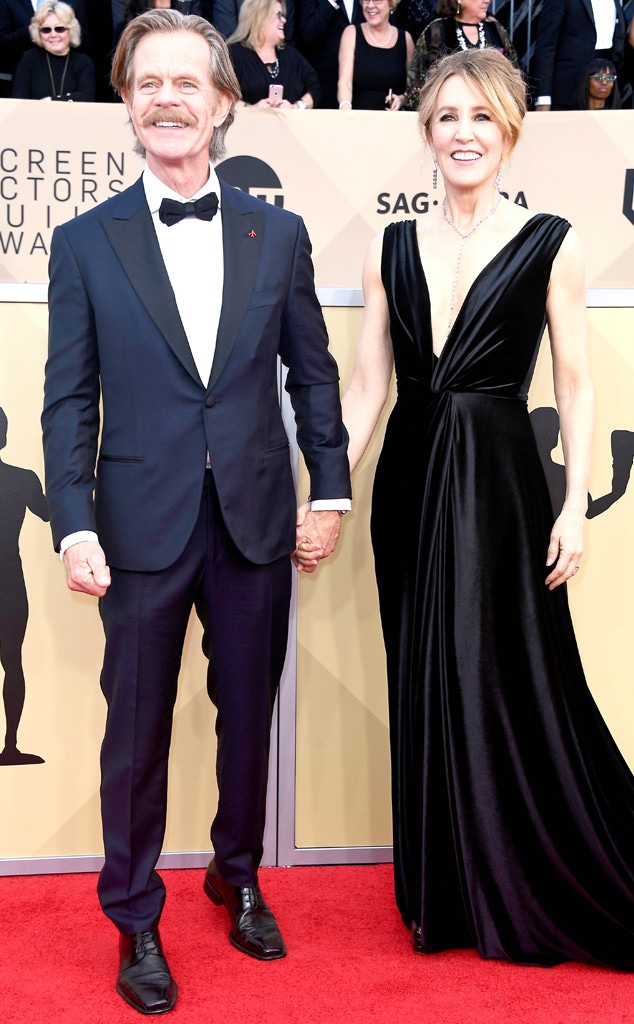 Frazer Harrison/Getty Images
This Hollywood love story gets sweeter every year!
Felicity Huffman and William H. Macy are celebrating 21 years of marriage this week and in that time we've seen the famous duo become one of the strongest couples in show business.
Over the last year alone, the two have worked together on film projects and even rebuilt a vacation home that holds deep, sentimental value to Huffman. When you look at the history of their love story, it's clear they were always meant to be.
Let's start at the very beginning…
Before they fell for one another, they each fell in love with acting. Felicity credits her mother as being the one who figured out that she wanted to be an actress, before she even realized it herself. Huffman writes on her blog, What the Flicka (Flicka being a childhood nickname), that her mother enrolled her in a beginning acting class when she was 10 years old. Huffman says she was hooked and immediately "fell in love with show people and that was it. It set the course for my life".
Little did she know that acting class would not only lead to Huffman playing iconic roles in Desperate Housewives and American Crime, but would also lead her to the Atlantic Theater Company where she'd meet William H. Macy. When the two met, Huffman described it as "love at first sight". She tells The Daily Mail that she campaigned for him to date her. "He was certainly worth it."
However, she wasn't the only one to campaign in their relationship. The couple dated on and off for 15 years! Macy proposed to her multiple times before she agreed to marry him. She told the Tribune News that she had hesitated out of fear of losing herself and that their marriage wouldn't succeed. "I thought I'd disappear. Men's stock when they get married goes up. Women's stock goes down," she said. She also was worried about the statistics of how many marriages end up in divorce. The couple ended up breaking up for a few years and she tells the Tribute-Review that there was a three-year span where she was in a very dark place. "That dark time changed me, I think, for the better," she says.
Even though they were apart, they still each knew the other was The One. Huffman says that about 4 to 5 years after being broken up, Macy asked her to marry him again. "I was finally smart enough to go: 'I'm going to marry this guy or really lose him for good.'" she says of the proposal she accepted. The two got married on September 6th, 1997, saying, "I do" under a big cottonwood tree in the backyard of her childhood home. 
The two welcomed their first daughter, Sophia Grace, a few years later. Shortly after, her sister Georgia Grace was born. While Macy didn't become a dad until he was 50, the timing was perfect for him. "I'm glad I did it late in life. I had more patience, and I had money. I didn't think I'd ever be a father, and boy, do I really like it!" the star told Closer Weekly. 
Fans of Macy know him for his role as the patriarch in the show Shameless, where he is, quite frankly, a hot mess (although, a very lovable one). In real life, Macy couldn't be more there for his daughters. The couple frequently shares heartwarming family moments on Instagram, from family naps to helping one of their daughters pass her driving test. Sometimes the moments are so tender, you feel like the family has invited you into their home personally. Recently, Huffman posted a photo of her husband dancing with one of their daughters wearing a tiered, lace dress. "The girl tried on her prom dress. The dad took her for a spin," she captioned the moment.
Much of the foundation for how much love there is between the couple goes back to their mutual love of acting. Both actors have served in iconic roles over the years and have had the joy of working on projects together. Earlier this year, Macy directed the coming of age comedy Krystal, where Felicity Huffman plays the character Poppy. In an interview with Us Magazine, the Oscar-nominated actor raves about his wife's acting ability. "She's soulful and deep, emotionally. She's a big presence and can draw on that any time she wants… She'll learn an entire play before the first day of rehearsing, off book. She works really hard. She'll call an acting coach and work with them, she'll call a vocal coach. Then finally, she's smart, she's been doing this a long time. She's got chops, you can count on her," he explains of Huffman's immense talent. Macy directing Huffman comes full circle with the theater company they met at. While there, he had directed plays such as Three Sisters and Radio: An Evening of Sketches.
The couple has also been able to act with one another in other projects, such as on the film Cake starring Jennifer Aniston. Even though she won an Emmy for her performance as Lynette Scavo on Desperate Housewives, Huffman says she still improves as a performer when she acts alongside her husband. "You know how if you play a sport with someone who is better than you, your game will improve? It's true with acting as well," she explained to Closer. "We read each other's scripts; we work together. We both love acting—it's the only language that we have," Macy added.
The couple not only hits milestones in their relationship together but also in their career. Both actors have been nominated for major awards throughout the years. Macy was nominated for an Oscar for his performance in Fargo and is a five-time Emmy nominee for his role on Shameless. Huffman has collected an Emmy for her role as Bree in Transamerica and was up for the award again for her performance in American Crime. In fact, both actors were up for an Emmy in 2016 and in an exclusive red carpet interview with E! News, Macy adorably denied any competition between the two and that he "just wanted her to win."
While neither got to take home the award that night, the two have gotten to celebrate other wins together, such as getting their stars on the Hollywood Walk of Fame. Not only did they each get the honor of having their name on the infamous landmark, they were the second married couple to receive their star on the same day in a double ceremony. While another season of Shameless is up in the air for Macy (especially with the recent departure of his television daughter, Emmy Rossum), Huffman is taking on a role as a producer. She recently acquired the rights to the book The Iron Will of Shoeshine Cats and is developing it as a series through Warner Brother Television.
While acting is a large part of the couple's lives, they also got even closer on a trip down memory lane. Recently, Huffman's childhood home in Colorado (the same she married at) was up for sale. "My wonderful husband, Bill Macy, said, 'Hey, why don't we try and buy it?' And then my wonderful family said, 'We'll help you," Huffman told Architectural Digest. As she documents in her blog, she and Macy are now the proud owners of the land. The home means a lot to Huffman, who grew up there with her six siblings and both of her parents ashes are buried together under a rose bush in the backyard.  "It has hosted all of our Thanksgivings, Christmases, and 4th of July BBQs," she reminisces.
Watch:
Felicity Huffman & William H. Macy's Post-Emmys Celebration
Huffman wanted to live in the exact home she had so many good memories in, but unfortunately found that the home was falling apart. But that didn't stop the two! They decided to rebuild it, together. They hired a designer to completely rebuild the same house, or as Huffman put it "giving the soul of the home a new body". Macy has been right by Huffman's side with the vacation home project, helping her tear down the original structure and even helping find antique fixtures to recreate the nostalgia of her childhood home. Now, the two share evenings together with Macy playing his ukulele and Huffman saying it will be a place where, "[it] will continue to swell with more Thanksgivings, Christmases, weddings, and grandchildren walking to school through the hay fields."
If their relationship sounds like couple goals to you, you're not alone! E! News asked the two what the secret is to their long, happy marriage.
"We got lucky! Marry Felicity Huffman," Macy answers.
"Marry Bill Macy," she responds.
Well, time to grab a Kleenex. Here's to many more years of love to one of our favorite Hollywood couples.