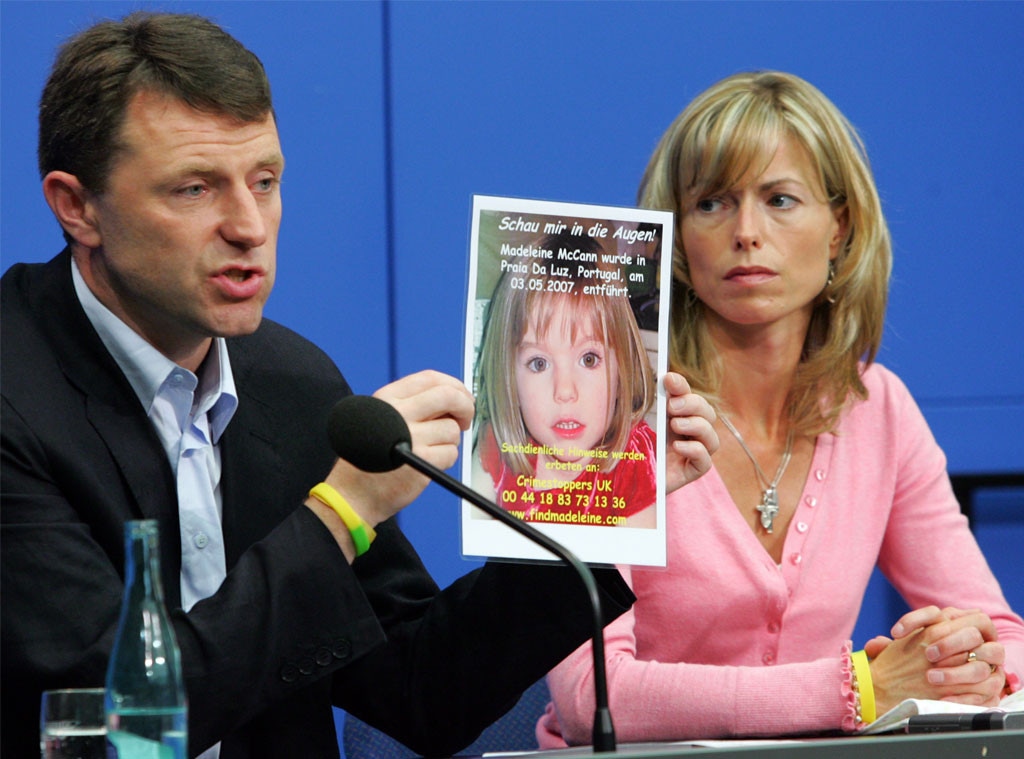 Miguel Villagran/Getty Images
With the 10th anniversary of Madeleine McCann's still unexplained disappearance re-rattling Britain in 2017, Chris Smith decided to dig in.
"Coming into this, I had no idea how many people's lives were affected by this story," Smith, who most recently directed the cultural catnip that was Fyre: The Greatest Party That Never Happened, told The Atlantic.
The result of two years of interviews, compiling archival footage, shooting reenactments and immersing himself in the media hysteria that ensued when 3-year-old Madeleine vanished on the evening of May 3, 2007, while her family was vacationing in Portugal unfolds starting Friday on Netflix in the eight-part docu-series The Disappearance of Madeleine McCann.
And like many a deep dive into a shocking event that has lodged itself in so many minds, and that in this case had no chance of resulting in a tidy conclusion, it doesn't arrive without controversy.
"We did not see and still do not see how this program will help the search for Madeleine and, particularly given there is an active police investigation, could potentially hinder it," Madeleine's parents, Kate and Gerry McCann, said in a statement released March 6 on their website. "Consequently, o­­ur views and preferences are not reflected in the program."
The McCanns have participated in other shows, including the BBC's Madeleine McCann: 10 Years On, but opted not to revisit the worst night of their lives, as well as the endlessly nightmarish days that followed, for the film, which was directed by Smith and executive produced by Emma Cooper and Thomas Benski.
"We're trying to lay out as much detail as we can about the case," Cooper told E! News, "and it could jog someone's memory in some way then that would be amazing. Keeping any search for what happened to Madeleine in the consciousness—particularly globally—is something that's so important. As we show in the documentary, other children are found—so you have to hope."
And so the McCanns have hoped all these years, that they would somehow be as lucky as the families of Jaycee Dugard, found alive 18 years after she was abducted when she was 11 by Phillip Garrido and his wife Nancy; or Amanda Berry, Gina DeJesus and Michele Knight, the trio who were found alive in a house in Cleveland, Ohio, in 2013, roughly a decade after each was kidnapped by Ariel Castro.
"There is still hope that we can find Madeleine," Kate told the BBC in 2017. They threw every resource they could scrape together to avoid having a "long, protracted missing person case like this," Gerry also said in the interview. "It's devastating and we really threw ourselves into trying to do everything we could to help find her. It looks like that hasn't worked yet. But you know we are still looking forward...
"We still hope."
There would seem to be only so many ways to lay the McCann case out again, the ongoing investigation having never produced any arrests (aside from assorted ghouls trying to extort money from the McCanns), but Smith and Cooper set out to also focus on the reaction to the case, which included an endless parade of hasty moves, by police, the press and those quick to cast stones at easy targets.
In the Netflix series, the details are inescapably tragic and the story of the train wreck of an aftermath unfolds unblinkingly.
Appearing in an on-camera interview is Robert Murat, a British expatriate whose villa was about 150 yards away from Ocean Resort, where the McCanns were staying in the beachside village of Praia da Luz. Authorities questioned Murat and, despite his protests that they had no cause, searched the home he shared with his mother—and once the press got hold of his name, he was as good as guilty in their eyes.
"They wanted me to confess," Murat remembers in the series being name a suspect, or arguido, in Portuguese.
He eventually won more than $750,000 in libel damages and apologies from multiple media outlets, including 11 U.K. newspapers. During a high court hearing in July 2008 they admitted to publishing numerous stories that were completely untrue over the course of nine months, The Guardian (not one of the 11) reported at the time.
"This settlement represents the final stage of Mr Murat's claims against those sections of the British media which defamed him so terribly," his attorney Louis Charalambous said in a statement. "He has been entirely successful and vindicated. It was particularly important to him to nail this particular lie—that he acted in some way reminiscent to the Soham murderer Ian Huntley when, in fact, he was working flat out to help try to find Madeleine." (Ian Huntley was convicted of the 2002 murders of two 10-year-old girls in the Cambridgeshire town of Soham.)
Also participating in the series was Sergey Malinka, a Russian-born IT engineer who was questioned at the time because he knew Murat. He too received undisclosed damages from various media outlets for what they wrote about him once his name was out there, according to The Guardian. He was among four people questioned again in 2014 when Metropolitan Police detectives returned to Praia da Luz to pursue new leads, having opened their own investigation into Madeleine's disappearance in 2011—three years after Portuguese authorities closed theirs.
Murat called Malinka a "hard-working and nice guy" and said it was "disgusting and ridiculous" that he was being treated as if he were a suspect.
"Back in 2007, police questioning of Sergey was very thorough and meticulous and I can't see any reason why he has been brought in again", Murat told the paper in 2014. "My heart goes out to him and his family because I know exactly what they will be going through right now."
Meanwhile, the most famous arguidos to emerge from the local investigation of Madeleine's disappearance were, of course, Drs. Gerry and Kate McCann.
Gerry, a cardiologist, and Kate, a GP who'd also trained in obstetrics and gynecology, had taken their three children, Madeleine and 2-year-old twins Sean and Amelie, on holiday in Portugal with three other couples, their kids and one of the ladies' moms. The press promptly nicknamed the other seven adults on the trip the "Tapas Seven," as they were the people the McCanns were having dinner with just a sprint away from the family's apartment at Ocean Resort when Madeleine disappeared.
After an afternoon spent playing in the pool, Madeleine was last seen by non-family members at around 6 p.m. on May 3, 2007. Gerry and Kate tucked their three kids into bed, all in the same room, at around 8:30 p.m., and went to join their friends in the hotel restaurant, barely 75 yards away from their flat, unit 5A. Every 30 minutes, someone would go and check on the kids.
Gerry checked on the children at 9:05 p.m. Dr. Matthew Oldfield, another member of their party, went in at 9:30 p.m. but later couldn't definitively say whether Madeleine had been in bed or not.
Kate returned to the apartment at 10 p.m. The door to the front bedroom, where the children had been asleep, was open. She remembered in her 2011 book Madeleine: Our Daughter's Disappearance and the Continuing Search for Her, that while she was standing there somewhat puzzled, the door slammed shut. And then she noticed the breeze coming from an open window.
She quickly realized that, while Amelie and Sean were fast asleep, Madeleine, who was going to turn 4 on May 12, was gone. After a quick, frantic search of the resort grounds, they reported Madeleine missing at 10:14 p.m. She had been wearing Eeyore pajamas from Marks & Spencer and had gone to sleep with her pink blanket and her Cuddle Cat.
Two officers from the Guarda Nacional Republicana arrived at 11:10 p.m. and more than an hour later two officers from the Polícia Judiciária showed up. Reportedly no road blocks were put up until 10 a.m. the next day, tracker dogs weren't enlisted until 11 p.m. the following night, and a global missing persons alert didn't go out for five days. Local authorities would also later be criticized for not immediately sealing off the apartment as a possible crime scene, raising the possibility that evidence was destroyed or otherwise contaminated by people going in and out.
While the GNR officers were there looking around, Kate McCann recalled, Gerry called his sister and brother-in-law, Trisha and Sandy, back in England, and they called the Foreign Office in London, the British Consulate in the Algarve and the British Embassy in Lisbon.
Later, the McCanns' friend Jane Tanner, part of the traveling group, would tell police that she saw a man carrying what appeared to be a sleeping child at around 9:15 p.m., while she was back at her apartment to check on her two daughters, Ella and Evie, during dinner. Having just seen Gerry, who had just checked on the kids at 9:05 p.m., she didn't think anything of it. 
In the moment and when she wrote her book, Kate was convinced that man was the one who took Madeleine. Not until 2013 was the man in question ruled out, having been tracked down and confirmed to be a fellow British vacationer carrying his own daughter.
Kate recalled in her book, all of the proceeds from which were earmarked for their Find Madeleine fund, that the police presented three overarching possibilities to her at first: a burglary gone terribly wrong, a targeted abduction or Madeleine had wandered away herself. The theories of what happened would multiply from there, not least of which was the all-too-real possibility that the 3-year-old had been abducted by someone who intended to sell her.
"I've done thousands of cases. The Madeleine case, I've seen the worst things a human being can see," remarks a private investigator in The Disappearance of Madeleine McCann, the span of human depravity apparently having revealed itself before him as he considered all the options, as well as the fates of other children who'd fallen victim to traffickers. Also in 2007, in association with the McCann case, police in Portugal raided 75 properties and seized at least 150 computers from roughly 80 suspected pedophiles in what was dubbed Operation Predator—which, alas, did not help in the search for Madeleine.
"They're torn between huge relief that she's not be found to be in the clutches of a pedophile ring and dismay that the investigation has hit yet another brick wall," a friend of the couple told the Telegraph at the time. "They continue to hope and pray that Madeleine will be found alive and well."
FRANCISCO LEONG/AFP/Getty Images
Meanwhile, on that first day after Madeleine disappeared, May 4, 2007, Kate and Gerry were interviewed for four hours and returned to find the road outside their apartment jammed with reporters, photographers and TV crews. And, likely, a fair amount of rubberneckers. 
But Gerry decided he wanted to make a statement, so he quickly wrote one up and approached the cameras. Kate stood with him, clutching Madeleine's Cuddle Cat.
"Words cannot describe the anguish and despair that we are feeling as the parents of our beautiful daughter Madeleine," Gerry said. He pleaded for anyone who had anything at all to report, "no matter how trivial," to contact police.
"Please, if you have Madeleine," he continued, "let her come home to her mummy, daddy, brother and sister. As everyone can understand how distressing the current situation is, we ask that our privacy is respected to allow us to continue assisting the police in their current investigation."
Well, that was never to come to pass, and once the McCanns were named arguidos, the international field day—including what amounted to a media bacchanal in Britain—commenced. But that wasn't until September. What felt like an eon passed before then.
People started "seeing" Madeleine everywhere, and bogus tips poured in. A man and woman were arrested for allegedly trying to extort money from the McCanns in exchange for information about their daughter, and those wouldn't be the only arrests of that kind. Murat—whom the McCanns first met when he volunteered to help translate for them when an officer requested more details on May 4, there being quite a swarm of people around the resort by then—became a suspect.
The McCanns of course insisted that they had nothing whatsoever to do with Madeleine's disappearance, but the local police—not to mention assorted scandalmongers—were skeptical of their story. And that doesn't include the armchair critics outraged by the fact that the couple left their children alone in that apartment.
In July 2007, British detectives, reacting to what they felt was the ineptitude of the Portuguese authorities, flew in sniffer dogs from Yorkshire, England, to aid the search and dispatched investigators to search the apartment with luminol. The flat the McCanns had stayed in had already been cleaned and rented out again, another factor the Brits found appalling.
Traces of blood were found on the wall in the bedroom were Madeleine had been sleeping, but DNA testing ultimately showed that the blood belonged to an unidentified man. Tabloids in the U.K. and Portugal had practically buried the girl already but it wasn't until Aug. 11 that local police acknowledged publicly for the first time the possibility that Madeleine was dead.
On Sept. 7, 2007, four months after Madeleine vanished, Portuguese detectives declared Kate an arguida and early the next morning, Gerry an arguido. Detectives pressed Kate to confess, telling her she would probably only get a few years in prison if she cooperated.
On Sept. 9, after a whirlwind tour around Europe and the U.S. to hold press conferences and plead for information, and all of a sudden suspects in their daughter's disappearance, Gerry and Kate finally returned home to Leicestershire, England, with Sean and Amelie.
Portuguese authorities continued to try to build a case against the McCanns. There was a report of police sources saying a cadaver dog had sniffed out blood that was a "100 percent match" to Madeleine in the trunk of a car the family had rented more than three weeks after the disappearance (results were actually inconclusive). 
Gonçalo Amaral, the chief inspector who was heading up the investigation, was removed from the case after criticizing British authorities' involvement, which he felt was working solely in the family's favor. He later wrote a book in which he brought forth the theory that Madeleine's death was an accident and her parents faked her abduction. They sued him for libel and were awarded about $750,000 in damages, but the decision was overturned and the Portuguese high court declined to reinstate the judgment in 2017. 
Amaral agreed to be interviewed for the Netflix series, as did former Polícia Judiciária detective Paulo Pereira Cristóvão.
Virgin Group founder Richard Branson donated $130,000 toward the McCanns' legal fees while they were still under suspicion, and criticized the Portuguese police for their handling of the case.
"Imagine your child gets stolen from you," the billionaire said on NBC's Today in October 2007, "you go through all the hell that comes with that, then when the Portuguese police cannot find the person who has stolen it, they start placing stories in the press, each one of which is shown to be unfounded a week or two later but by then they have spread around the world. 
"They had no proper legal representation and so I felt it was important they got the top Portuguese and British lawyer on board so that they could get the truth out. I think over the last month since that has happened the tide has turned and people generally accept around the world that the Portuguese police and press overstepped their mark."
In March 2008, London's Daily Express and Daily Star published apologies for printing dozens of sensationalized, "seriously defamatory" accounts of the case, including some that implicated Gerry and Kate, and were ordered to pay $720,000 in damages to the McCanns and members of the so-called Tapas Seven, money subsequently donated to the Find Madeleine fund. 
In July 2008, the Portuguese authorities officially closed their investigation. The McCanns and Robert Murat were formally cleared as suspects.
But that left the family on their own.
Alban Donohoe, Pool/AP Photo
"Since the Metropolitan Police actually started their investigation, it has taken a huge pressure off us, individually and as a family," Gerry told the BBC in 2017. "The key thing was—and I suppose the injustice of it—was that after the initial Portuguese investigation closed, essentially, no one else was actually doing anything proactively to try and find Madeleine.
"And I think every parent could understand that what you want—and what we have aspired to—is to have all the reasonable lines of inquiry followed to a logical conclusion."
The Met originally put 30 officers on the case, but that number had shrunk to four as the 10th anniversary of Madeleine's disappearance approached.
"I know we have a significant line of inquiry which is worth pursuing, and because it's worth pursuing it could provide an answer, but until we've gone through it I won't know whether we are going to get there or not," Met Police Assistant Commissioner Mark Rowley, who was in charge of the investigation, told the BBC in April 2017. As yet, he reminded, there was no "definitive evidence" proving Madeleine dead or alive.
Over the years, the quest to find Madeleine was a pursuit also assumed by countless supporters in the McCanns' native Britain. A friend continues to run FindMadeline.com day to day, a job that now includes making efforts to shut down online trolls, and the Madeline Fund continues as a nonprofit called Leaving No Stone Unturned Ltd.
But two years after Scotland Yard announced a "significant line of inquiry," the truth of Madeleine's fate doesn't appear to be any closer.
Nor does The Disappearance of Madeleine McCann intend to imply as much. Rather, as producer Emma Cooper told The Atlantic, "it was time to look at the case … closely and forensically, in a way that had never been laid out."
Gerry and Kate McCann expressed concern that a retelling of events could potentially hinder the ongoing investigation, and they have every reason to take that position. But time itself has adulterated the chances of finding out what has happened—as did apparent missteps made within those first critical hours, days and weeks, which the series takes pains to lay out so that viewers can judge for themselves.