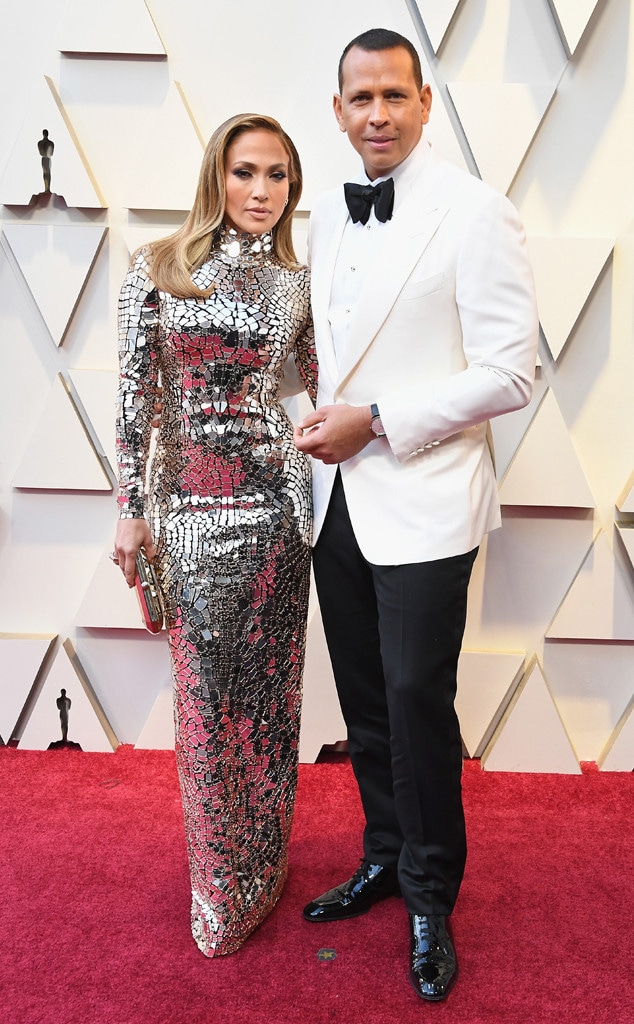 Steve Granitz/WireImage
Jennifer Lopez and Alex Rodriguez just upped the ante for all other red carpet couples at the 2019 Oscars.
The couple arrived at the ceremony looking stunning as always. J.Lo quite literally shimmered on the carpet in a long sleeve Tom Ford gown, Jimmy Choo shoes and Niwaka jewelry.
Her floor-length dress made her look like a glamorous mosaic because the entire dress was made of what looks like pieces of a mirror or some sort of reflective material. Although some Twitter users compared the Second Act star to a disco ball or hall of mirrors, everyone still did a double take.
A-Rod let his girlfriend shine, but he didn't disappoint at his first Oscars. He wore a white tuxedo with a black bow tie. The former MLB player said in his Instagram videos that he was "nervous" about the show. "This is my first," he said to the camera. "I'm very excited, very nervous. I feel like I'm working and about to play my first game."
J.Lo's dress will also take center stage tonight as she's one of the presenters at the show alongside a huge number of fellow celebrities such as Constance Wu, Emilia Clarke, Chris Evans, Samuel L. Jackson and many, many more.
The A-list couple recently celebrated their two-year anniversary together and proved that they're couple goals both in reality and virtually.
On Feb. 3, the "Dinero" posted a slideshow of pictures of their relationship. "Two years of laughter 
Two years of fun 
Two years of adventures 
Of excitement of growing and learning," she wrote on Instagram.
She continued, "You make my world a more beautiful safe and stable place... in the midst of our ever-changing, ever-moving life...you make me feel like a teenager starting out all over again..."
His tribute didn't disappoint either. "Macha 13, 
I can't believe it's been two years. Only 730 days, which have flown by, but it feels like we have been together forever. We are meant to be, and how much you mean to me cannot be put into words," he typed on Feb. 4.
He wrote later on, "Like you there is none other. Words will never do justice to what the last two years have meant to me. Thank you for always being you, for your unwavering support and unconditional love."
A.Rod has proven himself time and again to be J.Lo's biggest fan and tonight is no exception.
For a recap of the 2019 Oscars, watch E! News tonight at 7 p.m.!