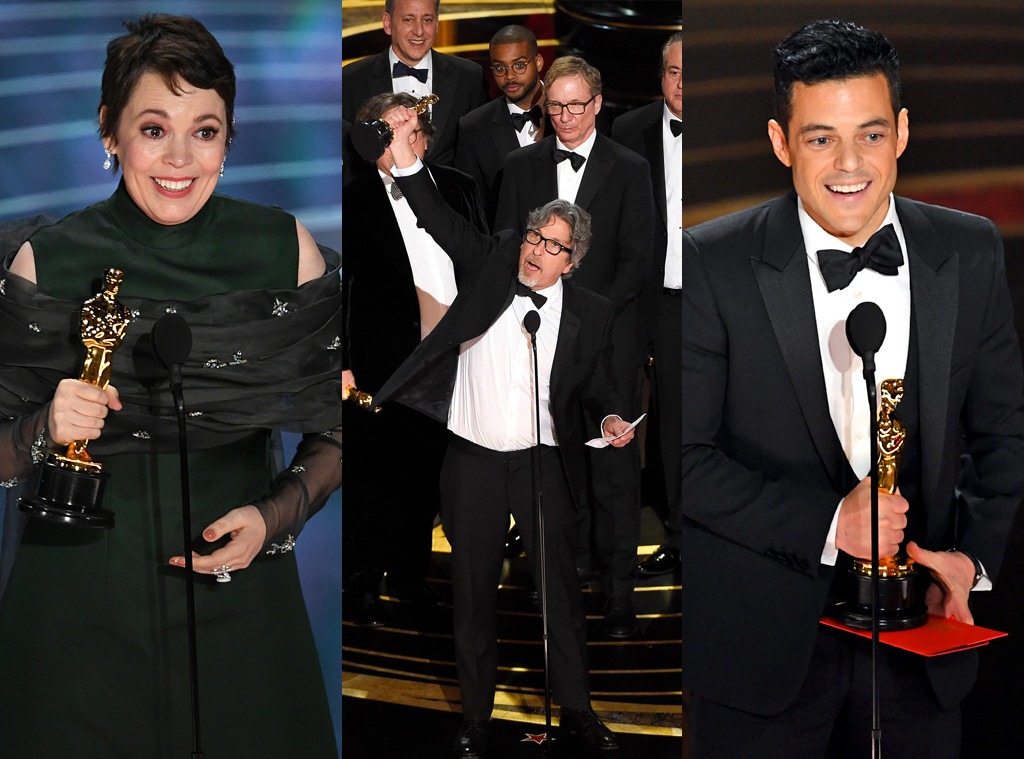 Getty Images; AP/REX/Shutterstock
The big question was, would the  2019 Oscars be able to top the pre-show?
There seemingly has never been a more fraught lead-up to any Academy Awards than there was this year, from the much-derided addition—and subsequent subtraction—of a Best Popular Movie category to the decision to go without a host for the first time in 30 years after Kevin Hart, to put it mildly, fell through, followed by the quickly scuttled idea to hand out several key awards during commercial breaks.
There was too much backlash in the wake of a report that not all Best Original Song nominees would be afforded a performance slot to move forward with that idea (though since Kendrick Lamar couldn't make it, "All the Stars" from Black Panther went un-performed). And then there were the controversies of varying severity attached to almost all of the Best Picture nominees.
But while we know which show, musical or variety, should be in the running for best drama at the Emmys, was Hollywood's biggest night able to salvage itself and provide the reliable assortment of big moments that make the Oscars worth watching? Here is what stood out, for better or worse: 
1. What a Ride: The Producers Guild of America win should've been a hint, but this awards season has been so all over the place that prognosticators were having a tough time putting all their eggs in one basket. Actually, most did, and they were wrong. Green Book drove right past a tidy heap of controversies—and right through Roma, for that matter—to win Best Picture in the night's final twist.
But not the biggest twist...
Rob Latour/REX/Shutterstock
2. The Actual Favorite: Just when it seemed as if The Favourite was going to have the honour of joining the tiny illustrious club of films that have gone 0-for-10 at the Oscars, especially after Green Book's upset in the Original Screenplay category, Olivia Colman swooped in out of awards-season nowhere and made off with Best Actress.
"It's genuinely quite stressful...this is hilarious!" the thrillingly emotional and genuinely surprised Colman, not quite able to get her speech going right away, charmingly began, promising anyone she proceeded to forget to thank a "massive snog" when she found them later.
Which means Glenn Close—winner of the Golden Globe, SAG Award and Independent Spirit Award for The Wife—remains the most nominated actor never to have won an Oscar yet. Yet.
"Glenn Close, you've been my idol for so long and this is not how I wanted it to be," Colman assured her, "and I think you're amazing. I love you very much."
Kevin Winter/Getty Images
3. Live Oscar Aid: As perhaps a much-needed reminder that the original intention of Bohemian Rhapsody was pure, to honor the life of Freddie Mercury and the seminal band Queen, founding members Brian May and Roger Taylor and frequent frontman Adam Lambert opened the show with a rousing medley of "We Will Rock You" and "We Are the Champions" that had everyone from Lady Gaga and Allison Janney to Glenn Close and Javier Bardem rocking out within the show's first minute.
Obvious? Yes. Thoroughly enjoyable? Yes. 
Another extremely smart production move? Having Tina Fey, Amy Poehler and Maya Rudolph—perhaps the three most-mentioned names when it comes to the "why don't they host everything?" discussion—come out to open the show ("welcome to the 1 millionth Academy Awards!" Fey exclaimed) and present Best Supporting Actress. 
Overall, the presenters were relied upon to up the humor game, and for the most part they did, from Melissa McCarthy and Brian Tyree Henry coming out in Favourite-inspired, rabbit-covered finery to honor costume design and Awkwafina and John Mulaney fan-girling and-boying over being at the Oscars. (Though their presence on Hollywood's biggest night sure makes more sense than, say, a horse in a hospital.)
Then it was up to Best Picture presenter Julia Roberts to close the show, which she did with a goodnight to her kids and—because of course—Bradley Cooper's mom.
Kevin Winter/Getty Images
4. The Right Stuff: Spike Lee had been vocally waiting for this moment for 30 years—he makes no bones about feeling the Academy has made a few mistakes here and there—so he made sure to make up for lost time when he finally won his first Oscar, Best Adapted Screenplay for Black KkKlansman.
After sharing an enthusiastic hug with presenter Samuel L. Jackson, Lee—dressed in purple and wearing a necklace sporting Prince's signature symbol—noted that it's been 400 years since "our ancestry was stolen from mother Africa, and brought to Jamestown, Virginia, enslaved." He paid tribute to his grandmother, whose mother was a slave, saving her Social Security checks to help put him through college and NYU Film School.
"NYU!" he exclaimed.
Kevin Winter/Getty Images
"If we all connect with our ancestors, we will have love, wisdom, we'll regain our humanity," Lee concluded, getting to the end of a speech written on a sheaf of yellow note paper. "It'll be a powerful moment. The 2020 presidential election is around the corner. Let's all mobilize, let's all be on the right side of history, make the moral choice between love versus hate. Let's do the right thing! You know I had to get that in there!"
Kevin Winter/Getty Images
5. Mr. Oscar Winner: Whatever critics thought of Bohemian Rhapsody, and whatever occurred behind the scenes, most moviegoers loved it—and that wouldn't have happened if Rami Malek's all-in performance as Freddie Mercury hadn't convinced and moved them.
"To the Academy, to the people who took a chance on me… thank you guys, so much," Malek said onstage. "I may not have been the obvious choice but I guess it worked out. Thank you, Queen, thank you guys for allowing me to be the tiniest part of your phenomenal, extraordinary legacy. I am forever in your debt."
Appropriately, Malek had his Adrien Brody kiss moment before he got to the stage, and with his actual girlfriend, Lucy Boynton, who plays Freddie's first great love, Mary Austin, in the film.
"You are the heart of this film," Malek told her, "you are beyond immensely talented, you have captured my heart."
Kevin Winter/Getty Images
6. Deep Track: The show broke formula when it came time for Lady Gaga and Bradley Cooper to perform Best Original Song nominee (and, incidentally, the eventual winner) "Shallow," to great effect. Instead of having another celebrity come on and introduce the performance, as Kacey Musgraves, Keegan-Michael Key and others did for their fellow nominees, the intro started as Gaga's piano and a stool for Cooper to sit on were set up on stage, and then the A Star Is Born co-stars ascended the stage from their seats.
And it was good.
Cooper may have been robbed of a Best Director nomination, but here's hoping he got a nice, long look at that standing ovation.
Kevin Winter/Getty Images
7. A Heroic Showing: Though it didn't win the night's biggest prize, Black Panther still made history. Ruth E. Carter, whose big break came working on Spike Lee's Do the Right Thing 30 years ago and was previously nominated for his Malcolm X (Lee stood up happily when she gave him a shout-out) won her first Oscar in three tries for Best Costume Design, and Best Production Design winner Hannah Beachler was the first African-American ever to be nominated in the category. She shared the win with set decorator Jay Hart and gave the rawest speech of the night, shaking with emotion throughout as she read her speech off of her iPhone.
"I stand here stronger than I was yesterday, I stand here with agency and self-worth because of [director] Ryan Coogler," Beachler said, "who not only made me a better designer, a better story teller, a better person. I stand here because of this man who offered me a different perspective of life, who offered me a safe space, who's patient and gave me air, humanity and brotherhood. Thank you, Ryan, I love you."
(Runner-up in rawness goes to Melissa Berton, a winner for Best Documentary Short for Period. End of Story, who said, "I'm not crying because I'm on my period or anything." And second runner-up goes to Jimmy Chin, co-director of Best Documentary Feature winner Free Solo, who started his speech off with, "Oh, s--t!")
Ludwig Göransson, a buddy of Coogler's from USC film school, is having a very good month, having just won a Grammy for Song of the Year for co-writing Childish Gambino's "This Is America." Now he's an Oscar winner, too, earning Best Original Score for Black Panther.
Kevin Winter/Getty Images
8. No Spontaneous Combustion: There was so much tsuris leading up to the 2019 Oscars that it was hard to imagine what it was going to look like when the night finally arrived, as if disaster was imminent. As it turned out...the 91st Academy Awards looked a lot like all the other ceremonies in recent years.
And if you stayed off Twitter, it may have been a little satisfying, or even delightful at times. There were some rough spots, including some awkward play-off moments and speeches that appeared to still be going on even as the camera zoomed out. But for the most part, hats off to director Glenn Weiss, an Emmy winner for his work on last year's Oscars, and his writing team for going with a flow that was more like a riptide so adeptly.
For a recap of the 2019 Oscars, watch E! News tonight at 7 p.m.!