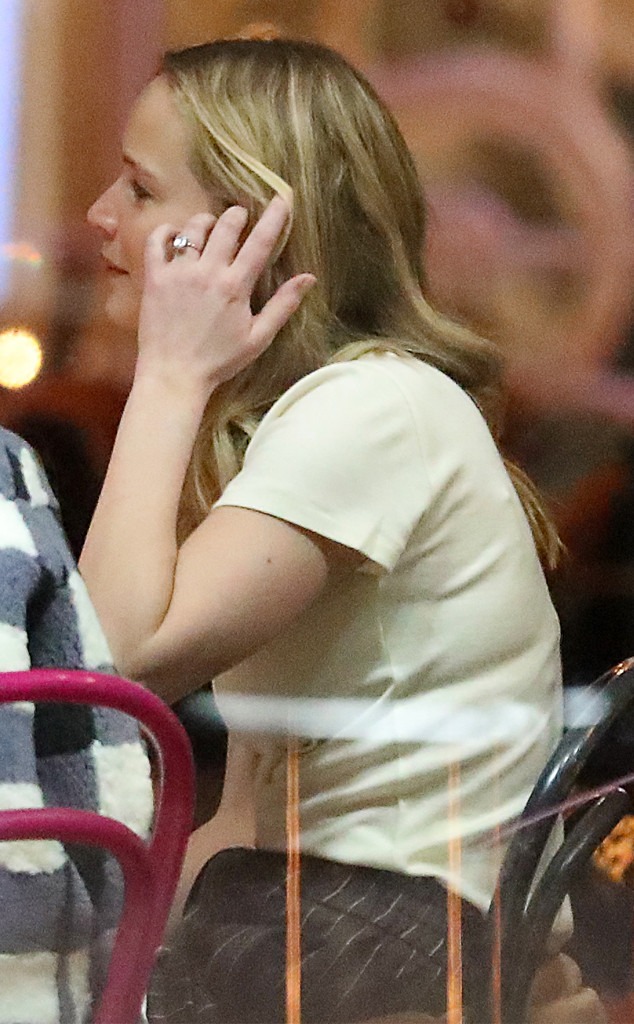 TheImageDirect.com
Jennifer Lawrence flashed her gorgeous engagement ring while out with friends in New York City.
The Oscar winner, who is set to tie the knot with beau Cooke Maroney, appeared to be having a girls' night out with her pals at ABC Cocina on Thursday night. Photos show Lawrence having an animated conversation with her friends at the restaurant, her diamond sparkler on full display during their chat over drinks.
"They seemed to be sharing stories and laughing and having a good time," an eyewitness tells E! News.
Another insider also shares that Lawrence was "in a great mood laughing and chatting with her girlfriends."
"They shared several different dishes and seemed to really enjoy themselves," the source says. "Jennifer wore her engagement ring and it was very noticeable and sparkly. She was smiling and laughing throughout the meal. It was clear she's very happy and was having a great night."
It was just weeks ago that Lawrence's rep confirmed to E! News that the 28-year-old actress is engaged to the 34-year-old art gallerist. The confirmation came shortly after Lawrence was spotted out wearing what appeared to be an engagement ring, raising eyebrows.
The couple's engagement comes about eight months after they first sparked romance rumors.
Photographers spotted the pair together for the first time in early June. Since that time, Lawrence and Maroney have been seemingly inseparable, enjoying date nights around the city as well as trips around the world together.
Prior to her relationship with Maroney, Lawrence previously dated actor Nicholas Hoult and director Darren Aronofsky.