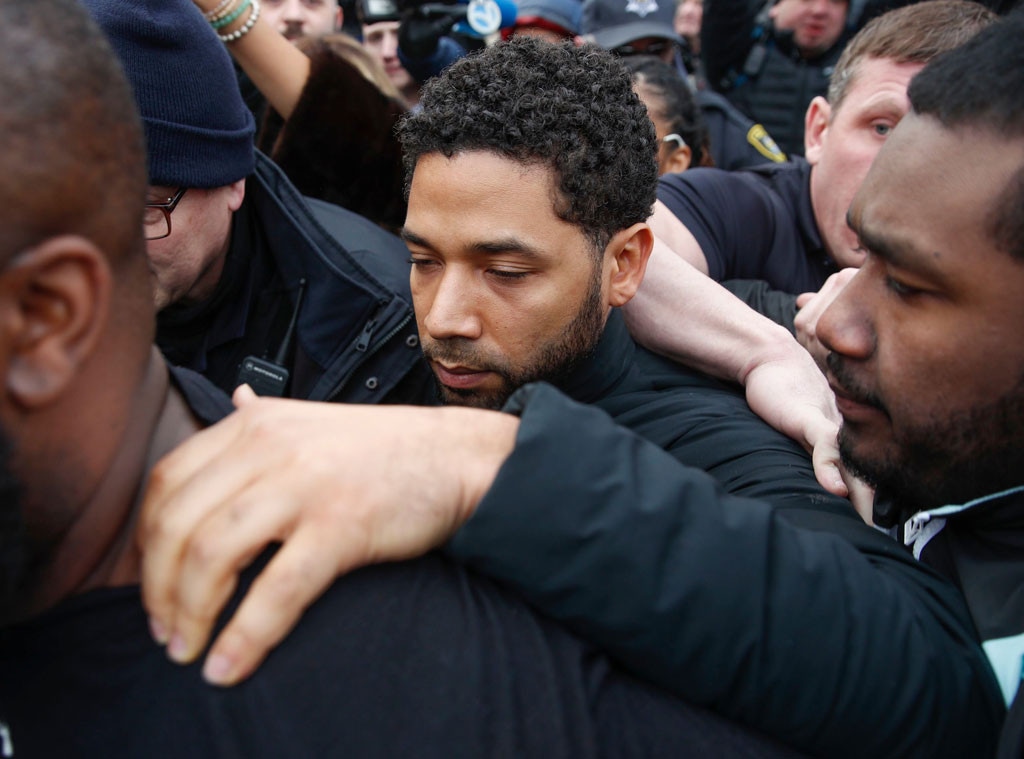 Kamil Krzaczynski/AP/REX/Shutterstock
UPDATE: A source confirms to E! News that Jussie Smollett is back on the set of Empire following his release from jail.
______
Jussie Smollett has been spotted leaving court following his arrest.
Chief Communications Officer Anthony Guglielmi announced on Thursday morning, Feb. 21, that the Empire star had turned himself in. Smollett's arrest followed hours after he was charged with disorderly conduct for allegedly filing a false police report. In the police report, the 36-year-old actor claimed that he had been attacked in Chicago by two offenders who yelled racist and homophobic slurs at him in the early hours of Jan. 29.
Smollet appeared "visibly frustrated" while in a Chicago courtroom on Thursday afternoon for a bond hearing, also attended by his family members. During the hearing, a judge set Smollett's bond at $100,000, he must also surrender his passport.
After the bond hearing, Smollett was swarmed by cameras as he exited the court with security surrounding him.
In a press conference on Thursday morning, Chicago Police Superintendent Eddie Johnson stated, "I just wish that the families of gun violence in this city got this much attention, because that's who really deserves the amount of attention that we're giving to this particular incident." 
He went on to say, "First, Smollett attempted to gain attention by sending a false letter that relied on racial, homophobic and political language. When that didn't work, Smollett paid $3,500 to stage this attack and drag Chicago's reputation through the mud in the process. And why? This stunt was orchestrated by Smollett because he was dissatisfied with his salary, so he concocted a story about being attacked."
"This announcement today recognizes that Empire actor Jussie Smollett took advantage of the pain and anger of racism to promote his career," Johnson also stated. "Why would anyone, especially an African-American use a noose...to further his public profile?"
The investigation took a turn when the attorney for two brothers who were first viewed as possible suspects said that the men were victims and they were then questioned. 
Detective Commander Edward Wodnicki said in the press conference Thursday morning that, after questioning the brothers for nearly two days, they were released and investigators no longer viewed them as suspects. He went on to say that the men testified before a grand jury before Smollett was charged on Wednesday.