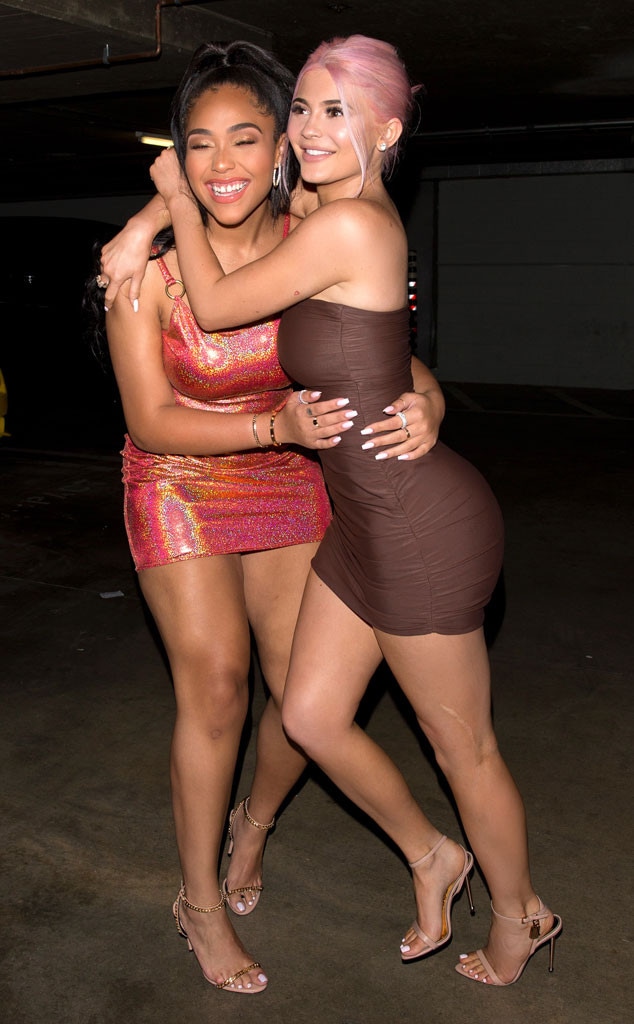 SPW / SplashNews.com
What a day it's been for the Kardashian-Jenner family.
On Tuesday, Khloe Kardashian and Tristan Thompson officially went their separate ways. Their split was confirmed just moments after reports came out that the Cleveland Cavaliers player cheated on Khloe with Kylie Jenner's best friend Jordyn Woods. The Good American founder has yet to post about the breakup on her own social media profiles, but her response to a separate Instagram post spoke volumes. 
Khloe commented on Hollywood Unlock's Instagram about their split with a number of yelling emojis. Her close friends Larsa Pippen and Malika Haqq also added their own replies that showed their unwavering support for their close friend. When the cheating allegations initially came out, Tristan immediately tweeted "FAKE NEWS" but quickly deleted the message.
A source told E! News on Tuesday that the entire family is shocked about the news.
"Khloe found out yesterday that Tristan had cheated with Jordyn. At first Tristan tried to deny it but she heard it from multiple people and doesn't believe him for a second," the source said. "She is angry more than she is sad."
The insider also said the 34-year-old is "shocked Jordyn would do this." Additionally, "Of all the guys in the world, she can't fathom why Jordyn would make a decision like this. Khloe is reliving the worst kind of betrayal and pain all over again."
A second source gave some more details into Khloe and the rest of the family's mindset after the cheating news. "Khloe is more disappointed that someone so close to their family would betray her. She can't believe it," the source said. Moreover, Khloe "knows she deserves better" and "is done."
The source continued, "It's totally out of character for Jordyn and not something they would ever expect from her. Khloe has all the support in the world from her family and they are rallying around her to help her through this."
Charles Sykes/Bravo/NBCU Photo Bank via Getty Images, George Pimentel/Getty Images
It all went down over the weekend when Tristan, Jordyn and a group of friends met up to hang out with Drake. "Tristan and Jordyn were definitely hanging close to one another and were being very flirty. Tristan had his arms around her at one point," the second source shared. "Jordyn stood by him the entire time they were out and he was laughing and smiling at her."
According to our source, they all partied until the early hours of the morning and were "very touchy" throughout the night and people could tell "they were into each other."
The cheating allegations quite literally hit close to home because Kylie and Jordyn are the best of friends and even live together. The Kylie Cosmetics owner regularly features the 21-year-old model on her Instagram Story and shows the two of them doing fun things together, such as cooking, vacationing, putting on makeup and more. She even calls Jordyn "wifey" all the time.
Apparently, the "whole family is writing Jordyn off," including Kylie. 
Take a look at the photos below to see Jordyn and Kylie's friendship through the years.
The second source explained, "Kylie was in denial for a few days, and is very torn on how to handle the situation."