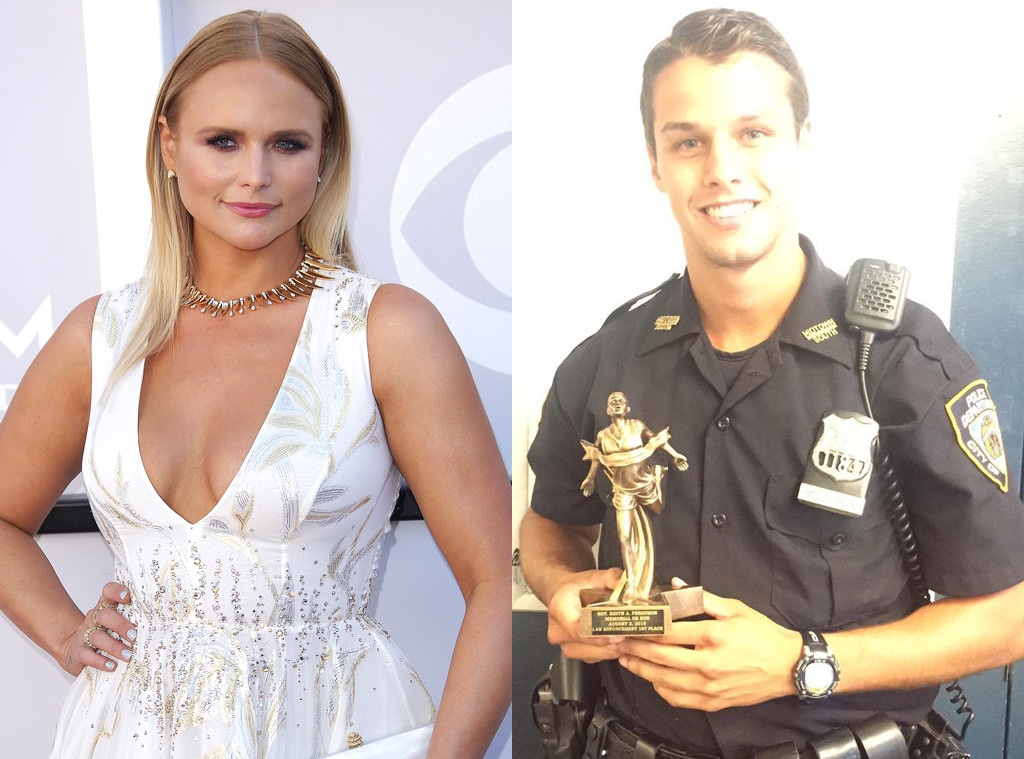 Jim Smeal/REX/Shutterstock; Twitter
The headlines surrounding Miranda Lambert's wedding celebration have taken a turn.
Over the long holiday weekend, the country music singer surprised fans when she revealed on Instagram that she was married.
As for the lucky guy, Its New York Police Department officer Brendan McLoughlin.
"In honor of Valentine's Day I wanted to share some news. I met the love of my life. And we got hitched!" Miranda shared on Instagram. "My heart is full. Thank you Brendan Mcloughlin for loving me for.... me."
While fans were quick to celebrate the happy news, more information is coming out about Miranda's new groom. In particular, headlines are surfacing about his past relationships.
According to multiple reports, the 27-year-old officer had been engaged to another woman named Jackie Bruno until just months before marrying Miranda.
According to People, Jackie and Brendan ended their relationship when Kaihla Rettinger—the mother of Doug's son—messaged Jackie to let her know she was seven months pregnant with the officer's child.
"She was engaged to Brendan and he cheated on her and got another girl pregnant," Jackie's mom Carol Bruno told Us Weekly. "It's all true."
Carol added, "Jackie was in Sweden playing professional soccer, got injured and came home and the girl contacted her. She broke the news to her. [Brendan] tried to deny it and then begged her to stay with him. She was only going for a few months to play, he was begging her to marry him before she left, even though he knew the girl was pregnant."
E! News has reached out to Carol, Jackie, Kaihla and Brendan for additional comment.
Ultimately, Miranda and Brendan are staying quiet after the Grammy winner shared her happy wedding news on Instagram over the weekend.
And despite the headlines, the honeymoon phase doesn't appear to be slowing down for the "Over You" singer and her husband.
"We've never, ever seen her so happy and think she's finally found her one and only," a source shared with Entertainment Tonight. "Miranda and Brendan both want kids. [She] never felt ready to have children until she met Brendan and now she's excited to be a stepmom. She even says it's great practice for when she has a baby."