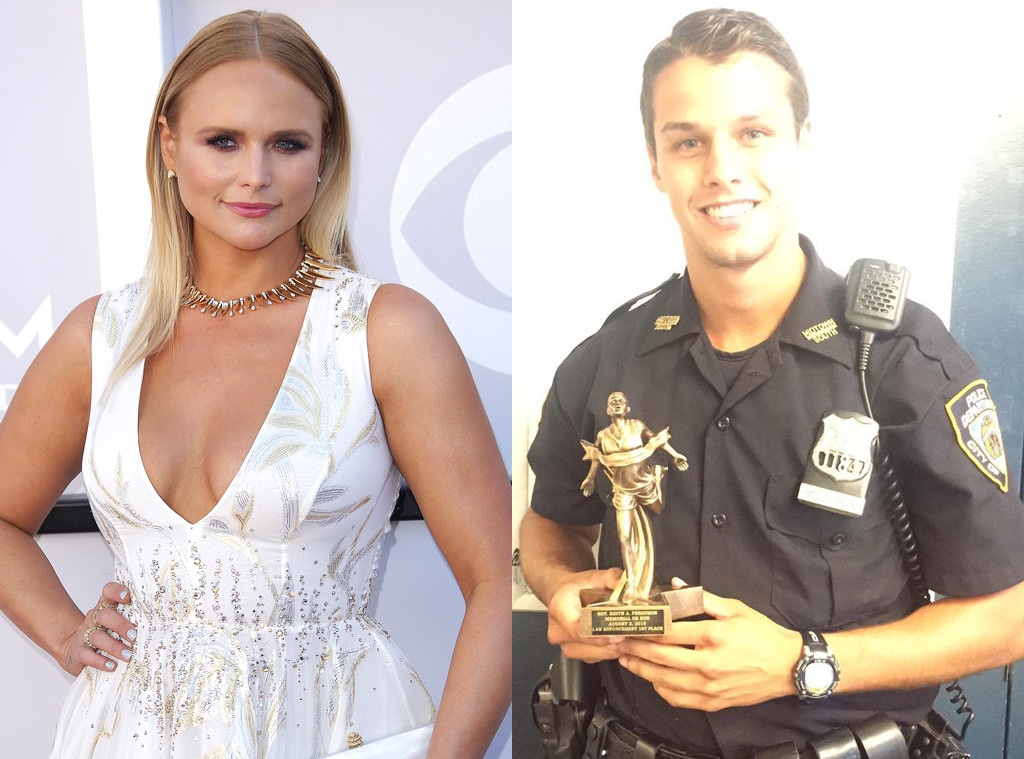 Jim Smeal/REX/Shutterstock; Twitter
Miranda Lambert has found herself a new keeper of the flame of her heart!
The country singer revealed on Instagram in a surprise announcement that she recently got married to Brendan McLoughlin. "In honor of Valentine's Day I wanted to share some news. I met the love of my life. And we got hitched!" she captioned a photo of the happy couple walking in the grass. "My heart is full. Thank you Brendan McLoughlin for loving me for.... me. ❤️ #theone"
E! News learned that Lambert and McLoughlin tied the knot on Jan. 26, 2019 in Davidson County, Tennessee, which is where Nashville is located. The wedding announcement was a surprise in and of itself, but what was more shocking was that Lambert had not really been seen out publicly with him and had no presence on her social media profiles. In fact, in August, she called herself "happily single" after splitting from Evan Felker. 
While Lambert has mostly been linked to fellow country singers, McLoughlin is in quite another professional field all together.
In honor of the "Over You" singer's recent nuptials, here's everything we know so far about McLoughlin.
For starters, he is police officer. And no, not even in Nashville. The NYPD confirmed to E! News that he joined the department in January 2013 and was assigned to the Midtown South Precinct that July.
McLoughlin has been featured a few times in the NYPD Midtown South Precinct's Twitter page. In July 2015, he posed alongside an NYPD K-9 dog named Kybo at a "doggy diving event." 
So not only does he keep the city safe, he loves animals too!
A few weeks after his photo-op with Kybo, his precinct tweeted a picture of him smiling and holding a trophy. "Officer McLoughlin wins 1st place for #NYPD Keith Ferguson Memorial 5k Brooklyn Bridge Run!" it said.
Lambert quite literally picked a winner as her new husband.
Before trying his hand in law enforcement, McLoughlin dabbled a bit in modeling during his late teens. He has a page on a site called Model Mayhem, although he joined it in October 2010 and hasn't updated it since April 2011.
"My name is Brendan McLoughlin. I am 19 years old and live in New York," his bio reads. "I am on this site to build my portfolio. My style is all american boy/ abercrombie/ sporty but I'm open minded, so feel free to network with me, share your ideas, and organize sessions."
His portfolio photos are a mix of him clothed as well as shirtless. In one photo, he wears a thin gold chain necklace and a light blue shirt that brings out his similar-colored eyes. Another one has more of a surfer boy feel to it where he's in swim trunks and flexing his abs.
This puts the 5'11 McLouglin at about 28-years-old. Lambert is 35.
According to People, the Staten Island, N.Y. native welcomed a baby a few months ago with a woman from a previous relationship. The newlyweds were photographed out together in New York City on Saturday enjoying a post-Valentine's Day stroll.
Congratulations again to the happy couple!
—Reporting by Holly Passalaqua