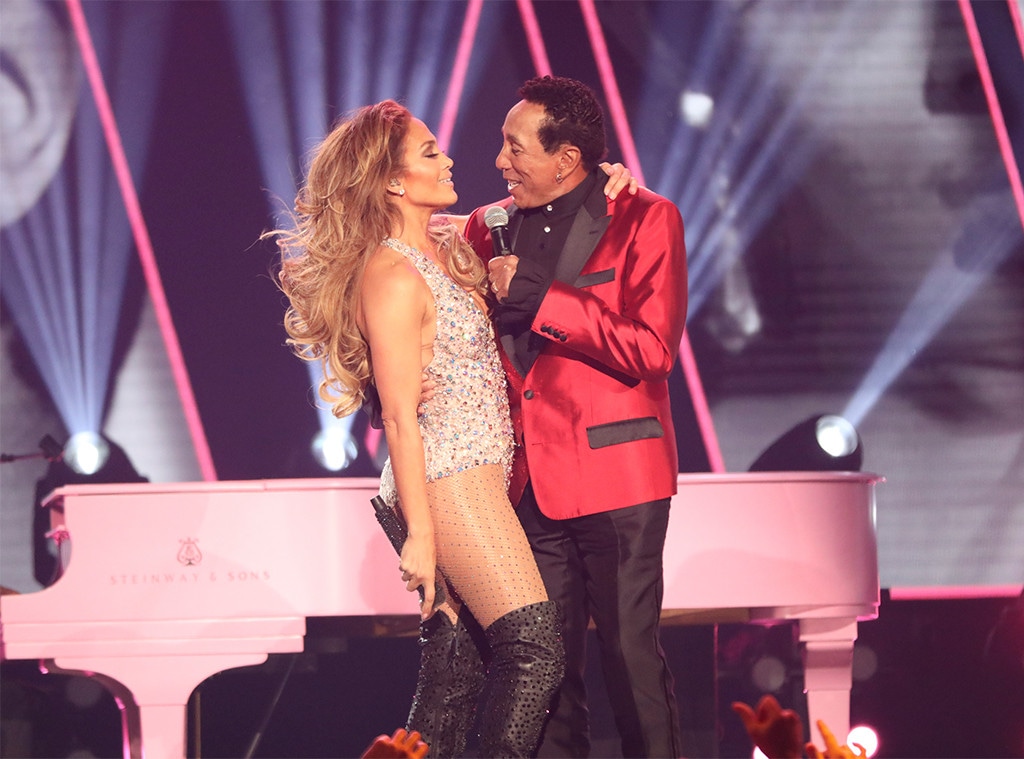 Monty Brinton/CBS
Smokey Robinson is defending Jennifer Lopez's performance at the 2019 Grammy Awards. 
Supposed Motown fans criticized J. Lo after the star delivered a rousing performance in honor of the countless singers signed to the label at the 2019 Grammy Awards. Many people felt that the latin pop singer was not a well-suited choice for the soulful tribute, but Smokey begs to differ. 
"Attention, all of those of you who protested a wonderful, super talented, world renowned, super star like Jennifer Lopez, showing her love and support for Motown music, here's some food for thought: on the very first day of Motown Barry Gordy  told the five of us who were present, 'I'm gonna start my own record company and we're gonna make music for everybody and always be sure to make quality music that the world can enjoy'." the artist writes in a lengthy Instagram post. "And through the Grace of God and hard work and determination, we accomplished that."
He adds, "Kids of all races, worldwide, grew up loving the music of Motown, imitating our acts. Pretending to be Diana Ross, the Temptations, Michael Jackson and so on. Parents were and still are turning their kids on to the music of Motown."
Motown's reputation for diversity and inclusion is a source of pride for the musician he explains, so the discussion surrounding Jennifer's performance is upsetting. "So now you're gonna to try to diminish the scope of Motown and narrow  it down to just music for Black people and you call yourself defending the image of Motown. Well you're trying to set us back a hundred years," he asserts. 
Moreover, Robinson explains that Lopez's performance is an example of how the label "reached so many people and broke down so many racial barriers." 
And if people still disagree with his assertions, then he says, "I guess since you feel that way about an artist of another ethnicity doing a tribute to Motown, you must have hated Tina Marie, Rare Earth and some of our other white artists."
"So don't call yourself loving Motown if you're a hater and spreading the same bigotry that you so strongly oppose coming at you from others. J Lo was great and we at Motown love her," the "Ooh Baby Baby" singer scolds. "The beauty of Motown is that we are a family of made up of Black, White, Hispanic, and Asian women and men. We had a very diverse employee roster. So I hope knowing these few facts helps you get your perspective together and think about the hate you're spreading."
Moral of the story is: "Stop hating."